3D Property Tour is the NEW Cool in Real Estate
Posted by Joe Samson on Saturday, May 7, 2016 at 4:24 PM
By Joe Samson / May 7, 2016
Comment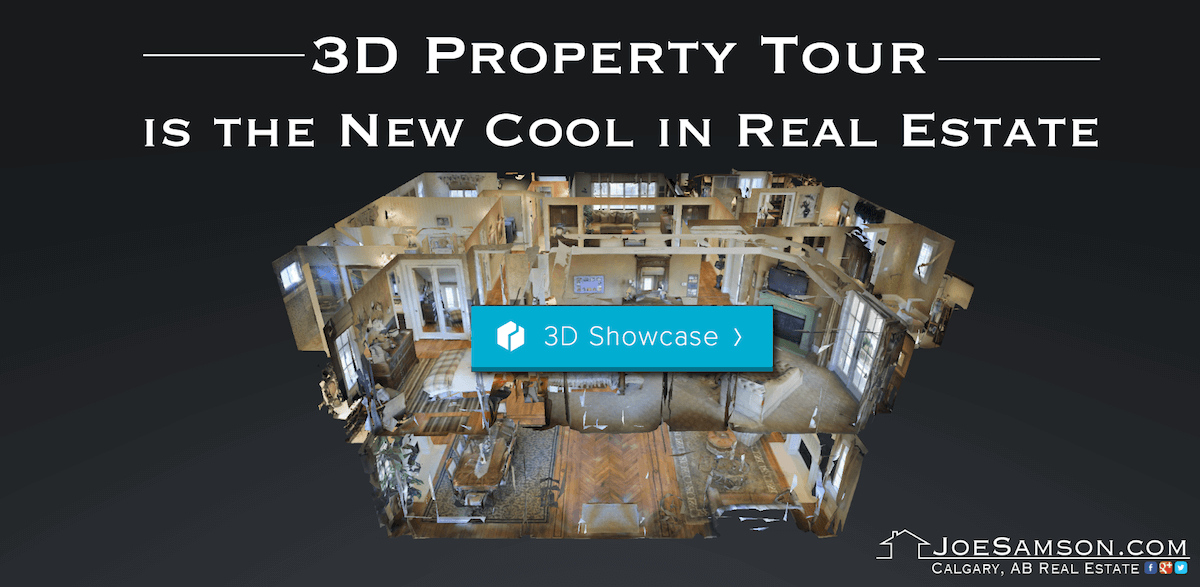 Have you used Google Street View? Imagine that inside of a home! That's exactly what 3D tours are like, and that's why they are so attractive to both buyers and sellers. With just one click a 360-degree view of the home is offered, and that means knowing exactly what the home will look like in person. Users can even click out of the entire home to look at the layout, and then click back into any room they'd like to visit.
Online listings have become integral parts of the home buying and selling process, with over 90% of buyers searching online before anywhere else. But, the chances of selling a home are only as good as the actual property presented.
Buyers want to see high-resolution pictures so they can get an accurate feel for what the rooms look like. But, as technology progresses, do potential home buyers want more?
While some real estate agents will argue well-taken pictures are more than enough, others are adapting to the demand for videos to be present on listings. That's why virtual tours are so common today and can cut the time a home stands on the market in half.
However, while the basic 360 degree home tours were incredibly useful for online home listings, they are no longer the most technologically advanced tools sellers have. 3D property tours mad possible by Matterport are now being used by an increasing number of agents, as this totally immerses the viewer in the home--without them ever having to leave their own.
With 9 out of every 10 home buyers searching online for their next home, the internet is a more powerful tool than ever. And according to Google, searches related to real estate have increased over 250% in the last four years. Making your listing stand out is crucial to gaining attention, and the new 3D tour may be just the way to make that happen.
---
See How it Works
---
Why 3D Tours?
Everyday video tours presented by sellers are useful, but their main drawback is that they don't show the home from every angle like you would in person. With 3D tours, that's no longer an issue. The viewer can use their mouse to click everything in the home, from the ceiling in the guest bedroom to the floor on top of the stairs.
When people are looking at homes online, they want to see what everything from the basement to the backyard looks like. If they aren't able to see what they want, they are much less likely to actually see the home in person. This can mean the listing standing around longer, even if it's a great property with a lot to offer.
3D tours offer a way for potential buyers to see homes just like they would in person--all from the comfort of home. With this, they'll be much more likely to make an appointment to see a place in person and potentially purchase it.
---
What's the Purpose?
The purpose of 3D home tours is to intrigue potential home buyers to purchase a home! It gives them a more in-depth view of the layout of the property and fully immerses them into space. A lot can be missed with basic pictures, but with a 3D tour, the potential buyer will see everything so they can determine if they want to see a property in person.
---
Making Listings Fun
The innovation of 3D technology for home tours is new, but agents are quickly picking it up because of the potential benefits. When potential buyers are browsing through homes, they are much more likely to click on a home with this tour, rather than one that has basic pictures or no pictures at all.
These types of tours are simply a lot of fun, and because they can be so effective, they are well worth the time and investment. What better way to make your listing stand out? Of course, your description says a lot, but this type of tour brings an entirely new element.
---
Sharing More Information
The reality is that there's only so much information that can be shared through pictures and a fact sheet. This is true, and a big reason why it's so important to adapt to the new method of doing tours. It allows you to share a lot more information and answer questions that you might not know clients even have.
Do you want to show people the layout without having to dig through blueprints? Or show how big your master bedroom is without taking hundreds of pictures to find the right angle? You can with 3D tours because they scan the home exactly how someone would see it in person.
---
Creating a Tour
Creating a 3D walkthrough is something that requires 3D scanning technology. Once the home has been cleaned and staged, the first scan of every room in the home is done. Generally, the tour will be done in the same way a tour would be done in person. This ensures the view is exactly what the buyer would have, and they get the best idea of what the home looks like in person.
Once the scan has completed and uploaded, the video can be viewed by any potential home buyer that wants to see the property!
---
Attracting More Buyers
When a regular listing is put online through any real estate website, it's visible to anyone who is searching for homes in that area. But, what really determines if they're going to click on that listing? More people are willing to look at a home if they know there's a 3D view of it available, especially if they live out of the area.
What if buyers want to see what the downstairs looks like from the top floor? They can view this with the 3D tour. What if they want to see how many steps they can take in the master bedroom? With a 3D tour, they will be able to do this more easily because of the 360-degree views they'll have.
All you need is one buyer to sell a home, and with technology like this on your side, you'll be much more likely to sell. More buyers will look at the home as a result of the tour, and that additional exposure is never a bad thing.
Even international buyers (maybe someone looking for a vacation home) will feel like they are physically present in the home when they view this type of tour. The benefit is: buyers near and far will see what the property looks like in person, and won't have to be physically present to do so.
---
What About Privacy?
Some sellers become concerned with their privacy when these types of tours come into consideration, but what they don't realize is that these can actually help cut down on the number of people who physically visit the home.
Because buyers will get such a good idea of what the place looks like through the virtual tour, they'll know whether or not they really want to see it in person. This attracts a lot more serious buyers and can mean greater privacy due to fewer open houses and general foot traffic.
---
Pre-Qualifying Homes
While it's important for homeowners to be pre-qualified, it's also important for them to pre-qualify homes that they see in person. After all, seeing ten different homes every weekend can get overwhelming, and it can lead to a lot of disappointment.
When 3D tours are presented on a listing page, it helps the buyer qualify that home before they ever see it in person. If they really do like what they see on the tour, then they are going to know they'll like it in person. This can reduce the amount of disappointment for both parties and lead to a much easier sales process.
Wouldn't you like to see buyers come through that already knew they loved your home? This could potentially lead to a quicker sale and less time sitting on the market.
---
Reducing Questions
Buyers have a lot of questions when they are considering homes, even after they've seen a home in real life. They often have questions about what they saw, like whether or not there was a big closet in the guest room. And while sometimes pictures can answer these questions, they can't answer them all.
3D tours offer a more realistic view that can answer questions without the buyer ever having to see the home in person a second or third time. They'll know exactly what they need to know to determine if it's a home they really want to consider purchasing.
---
Eliminating Scheduling Conflicts
Sometimes it's difficult to view a home several times before finally putting down an offer, especially with busy schedules. With 3D tours, that's no longer an issue. The potential buyers will be able to enjoy a walk-through of the home 24 hours a day and 7 days a week. All they have to do is log on and watch the video and they'll have all the information they need.
This can really help get rid of the obstacles that face buyers with scheduling today and mean being able to review information they need to purchase the home immediately.
---
Increasing Views
Because 3D tours are so new, they are all the buzz. If one home in a neighbourhood has this but all the others do not, it's likely to get a lot more views. And in addition to people simply browsing and finding these, more will be likely to share them with friends and family. "Hey I know you're looking for a house, look at this cool video of one in your neighbourhood!" is something that could very well happen.
As more people see your 3D tour, your chances of selling in a short amount of time increase. Unique listings are the way to sell, and this is just about as unique as it gets in today's technological world!
---
Other Applications
While 3D tours are most useful for selling a home, they can also be used for rent. Potential renters want to look at as many places as possible before they rent a place out, and due to the fact that property managers can be busy with other things, it can take a while to see all places. However, with these tours, that problem is eliminated.
The renters will be able to get an in-person view of the entire home or apartment without even having to check out keys. They'll then be able to narrow down the places that they like and really want to see in person, all within less time.
And rental tours aren't just for large apartment complexes; they can also be used for income properties that everyday people own. Wouldn't it be nice to find a renter more quickly and without having to show the property on a daily basis? With virtual tours this may be possible, offering a lot of convenience for all parties involved.
---
Open House Online
Open houses are important for selling homes, but it can get exhausting having them every other weekend or more frequently than that. With a 3D tour, you can have your open house online every day! This way when you do have an open house in person, you'll be able to make the experience even better, with special touches like treats to eat or a nice fragrance in the air.
The combination of an open house online and in person may be just what you need to effectively sell your home. You'll certainly get more exposure and won't have to spend as much time keeping your home open house ready.
---
Looking to the Future
3D home tours aren't as easy to put together as typical 2D pictures, but they are worth the extra effort. In the next months and years, they are sure to be the go-to videos that sellers use for their listings, especially as the technology progresses. If you're looking to integrate more technology to make your home easier to find, is this something you'll use?
---
3D Property Tour Service Providers in Calgary