Are You Ready to Buy a Home? [INFOGRAPHIC]
Posted by Joe Samson on Thursday, April 20, 2017 at 12:11 PM
By Joe Samson / April 20, 2017
Comment
The idea of buying your first home can be incredibly exciting, especially considering the fact that your monthly payments will no longer be lost on rent. However, making this investment requires focus, dedication, and a willingness to learn what's necessary to get through the buying process. With these qualities and an eagerness to be a responsible homeowner, you'll be on your way to having a much smoother experience with real estate.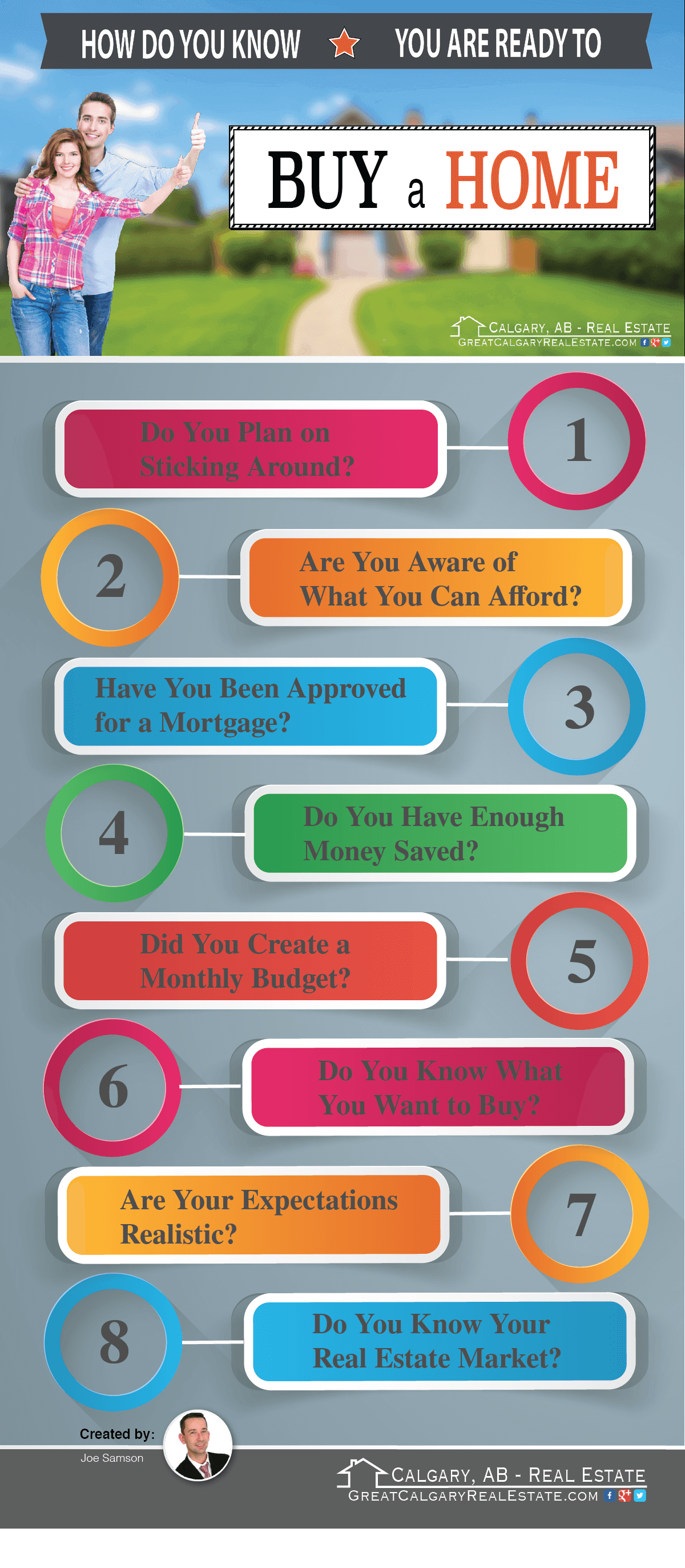 Whether you're just beginning the buying process by searching for homes online or have gone through the steps to determine your budget, there are many more steps to take before you'll be ready to make an offer.
First, it's important to recognize how emotionally and financially ready you really are. Is this just a dream for now or do you want to make this happen in the near future? If you're ready to make this a reality, take a look at the housing market.
One of the best parts about getting involved in real estate right now is the fact that the housing market is strong. Interest rates are low, and with high rent prices, it's often a better financial move to buy.
Once you've taken a closer look at how the market will play a role in buying, the next step is to prepare yourself for the buying process. Real estate pros recommend looking at the signs below to see if you're prepared to embark on this journey. With these, you'll have a much better idea if you're really ready to buy your very first home.
Do You Plan on Sticking Around?
Do you have a steady job that you plan on staying at for a long time? If there is the probability of you relocating in the foreseeable future or aren't set on a particular career path, then renting may be a much better option for you. Although buying might be more appealing than renting, but it can turn out to be more expensive and it's more of a long-term commitment.
For example, if you decide to purchase a home, you will have to pay a commission to your local real estate agent for helping when you decide to sell your home, there could be significant prepayment mortgage penalties, lawyer fees, home inspection and appraisal fees when buying, and many other costs along the way. The advantage of renting is that you still get a nice place to live without all these expenses and the burdens of actually owning the property.
The last thing you want to do is turn your finances upside down just a few short months after you get the keys to your real estate. It is essential to consider what your 5-10 year plan is going to be. What city will you live in? Do you have plans on changing careers in the near future? If you don't have answers to these questions or a 5-10 year plan, then you'll only want to invest in a home that is affordable and will be easy to sell quickly if necessary.
However, short-term home ownership may not offer the investment potential that you may want. For example, you still have to pay for the down payment, repairs, upgrades, maintenance, and other expenses related to running the home and satisfying the mortgage. Considering those, paying for a home that you're only going to live in for a few years may end up actually costing you more than renting.
If you are thinking short term, the only exception to buy vs. rent is when you are looking for an investment property. Real estate markets go through cycles every 5-7 years and if you are confident that prices are on the rise, then you may have a great opportunity at your hands to get a great return for your investments even in a few short years. Your REALTOR should be able to provide you with informative statistics on local real estate prices and trends.
Are You Aware of What You Can Afford?
You're likely aware that buying a home is one of the biggest purchases you'll make in your life, which is why you have to carefully consider what you can afford. Just like you'd double check your finances before investing in a new car, you must know for certain what your maximum budget for a home is. If you can't find the time to do this, then you may not be completely ready to make this move. However, if you are on top of your budget and how much you can spend, then that's a good sign you may be ready to take the next steps towards ownership.
Before meeting with a bank, take a look at your income. On average your mortgage payment (including interest, insurance, principal, and property taxes) should be no more than 42% of what you bring in. Of course, spending less than this is ideal, as it ensures you have enough room in your budget every month for savings or unexpected expenses.
Not to mention insurance as well as property taxes will increase over time, and if you can't afford a big down payment, then mortgage insurance is going to add up. In addition to this, you should consider the fact that you may have to deal with chaining condo fees, HOA fees, high utility bills, repairs, upgrades, and other household expenses.
Another aspect of considering what you can afford is thinking about the options you have for loans. Interest rates can vary considerably, depending on whether you get a fixed or variable loan. To put this in perspective, if you had a 2.5% fixed 25-year mortgage for $350,000, your payments would be $1,568 a month.
On the other hand, if you had a 2.5% fixed 15-year mortgage for $350,000, your monthly payments would be $2,3320. In the long run, the second option actually saves you the most due to the fact that you'd save over $50,671 in interest.
Have You Been Approved for a Mortgage?
While it would be ideal to pay for your first home in cash, that's not the situation that most first-time buyers are in. Instead, you have to rely on a mortgage through one of the many lenders that are out there. It's important to make this your first step before looking at homes, as this will ensure REALTORS take you seriously and you're able to move quickly on a home that you like.
To get started, you'll need to get pre-approved by answering questions about your income, debt-to-income ratio, and monthly expenses. In addition to this, you'll likely need to have good credit to get the nod to start looking at homes.
There are many options available for home buyers to successfully approve a mortgage. You can choose to visit your favourite bank or talk to a mortgage broker who can advise you about the different mortgage options among banks that have to offer.
Do You Haven Enough Money Saved?
Once you have pre-approval and know how much you can afford to spend on a home, it will be time to create a nest egg. This will not only help fund your down payment but will also ensure you can cover unexpected expenses and moving costs.
In addition to this, you'll appreciate having some savings when it comes time for maintenance (such as mowing the lawn) and upgrades (such as replacing the roof) on your property. Even with strong do-it-yourself skills, you'll have to invest in the tools, materials, and other equipment needed to get this type of work done.
Did You Create a Monthly Budget?
Budgeting is especially important for first-time buyers as it helps to make sure you can still have a life while owning your first home. After all, how will you afford to take vacations, have a gym membership, or do leisurely activities that you love if you have a mortgage payment at the top of your budget?
When making your budget, make it a point to give yourself a little bit of wiggle room to do something like a hobby or sport. If this results in not being able to get the home that you want, then you will have to decide whether you'd rather put your hobby on the back-burner or settle for a more affordable home.
There are additional homeownership expenses that you have to budget for, including HOA fees. These are common with four out of five home purchases, so make sure you know whether or not this is something you'll have to deal with in the future. It's also important to consider the fact that the HOA can charge special assessments and fees that aren't covered by this monthly expense.
Do You Know What You Want to Buy?
What type of house do you want to live in? Whether you enjoy luxury homes, townhouses, condominiums or detached properties, you should make this decision before you ever start browsing. Fortunately, if you have already looked at your budget, then you should know which type of home that you can afford. In fact, if you know what you can afford then you should also be aware of the area that is within your budget as well.
While these considerations are important, you should also take a look at your lifestyle, your commute, kids (now or in the future), transportation, and even shopping. This will help you narrow down which community that you like and if you want to commit to one certain area at the moment. If you aren't ready, then you may be better off leasing rather than buying and losing money in the long run.
Are Your Expectations Realistic?
Although home ownership has become increasingly common, it's not exactly easy. It takes time, it takes money, it takes patience, and it causes stress. By understanding that there will be some compromises to be made, you'll be in a much better position to make a decision down the road.
For example, did you know that there is no such thing as a perfect home? If you know that you can't expect this, then you won't have such a difficult time finding a place that works for you and your budget. It's also important to adjust your expectations, as you may not be able to (yet) afford the type of lifestyle that you'd like (such as what your parents have).
Do you tend to react based on your emotions? When it comes to buying a home, this could end up hurting you. Instead, your decisions should be based on practicalities so you're making a solid and worthwhile investment.
Sitting on the fence and being hesitant about putting in an offer on a house that could work for you could end up breaking your heart by letting someone else buy the property ahead of you. Missing out on an opportunity is not the end of the world. There are always new listings coming on the market and perhaps the next time you will be ready to act faster when opportunity shows itself
Do You Know Your Real Estate Market?
Have you taken a look at the market conditions in your area? This is something that is constantly changing, which is why it's so important to always consider it before making an investment. You should also know that the market varies in each area, so look at the place where you want to live rather than the city as a whole. As a home buyer, I would keep on eye on the selected few communities that I would love to live in to learn what real estate prices are. As an example, I would frequently visit online real estate listings in South Calgary or monitor every home for sale in Silverado.
Home prices fluctuate all the time and if they appear to be in a downtrend, then economically it probably makes more sense to hold-off with buying real estate and invest your money somewhere else.
Understanding what the current market condition is, could also help you to better prepare your offer for a particular property. Real estate markets vary from city-to-city and while some markets may be struggling, other real estate areas could be booming and you may need to act faster and be a little more aggressive with your offer price to avoid missing out on a great deal.
An experienced real estate agent should have this conversation with you in order to prepare you for the buying process so that you'll know what to expect.
Final Thoughts
There are many things to consider when purchasing a home, which is why you shouldn't take this decision lightly. Some of your top priorities should be figuring out things like:
Home Affordability
Your 5-10 Year Plan
Your Budget
By looking at these important things, you'll be much better prepared for buying a home. In addition to this, you'll be much more likely to avoid mistakes that are incredibly common with first time home buyers. Last but not least, don't forget to use the resources around you. Local real estate agents, in particular, will help make sure you negotiate a good deal and get through the home buying process in a smooth manner.