Banks Are Getting Nervous About Future Floods in Calgary
Posted by Joe Samson on Tuesday, July 23, 2013 at 5:53 PM
By Joe Samson / July 23, 2013
Comment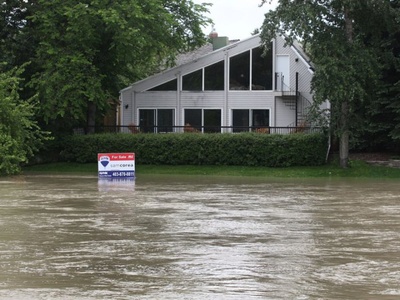 Due to the heavy floods that hit Calgary at the end of June, more and more lenders in the region are reviewing all new and refinancing transactions on properties affected by the floods.
According to environmental experts, the flooding was the combined result of heavy rain and oversaturated soil. Nevertheless, the consequences of the June flooding are far from being over.
The real problem comes from those banks which are demanding new inspections and appraisals before renewing existing loans or providing new mortgages for homes in Calgary and other properties affected by the floods.

Because banks are being more and more careful when providing loans, lenders are increasingly concerned with their properties that act as collateral. Will they be able to find customers eager to rent or buy their properties if they have to foreclose on the client in the future?
Since with the flood, very few people have moved into the affected areas. As a matter of fact, in High River, there have been only three sales since the flood hit, compared to an astounding 31 sales that took place in the same period last year. REALTORS® and lenders are getting ready to face a depressed market that will certainly have a negative impact on many companies and businesses.

In my humble opinion, Calgary's real estate market was one of the strongest in the entire country. However, since with the flood, I am extremely concerned with property values decreasing in flood-affected areas.

It's still too early to measure what the true impact is going to be because there have been so few sales in the flood zones. Even if not all areas and neighbourhoods have been affected by the floods, most banks have quickly changed their practices to protect their interest.
Some of the banks are now pulling financing, even if the property is not damaged but located in the flood zone. This might translate into a lower market value for all homes in some neighbourhoods, regardless of their status.

According to Mike Boyle, a mortgage broker in Calgary, most banks will soon ask for additional security or could even refuse to finance if a property is considered "high risk". In other words, getting a loan from the bank could become increasingly difficult in the following months.
Since the market values of properties in almost all areas of Calgary have gone down, a lot of lenders will get blindsided. To make things even harder, all refinancing and purchase transactions in southern Alberta are individually reviewed based on their locations.

One of the cautions that the banks are taking is having every single homeowner in the affected area will to complete a statutory declaration to confirm that his property was unaffected by the floods. In case a homeowner is unable to complete the form, the bank will send someone to inspect the property. For houses placed in a potential impact zone, following through with this procedure is a must.

This whole process of assessing which properties have been affected by the floods is normally paid by the banks. However, in case a property has been affected, the homeowner is the one who will have to put the property back in its original condition. In other words, he will have to pay for cleaning debris, restoring the façade and rebuilding those parts of the house damaged by water.
Photograph by: Dean Bicknell , Calgary Herald