Calgary is Likely to Grow Up!
Posted by Joe Samson on Wednesday, January 8, 2014 at 3:32 PM
By Joe Samson / January 8, 2014
Comment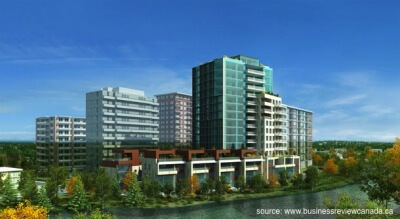 Calgary is set to have a big year in real estate in 2014, and a big reason for that is a term known as 'urbanism' or the City of Calgary decided to approve more building permits for condominiums.
This is pushing more residential developments within the city limits of Calgary, which means more people will be able to live in walkable neighbourhoods. While individuals who enjoy living in urban areas will enjoy this, what about other people? The way developments are now created could change things for single-family home buyers, so it's important they keep an eye on the market more closely than ever.
Urbanism in Calgary
The Emerging Trends in Real Estate 2014 recently released a report that interviewed over 1,000 real estate professionals about what they thought about urbanism. They overall agreed that it is already prevalent in Vancouver and Toronto, and is beginning to expand to Calgary within the coming year.
The majority of Calgarians enjoy living in single-family homes, but the 'urbanism' trend is really beginning to take on some force. This is because in-town homes have a convenience factor and they make great investments for buyers who want to make money from real estate.
In order to make sure the city is equipped to deal with future growth, the City of Calgary implemented the Municipal Development Plan. This plan states that over the next 60 years, half of the growth has to take place in communities that were already established in Calgary in 2005. This combined with the trend of urbanism is causing single-family home prices to become more expensive than most people are able to afford. This is why a lot of buyers have started to look outside of the Municipal Development plan for their home purchase.
Affordable Single-Family Homes
A lot of buyers who want to get a great price on a single-family home have started to look at more options than they would have in the past. This includes homes outside of the greenbelt, which are overall more affordable for buyers on a budget.
For instance, Chestermere is a Waterbridge community that is expected to bring in over 46,000 people within the coming years. In addition to bringing in new residents, it will also bring in new businesses and a lot more jobs for people to take. Populations in Cochrane, Okotoks and Airdrie are also seeing increases greater than Calgary.
How will established neighbourhoods grow in the future? How much is it going to cost to ensure healthy growth of urbanism? A lot of people have questions like these, and that's why there are so many groups of Calgarians that have started to get together.
If you're interested in learning more about the urban development and sustainable living in Calgary for yourself, then consider attending one of the meetups. These are put together by neighbourhoods as well as community members that want to share ideas and do something as a group.
There are sure to be a lot of adaptations and changes that come from home builders as well as buyers in 2014, making it an interesting year to come. The City is sure to face a lot of struggles, and how those will be dealt with is not yet known.