Calgary's Condo Market Check-up
Posted by Joe Samson on Sunday, April 14, 2013 at 10:05 AM
By Joe Samson / April 14, 2013
Comment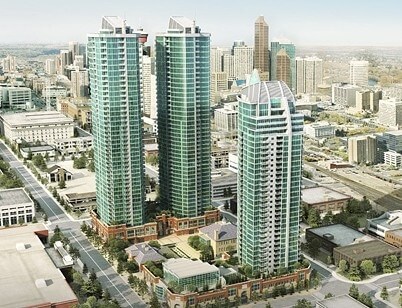 Overall Calgary real estate is incredibly active and vibrant, but one area truly stands heads and shoulders above the rest - the condo scene. Sounds interesting? It should! It certainly has those in the know both talking, building and investing too.

Let's take a look why.

With fewer and fewer homes are available for under five hundred thousand dollars, it's no shock to see condominium sales in Calgary rise up over ten percent from early 2012. They offer a truly appealing alternative to home buyers who are looking for home and apartment options on not quite so large a budget. Affordability is a big selling point certainly.

Well regarded lead economist Ann Marie Lurie from CREB has confirmed a tightening in the single-family Calgary real estate market which has led to this increased demand for condos. She also sees room for price growth in this area, in the near future.

While Calgary high and low rise apartment condos have stayed at roughly the same price (actually experiencing a very slight drop of 0.42 % from February 2012 to February 2013 to an average price of near $288,000) Calgary town and row house condos have exploded up close to 8.5 % in price in the same time period to an average of $336,000.

Compare these numbers to the $519,000 price tag of the median single-family home on the Calgary real estate market. Obviously, the issue of the big gap in affordability is clear to Calgary home buyers for whom this may be a consideration.

The market is full of proud new condo owners who made a purchase to bring themselves into a vibrant community, to be closer to work, but most of all to take advantage of the lower price tags.

Take Darcie Penner who bought and moved into a condo in New Brighton for all these reasons, with an emphasis on the financial.

Excitingly, luxury condo sales are making their mark on Calgary real estate as well. With nine luxury condo sales in the first twenty days of March, this has set a new luxury condo sales record. The record was formerly seven set back in 2007 and matched in 2011. Expect this trend of higher-end condo sales to continue in Calgary.

Another luxury condo record set in 2012 was the sale of an $8.99 million dollar condo in May which broke the previous record of $8.3 million set earlier in 2012. Both of these occurred in The River development in the Mission neighbourhood at 26th Ave.

The signs of new condo construction are impossible to miss anywhere in Calgary. The locals even have a standing joke that the "crane" (as in construction crane) should be declared Calgary's new official bird!

Aside from the beautiful work being done at The River, exciting new construction condo is being done in condo projects at First in E. Village (which just broke ground in early February), Silverado's Sawyer, Beltline's Keynote and many more.

Keep an eye on the Calgary condo market and you are sure to find something that catches your eye. The time is right to take advantage of some real winning opportunities! Great news, isn't it?