Calgary's Most Expensive Neighbourhoods
Posted by Joe Samson on Thursday, February 26, 2015 at 7:10 PM
By Joe Samson / February 26, 2015
Comment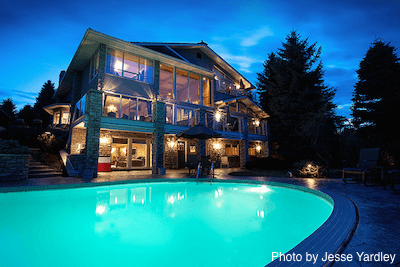 Calgary is a wonderful place for Canadians to live, not only because of the close proximity to the Rocky Mountains but also because of the gorgeous neighbourhoods that are available to choose from.
What's even better is that Calgary is home to some of the wealthiest neighbourhoods in the country, with luxury homes in Calgary that are meant only for those with large pocketbooks.
In a recent study, Canadian Business and Environics Analytics had teamed up to identify Canada's richest neighbourhoods among which Calgary had several communities to put on the podium. Whether you're thinking about moving into a new neighbourhood or you just want to go browse houses to dream about living in, these neighbourhoods are worth learning more about. Those listed below are the top 5, and they have a lot to offer for anyone who is able to afford their high price tags.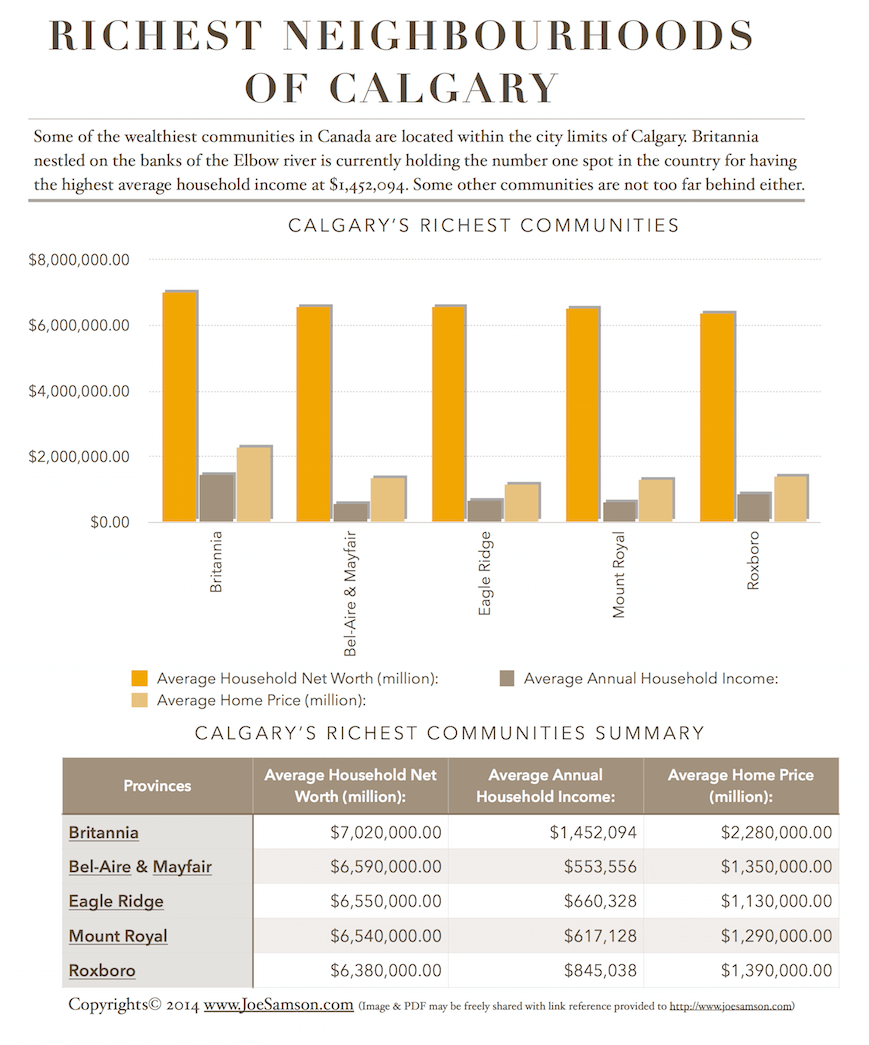 ---
1. Britannia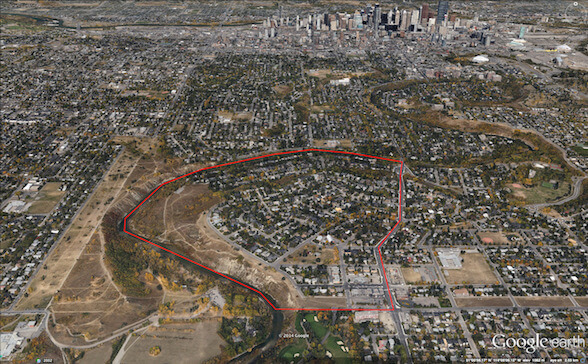 Britannia was built in 1952 and was designed to be an upscale community for individuals with a higher net worth. The intention to make this a high-end community was obvious from the start, as lots were selling for $5,000 compared to the average $250 price tag for lots in Calgary.
The average income of households in this area is almost $1.5 million, and the average household net worth is over a whopping $7 million. If you're thinking about moving here, then prepare to pay the average $1.5 million selling price. In relation to other areas across Canada, it's the 16th highest in household net worth and has the highest average household income in the country.
2. Bel-Aire & Mayfair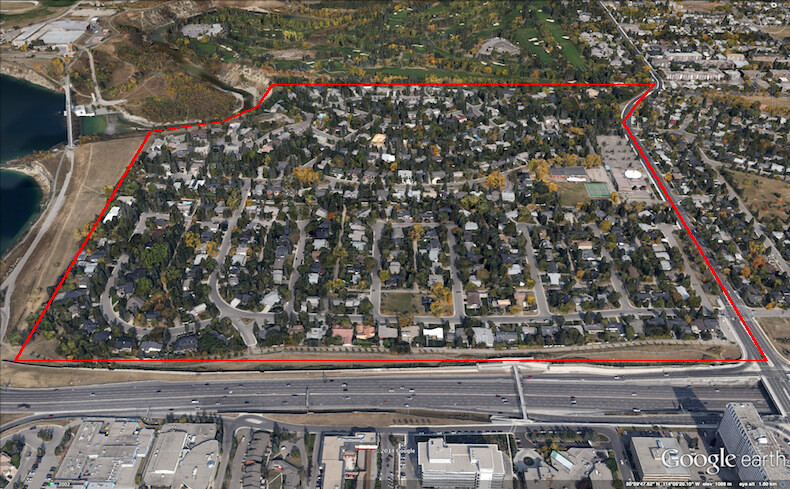 Bel-Aire & Mayfair were established in 1954, these two neighbourhoods have become extremely popular for wealthy Calgarians. The average home price is over $2.1 million, and the average household net worth is almost $6.6 million. As for the income, the average for households in these neighbourhoods is just approaching $554,000. These areas feature gorgeous homes, but also beautiful landscaping that can make you feel like you're at home when you first arrive.
3. Eagle Ridge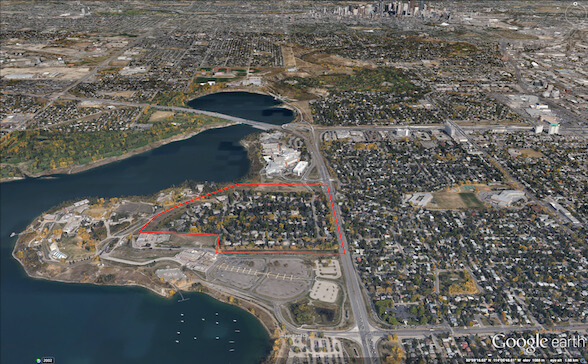 Eagle Ridge was constructed in the 1960's, this neighbourhood has homes that sell for an average of $1.41 million. The average annual household income is over $660 thousand, and the average net worth is over $6.55 million. What's especially unique about Eagle Ridge is that it's home to the Prime Minister of Canada, Stephen Harper. This may be a small neighbourhood, but it has beautiful and unique homes that offer something for everyone.
4. Mount Royal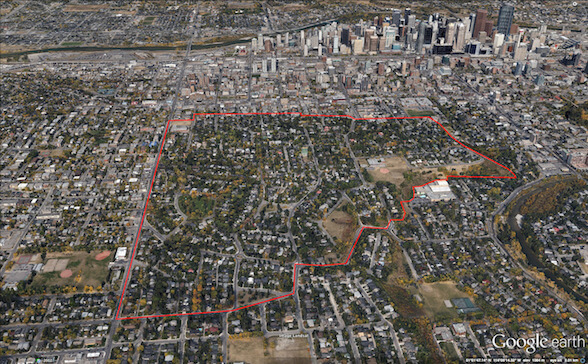 The beautiful neighbourhood of Lower Mount Royal has households that average a net worth of $6.59 million. The income for the average household reaches just over $617,000, and the average home can be bought for just about $1.6 million. This is thought to be a more laid-back neighbourhood where residents have a strong sense of community. The area of Upper Mount Royal is also the 20th most walkable neighbourhoods in Calgary, so it's great for individuals who don't want to drive everywhere they need to go.
5. Roxboro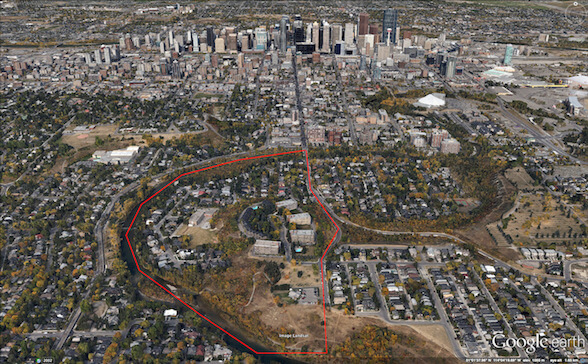 Established in 1923, Roxboro is one of the richest neighbourhoods when it comes to net worth, but it comes in second in Calgary when it comes to the annual income of households. While Britannia is number one for the large income that residents have, Roxboro residents have an annual income of over $845,000. The average net worth of households here is just over $6.38 million, which makes it the 20th highest. As for the home prices, they are the 2nd most expensive in Calgary at almost $1 million on average.