Calgary's Population and Home Values on the Rise!
Posted by Joe Samson on Friday, July 26, 2013 at 5:51 PM
By Joe Samson / July 26, 2013
Comment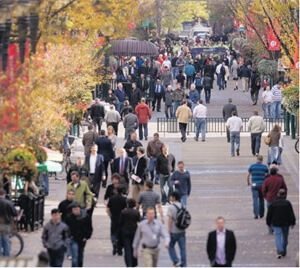 The census results of 2013 are in and we can now say that Canada's fourth-largest city is also one of the fastest growing cities in all of North America.
Calgary's population has hit 1.15 million people, equating to an impressive 2.6 percent growth rate. This number is the second-largest increase in the last 20 years. So what does this growth mean for the city in terms of the economy, sustainability and the housing market?

Firstly, I find it particularly noteworthy that the city is growing at the same rate as Houston, the oil capital of Texas and an economic powerhouse. In fact, Calgarians have added 61,370 people to their ranks in the last couple of years, whereas Houston increased by "just" 58,616. It really puts the increased population levels into perspective and makes it evident that Calgary is going through another boom period, just like in the mid-2000s.

"We're not quite at where we were at the height of the last boom, but we're actually not that far," Mayor Naheed Nenshi said. The net population gain between April 2012 and April 2013 was 19,067, an astounding figure.

The most extensive growth is taking place in Calgary's outskirts, as can be expected. Communities such as Aspen Woods, Copperfield and New Brighton are all growing and experiencing rapid population growth.

However, what I find remarkable is that central city areas are also growing at impressive rates. Kevin McQuillan, a sociologist at the University of Calgary, described this trend as "striking" and named areas such as Chinatown and the East Village as just some of the central communities that are also experiencing increased population numbers.

This growth in established communities means that the city can handle the growth much better than in previous boom years. Infrastructure such as schools, libraries, transport and police is already in place and ready to serve the new Calgarians.
I think this will translate into sustained and healthier growth in Calgary and the benefits will undoubtedly outnumber any disadvantages. The problems that we had in previous years, such as with businesses being unable to retain workers and people being unable to find affordable housing, should be much less severe.

The Calgary real estate market is going through an impressive boom as well, with many newly built homes being made available in communities such as Evanston (northern edge of the city) and Auburn Bay (near Cranston).

Nevertheless, homes in Calgary are not necessarily easy to find despite this increased availability. This is due to low vacancy rates, which fell to 2.59 percent over the last year, as well as the rate of the growth of demand for properties.
So even though we are seeing more houses for sale in Calgary, eager buyers are snapping them all up quickly. The census reports showed that houses for sale in Calgary are very popular indeed, considering that 68 percent of residents own rather than rent. I can guarantee that the people wanting to own is also much higher than this figure!

Overall, I expect Calgary to continue its successful expansion for the next couple of years. The infrastructure of the city is much better equipped to deal with rising population numbers, largely due to the experience of the mid-2000s boom.
The mayor has also promised that expanding the housing market to meet rising demand is a priority and considering the situation now compared to the last decade, I have good hopes that he will keep that promise!