Can Home Buyers Take Pictures at an Open House?
Posted by Joe Samson on Sunday, August 25, 2013 at 5:41 PM
By Joe Samson / August 25, 2013
Comment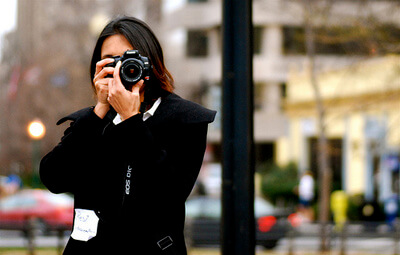 An open house is an opportunity for you, as a potential home buyer, to know the property very well, explore its different features, interact with the sales agent, and ask questions.
Often I see home buyers using digital cameras or smartphones to take pictures especially when they visit a house they are most interested in buying. They want to leave with something that can remind them of the layout, the architectural design, colours and other features of the house.

The big question is whether this is legally allowed? Is taking pictures at open houses part of open house etiquette?

The straight answer is that technically you need the occupant's permission because some homeowners will see this as violating their privacy and the act that could pose security problems.

I would allow picture taking during showing as long as it is okayed by the homeowner. As a home buyer, it would be advisable to first seek permission from the home buyer before you take pictures of a house that is open for viewing.

I will always allow picture taking of a house if it is vacant; however, I'd like to know why you're keen on taking pictures, especially if you are already provided with 20 or so photographs.

It is also fine if you're just a neighbour looking for new ideas for home decoration, but I'd definitely want to know why you're taking the pictures and what you want to get into the pictures. I would also allow pictures of room angles that do not appear on the photo collage, external shots of the house, and details of some of the decorating elements in the house. I'll also allow home buyers to take pictures of fixtures and features that significantly stand out from the rest and that catch the interest of viewers.

Pictures will allow buyers to think about the listing in more detail than they would if they have no souvenir of the house. A virtual photo collage may not focus on the things that interest a buyer in a house, and different buyers can also be looking for different things, some of which are not always included in the photo collage.
As your agent, I understand that a simple tour of a property cannot be enough to answer the questions you may have. With pictures, you have the opportunity to over the details of the house after the tour.

Although I would allow you to take pictures of the house that interests you, there is a limit to how you take pictures and what should go into them. The homeowner's personal items should definitely not be included in your photo collection of the property.
You're not allowed to make close up shots of any items that can be considered personal. You should not take any pictures of anything that relates to the security of the house. Agents are supposed to get the explicit permission of homeowners before authorizing picture taking at an open house and you should talk with the agent before taking any picture.
You should also make good use of the open house to ask questions from the agent and take notes of things that interest you about the house. As a home buyer, you have the right to know everything you want about the house before making the decision to buy it.