Canyon Meadows Neighbour Day
Posted by Joe Samson on Tuesday, June 9, 2015 at 6:34 PM
By Joe Samson / June 9, 2015
Comment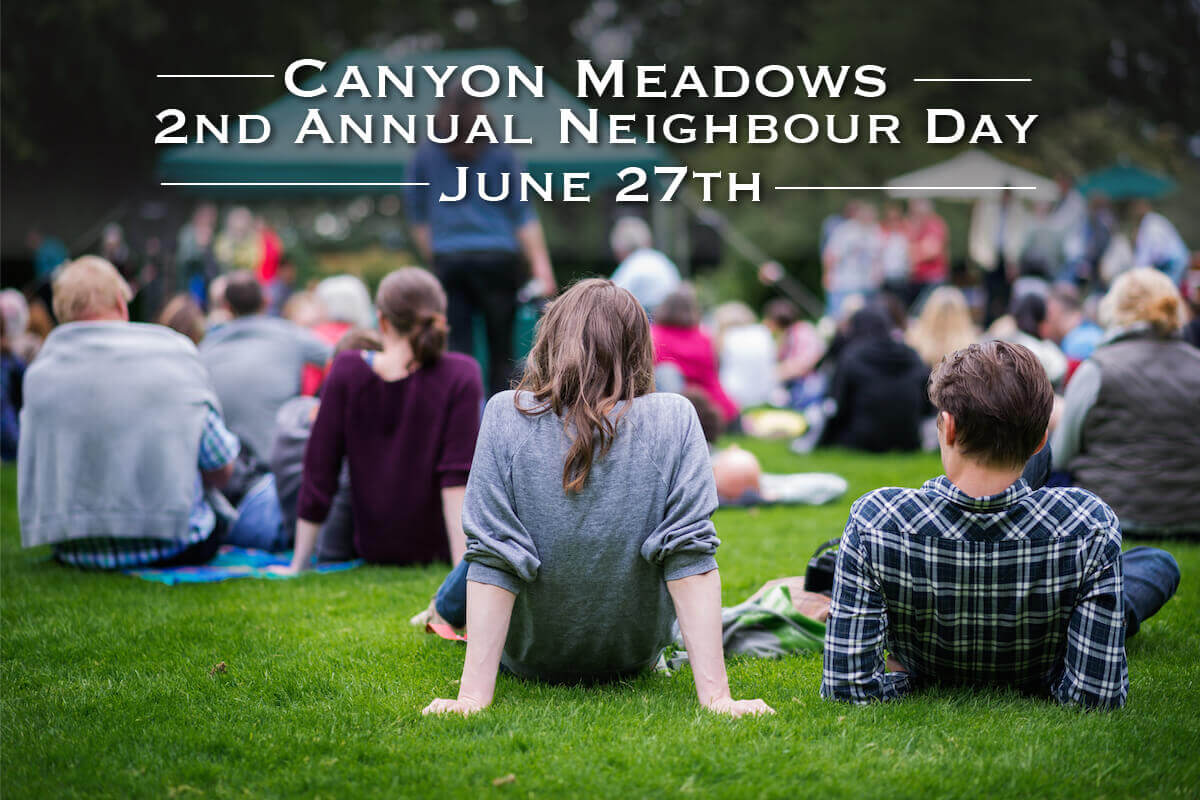 If you live in the Canyon Meadows area, then go out and celebrate Neighbour Day with your fellow neighbours and local businesses! It's a great way to connect with your community, but it's also packed full of fun for the entire family.
Whether you're new to the area or have lived their entire life, you'll be guaranteed to have a good time. Most people look forward to this all year because it gives them a chance to meet those that live closest to them, and really draws the community together.
When: Saturday, June 27st
Where: Canyon Meadows Community Center Outdoor Park, +Google Map
Time: 12 p.m to 3 p.m
What to Bring: Blankets, sunscreen and the family!
Cost: FREE
Who: Residents of Canyon Meadows Neighbourhood
This will be an event for all, so bring your entire family! It's going to be an old-fashioned picnic and BBQ with a lot of great food and beverages as well, so don't worry about packing a lunch (unless you'd like snacks for the kids). You can stay for as long as short of a time as you'd like, so drop by or make yourself at home for the duration!
Worried about the kids getting bored? There will be a lot of fun activities for kids of all ages, so they'll have something to do. This includes carnival games that will have a lot of fun prizes! What better way to enjoy the beautiful weather this time of year? Bring a blanket to place on the grass and you'll be able to spend the day having fun with your family and getting to know your fellow neighbours.
The event is also kicking things up this year with a live band that will be playing throughout the day. There will also be a kids bike parade at 2 p.m, which you can get your children involved with if you're interested! Remember that this event is 100% sponsored, so it's free for the community to enjoy.
Volunteering
If you're interested in helping out, then you'll be of great use to the event. They are always looking for individuals to run games, help cook the food and make sure all of the other details are taken care of. You can also help by sponsoring if you're able to. To learn more about volunteering or sponsoring, e-mail [email protected].
You can also RSVP to the event (this is not mandatory) on the official Facebook page, which is located at: https://www.facebook.com/events/430388167134000. If you "like" the page you'll receive all updates for Canyon Meadows, so it's an easy way to stay connected and updated on events like this.