City of Calgary Helps Home Buyers
Posted by Joe Samson on Thursday, May 23, 2013 at 8:31 AM
By Joe Samson / May 23, 2013
Comment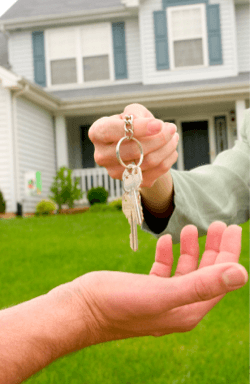 When Jessica Thompson received the keys of her brand new condo suite from the Mayor Naheed Nenshi on Tuesday, she understood that her dream of owning a new home of her own came true by almost 10 years.
Like Thompson, who is 29 years of age, there are many citizens, who fail to fulfill their dreams of owning a new home in Calgary due to the affordability factor. The regular income of a majority of the Calgarians falls in the mid-level group of income. This is a major hurdle to overcome when it comes to buying a new home.

In an attempt to overcome this affordability factor, Attainable Homes Calgary Corp, which is a company owned by the municipality, has started a partnership with several local builders. Their main aim is to provide affordable homes to people like Thompson. The company provides on the spot assistance with down payment in return for a part of the equity of the home buyers. In a way, it is quite beneficial to buyers.

In spite of the company, Attainable Homes, is a nonprofit company, the homes it provides to people are not at all discounted by taxpayers. It is good to know that those, who are eligible to get financial assistance from the company, need to have a household income of below $80,000 and should be able to provide at least $2,000 in terms of down payment. Together with this, the buyers should also be eligible for a mortgage.

According to the CEO, David Watson, people coming for help to Attainable Homes, need to provide a minimum of 5% as down payment money. However, this is getting stiffer each day since the average cost of a single-family residence in Calgary is around $450,000 and that of a condo it is around $291,000. Compared to the price of a new home, the salaries and wages of people are not increasing at an equal rate.

Since the year 2009, when Attainable Homes was started, the company has sold around 230 homes in places like Deer Ridge and Beacon Heights. The CEO has also mentioned that out of those, almost 194 homes are already occupied by the owners. This proves that the future of the company is quite bright. The demand for new homes is sure to rise in the days to come.

Till date, the company has been purchasing homes from builders of ongoing projects in bulk. However, soon the company is planning to start its own projects on lands, approved by the city.

According to the Mayor Nenshi, there are many reputed builders, who are willing to start a partnership with Attainable Homes. In the aim to help people buy a home of their own, Mayor Nenshi has also stated that the kind of help provided by Attainable Homes is critical to fulfilling the city's long ongoing plan of overcoming the homelessness in Calgary. If such projects can be carried forward by other similar nonprofit companies as well, soon there will be very few people in Calgary, who will have to stay in a home which is not their own.