Condos in Calgary are Growing Like Mushrooms Again!
Posted by Joe Samson on Tuesday, February 11, 2014 at 2:06 PM
By Joe Samson / February 11, 2014
Comment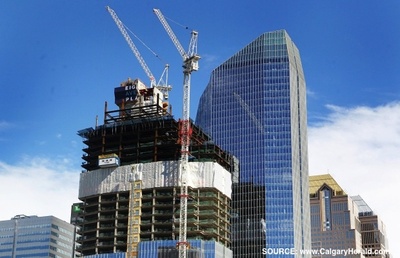 If you drive through Calgary you'll see a lot of beautiful buildings and scenery, but you'll also see a lot of construction cranes dominating the skyline once again. These are commonly spotted throughout the city because condos are constantly being built for residents that just can't get enough of them.
Not only are first-time buyers attracted to them, so are investors who are looking for a way to make money in the future. Do you own a condo in Calgary, or have you been thinking about purchasing one? If so, you're absolutely not alone!
Hot Market for Condos in Calgary
The condo market in Calgary has been increasing in recent years. In fact, there was even an 18% increase in condos that were sold in 2013 compared to 2012. What's the reason for this huge increase? The first reason is the affordability of these types of homes. They cost less than single-family homes, and that is very appealing to individuals who are on a budget or buying for the very first time.
Another reason for the increase is that investors are looking for the best ways to make money. And, because condos haven't reached the highs they were in the past, they are definitely great options and they are easy to manage.
Don't forget that condominiums are also great purchases for individuals who have been renting and want to get into home ownership. Especially since the cost of rentals has been increasing in recent years. So, buyers can pay just about what they were for a condo they own rather than a condo that they rent.
Of course, owning the condo does come with more responsibilities, but it's worth it for the long-term investment the buyer is gaining. Not to mention they are also able to enjoy being within walking distance of a lot of different businesses.
Condominiums appeal to a wide variety of people and are expected to have strong sales in the coming years. In fact, sales this year should mean 5% more condos being sold in 2014, and that means a lot of opportunities for buyers of all types.
And if you look around the Calgary area, you will see that there is a lot of construction underway at this very moment! Buyers love the lifestyle that these types of the home provide, and offer affordable ownership that they may not be able to get otherwise.
Purchasing a Condo in Calgary
The price of single-family homes is expected to rise throughout this year in Calgary, so that may push a lot more people in condos. If you're thinking about buying, then it's worth it to consider this type of purchase. Even as an investment it can offer a lot of money returned in the future if you rent it out. There are also a lot of perks condos have that can sweeten the deal, from in-house gyms to swimming pools and even hot tubs.
Are you thinking about moving into one of these for yourself? If so, it's important to realize that you may be competing with a lot of other buyers. Condos do have a lot to offer, including things that regular single-family homes just can't compete with. With all the new buildings that are being constructed, you just might find yourself in one of these in the near future!