Cycle Tracks Coming to Calgary
Posted by Joe Samson on Wednesday, December 11, 2013 at 4:21 PM
By Joe Samson / December 11, 2013
Comment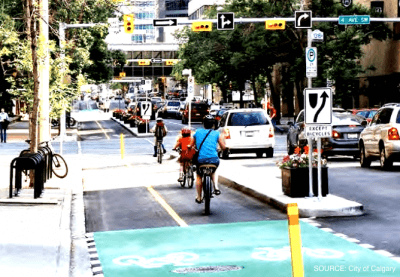 Do you live, work or travel in the Calgary area?
If so, then you probably deal with driving, biking or even walking on the sidewalks to get to where you need to go.
As you may know, safety was an issue between drivers and cyclists, and the cycle track was developed because of that. This track helps bikers and drivers protect themselves from one another, so the risk of accidents is minimized.
It started with creating a physical barrier between individuals who are walking on the street and those who are operating (or even parking) a vehicle. The secure space is made just for cyclists so that they can be separated from those that are driving and walking!
Why Were Cycle Tracks Necessary in Calgary?
If you've ever been in the Centre City, then you know that there are more people riding bikes than ever. This was leading to a lot more accidents, as the sidewalks and even streets were being congested with an increasing number of bikers.
Cycle tracks give a solution for everyone that needs to be in the area, whether it's for work or play. They provide a transportation option for individuals who don't drive or can't walk, and they make the roads a lot safer!
Once the tracks are in place, you will see dedicated lanes that are for bikers, which are clearly marked and easy to identify. This means that you will be able to see them whether you're walking on the street, driving your car or riding your bike. What does this mean for you?
Well, if you're biking it means reducing the stress of watching out for people walking on the sidewalk or drivers and parked cars. For everyone else, it means having less of a chance of conflict between them and bikers.
Where are Cycle Tracks Near You?
If you're eager to use these or just see them in action, you will still have to wait because they are relatively new to Calgary. Cycle tracks are still in the planning phases and will begin breaking ground in early 2014.
1st Street S.E. cycle track is the first that is planning to be constructed, and you can learn about that particular track through the scheduled events that are held by the city. The planning will then continue throughout the majority of 2014, followed by construction throughout the rest of 2015. The end goal of this is to create a network that connects the Bow River to the Elbow River with pathways that go through the Centre City.
If you are a cyclist or are just a Calgarian that wants to know if these will be built where you work or travel to regularly, then it's easy to find out! You can look them up on the display boards that show where different tracks may be placed throughout the network. After that, you can eagerly await the day when construction is finished!
There will be scheduled events in the city where you can learn more about the network and how it will affect you, and those events can be pretty great to attend. Eventually, the tracks should help everyone who travels through Centre City become safer, whether they are driving, walking or biking.
For more info on this project, you can download a PDF presentation prepared by The City of Calgary. Click here.