Decline in Resale Triggers Construction Boom
Posted by Joe Samson on Tuesday, May 14, 2013 at 8:43 AM
By Joe Samson / May 14, 2013
Comment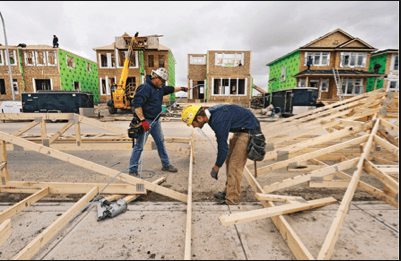 A new home construction boom is on the rise again in Calgary this year, as resale figures and new spec homes continue to sell, according to CMHC.

In the January-April period of 2013, the metropolitan area of Calgary saw an increase of 9 percent in the construction of new single-family homes, as compared to the similar period of the previous year.
According to the Canada Mortgage and Housing Corporation, the areas which saw the increase in construction include several satellite communities of Calgary such as Airdrie, Chestermere and Cochrane. In these areas, buyers are often looking for spec homes which are easier to move into as they are already built, rather than having to wait for other homes to be built on site.

The numbers are also showing an increasing trend, with this year being built a number of 1,972 single-family homes, an increase of more than nine percent compared to the 1,816 built the previous year.

According to Richard Cho, a senior market analyst for CMHC, the inventory for homes is at a low point now, giving builders the opportunity for more construction and it seems to be fueling the boom. Also, steep declines in resale inventory have also fueled construction of new single-family homes.

The figures show a decrease in resale listings for single-family homes in the Calgary area from 3,606 in 2012 to 3,134 units in 2013. That is a decrease of more than 13.9 percent compared to the previous year and it reflects only the first four months of both years, according to the Calgary Real Estate Board.

Richard Cho further explains that the resale listings are also low, with new Calgary home buyers going to the new homes market, triggering construction of new housing units.

Also supporting the idea is Canadian Home Builders Association Calgary Region's president, Charron Ungar. He says that the low numbers of already available homes on the market are stimulating new construction, further adding that sales of new homes are going very well so far this year, compared to 2012.

Richard Cho points out other factors that caused the recent Calgary real estate boom, such as the new economy revival affecting the whole region. New jobs have been created in other sectors, resulting in more people moving in the area. That automatically translates into higher demand for new dwellings.

Although there is a four-month construction boom for the single-family homes, over the last month there is a small decline, when compared to the same month for 2012.
The figures show that 545 homes were started to be built in April 2013, a decline of about five percent if compared to April 2012, when there were 560 homes started.

Alberta's other major cities had also an increase in construction over the previous year for the same month. Edmonton had an increase of 13.5 percent, growing from 493 in April 2012 to 560 starts for April 2013. Also, when taking into account the last four months, in the Edmonton area home builders had also seen an increase of about seven percent from 2012 to 2013.

Lethbridge is also not going unnoticed - They are the new stars of the real estate market in Alberta for communities with a population of 50,000 to 100,000 people. The small city located in the Southern Alberta area had a total of 140 new single-family home starts for the January-April period of 2013, according to CMHC. This is almost the same as in 2012, when Lethbridge had a total of 139 new builds for the same period, according to the Canada Mortgage and Housing Corporation.

Coming in second place for is Red Deer, listed at 111 new builds for the first four months of 2013.