Dinosaurs In Motion Travelling Exhibition in Calgary
Posted by Joe Samson on Monday, June 1, 2015 at 6:36 PM
By Joe Samson / June 1, 2015
Comment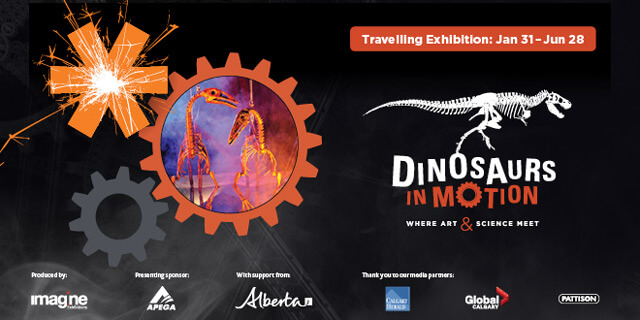 While you're checking out houses in Bridgeland community and are interested in doing something fun with the family, then Dinosaurs in Motion is a wonderful choice! It's been going on since January but ends Sunday, June 28th, so now is the time to go with your family.
Dinosaurs in Motion has fully interactive and realistic looking dinosaur sculptures that actually engage children and attendees of all ages in learning! They'll have fun seeing these creatures in person, learning about what they ate, how they lived and just how large they were in size.
Where: 220 St. George's Drive NE, Calgary, AB, T2E 5T2
When: 10 a.m to 4 p.m
Cost: Included with Admission or Membership to TELUS Spark
Age 18-64 $19.95
Age 65+ $17.95
Age 13-17 $15.95
Age 3-12 $12.95
Age under 3 - Free
When you attend this exhibit, you'll have a lot to see and a lot to do. Each of the 14 life-size dinosaur sculptures has informative displays, including how they are connected with the area! What's even better is the fact that the creatures can move so guests can get a good idea of how they move.
While at the exhibit you can also enjoy drawing, sketching and sculpting so you can enjoy showing your creativity. Kids especially enjoy the art section, but that's not where it stops. Guests will also learn about kinetics, biomechanics and robots! It's all laid out to be a lot of fun, as kids can help move dinosaurs with various pulleys and remote controls.
About TELUS Spark
TELUS Spark is a science centre located in the Bridgeland community. It's open all throughout the week and regularly has events and exhibits for the community to enjoy. There are even films and live planetarium shows available throughout the year, making it a great place for kids of all ages to learn.
There are parking spaces available, but if you would like to exercise, you can bike via one of Calgary's many bike paths! There's also a route from the LRT, so there are many ways to arrive and get back home safely. Pricing is per exhibit, but if you're interested in going to different events throughout the year, it's worthwhile to purchase an annual membership. Prices can be found on the TELUS Spark website, and vary based on age and type of admission.
Some of the other fun events and various activities this centre have included:
- Adults Only Night
- Sparks 'n' Spurs
- Live Science Demonstrations
You can find more specific information about upcoming events by looking on the website, and you can purchase tickets there as well.
The Dinosaurs in Motion is a wonderful exhibition to attend if you haven't yet been to this centre and will be a great way to meet locals in the area. You'll likely find a lot of other events you enjoy throughout the year as well, so there will always be something you can do as a family.
- Photo by TELUS Spark Centre