Enjoying a Safer Summer
Posted by Joe Samson on Monday, July 1, 2013 at 5:58 PM
By Joe Samson / July 1, 2013
Comment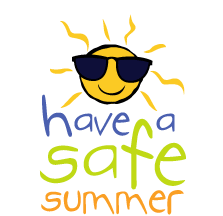 Over the summer months, our spare time can seem so valuable that we want to rush through preparations and focus on relaxation and fun. But don't let yourself skip basic and necessary safety precautions.
To get the most enjoyment out of the summer months, consider the following safety and security tips:
Always Be Weather-Ready
Extreme weather has become a growing concern around the world, endangering places that were previously unaffected. To ensure your house is not susceptible to unexpected wind and water damage this summer, take a little time to check your roof, gutters and downpipes, as well as your drainage and grading.
Make sure to encourage safe and efficient water run-off away from your house foundation. Also, periodically check tree limbs to ensure that they do not pose a threat to your roof, windows, and utility connections.
Practice Outdoor Fire Safety
When socializing outdoors, keep in mind that moveable barbecues and portable fire pits can pose an extreme hazard. Too often, they are located for convenience rather than safety. Be sure to position yours well away from buildings, vehicles and any other potentially flammable material.
Also, make sure children are kept a safe distance from any fire. Never leave flames or embers unattended. Always keep an appropriately coded, properly filled fire extinguisher within reach - and check that it's not past its expiry date.
Considering a Garage Sale?
If you're planning to attend or hold a garage sale this summer, you should know that even second-hand products must meet safety standards. The seller could be liable if they do not. For example, children's toys, car seats and play equipment are often resold when they are outgrown, yet they may not pass updated safety regulations.
So, if you are buying or selling any used merchandise - including items powered by fuel, electricity or batteries - make sure they meet current operational standards. They should not be damaged or incomplete, be beyond their expiry, nor subject to a product recall.Whenever possible, consult the owner's manual or the manufacturer's website.
Vacations are a Going Concern
If you are going to be away from home for an extended period of time this summer, check to make sure you have adequate property insurance. Some policies don't cover a home that's left unattended at length. Have a reliable person check inside your home regularly, as well as maintain its outward appearance by picking up flyers, watering or trimming the lawn, removing mail, and possibly leaving a car in your driveway overnight.
Before you leave, be sure to replace old exterior sentry bulbs, as well as old batteries in monitors and/or backup systems. Also, unplug TVs, computers and unnecessary household appliances. Lock combustibles such as gas or propane tanks in a safe, well-ventilated shed or outdoor storage area. Never leave them indoors.
Time to Rest Easy!
Finally, whenever you plan on travelling, always ensure that a responsible person in town knows how you can be reached. Leave all potentially necessary legal and financial directions in case of a serious emergency.
Whatever you do this summer, you'll make it more enjoyable if you plan ahead and take the time to play it safe. The more precautions you take in advance, the more you will be able to relax during your well-deserved leisure
Thank you for your continuous support, feel free to call me anytime with your questions or real estate needs.