Free Home in Calgary Offers Opportunity to Families
Posted by Joe Samson on Tuesday, January 21, 2014 at 2:50 PM
By Joe Samson / January 21, 2014
Comment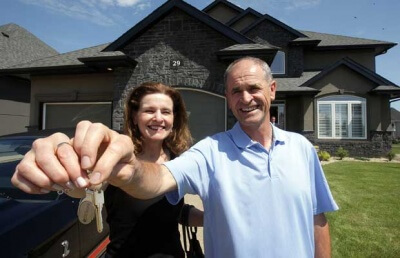 A lot of people move in and out of homes without a second thought, but this is not the case for Jason Hastie in southwest Calgary.
He's looking to give away his home to someone in Calgary who deserves it, for free! While this is something you might think is a scam, it's actually a very real opportunity.
Jason and his wife are building another home and would like to help someone deserving get into a beautiful home. This has certainly created a lot of buzz throughout Calgary, and everyone wants to know why he's willing to give away something so expensive.
Free Home Listing
Hastie first moved into his Killarney property ten years ago and has loved it from the moment he owned it. Since then, he has worked hard to do a lot of different renovations, and those have made the home more enjoyable for him to live in.
He's proud of the work he did on this property but is now building a new home on the same property with his wife Gina. Instead of seeing the home torn down, they decided to go a more giving route.
After discussing the situation, they decided the best option would be to give the home to someone who is deserving, even offering an extra $1,000 for moving costs associated with taking the home to a new location.
While this might sound weird to anyone else, Hastie's neighbour, Nora Arnold, says that it's just the way that he is. Arnold described Hastie as the best neighbour she's ever had, and someone who is extremely generous and thoughtful.
She says it's no surprise that he's giving away his home and that she thinks it's a kind-hearted act on his part. Hastie is a country musician and is well-known around Calgary for being kind and an overall great guy. He has also worked as an accountant and has helped Arnold with her taxes in previous years.
Finding the Owner
This free home has been generating a lot of talks, especially since there are many deserving families who were displaced by the flood last year. Hastie has put the home up through Kijiji, and his ad states that he would like people to think about someone in need who could really use the house.
He wants to make sure it goes to someone who truly needs and deserves a place to live in, and could overall benefit from not having a mortgage payment.
To Jason, this home is something he worked really hard for, and he doesn't want to see it being torn down just because he's moving into the new place. He'd rather give the three-bedroom and one-bathroom beauty to someone who could really use it. It even has a new kitchen, new windows and renovated bathroom, so it looks gorgeous on the inside.
So far there are over 100,000 views on his ad, and there are much more expected to follow! Although the Hastie family is on vacation right now, they will be giving away the home at most by the end of February, or else it would have to be taken down.