Going from Renting to Owning a Home in 60 Seconds
Posted by Joe Samson on Saturday, April 16, 2016 at 4:31 PM
By Joe Samson / April 16, 2016
Comment
It will only take you 60 seconds to read this post and by the time you finish, you can be well on your way to plan out the next steps of your home ownership dreams or to help someone who you really care about to start investing in their own home.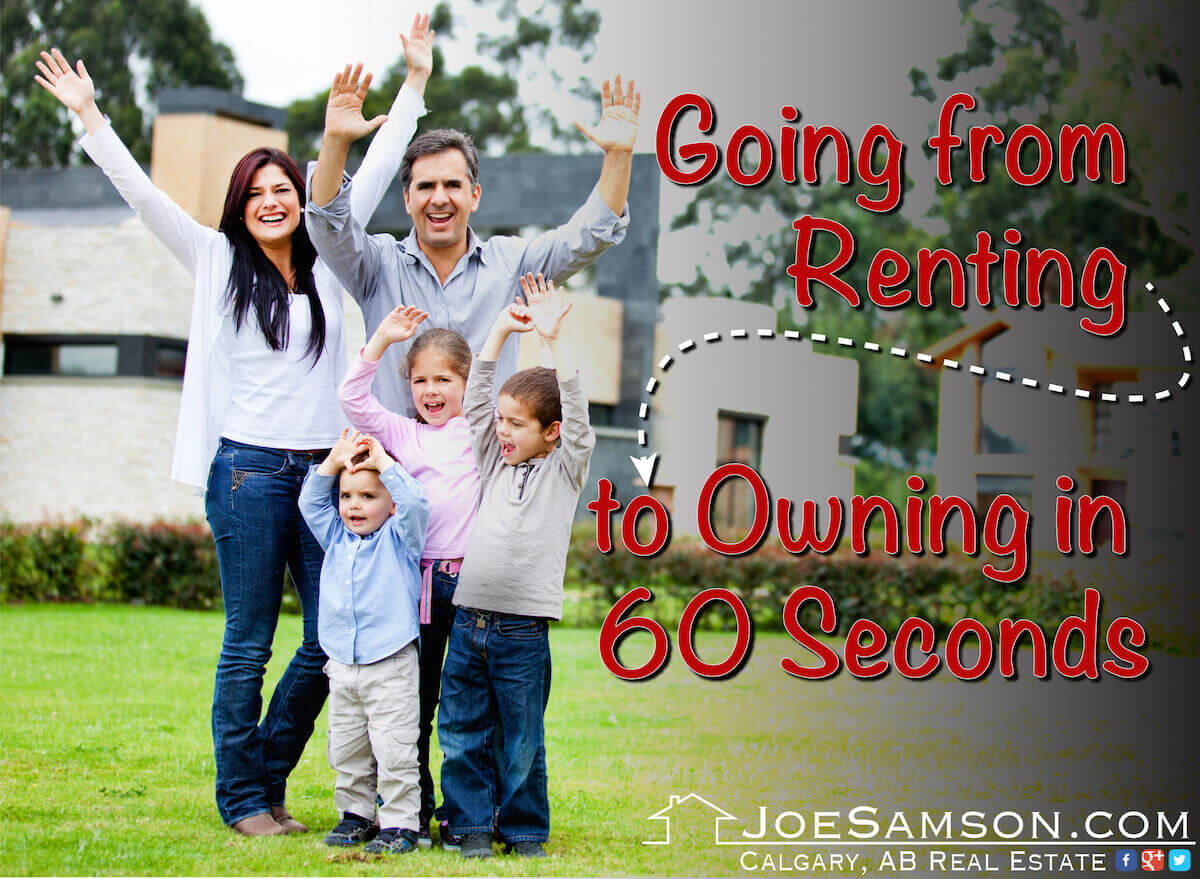 If you're a renter then chances are you have high hopes of owning your own home one day. You want to put those rent payments towards something you'll eventually own, and the closer you get to finally achieving the goal, the better you feel. But, while you're saving up for that down payment, are you doing anything else to prepare? Take a look at the following tips to help you get closer to finally owning your own place!
Look at Your Credit Score in the Eye
If you don't already know what your credit score is, then it's important to become familiar with it. Most lenders won't give you a decent loan if your credit isn't in shape, and that's why you need to know what your score is. If it's not where you want it to be, then try to take out credit accounts so you can start building better history.
Learn About Being a Homeowner
A lot of people are surprised to learn that being a homeowner comes with a lot of expenses. For example, you have to pay for insurance for your home, taxes, and community fees (if applicable) in addition to your mortgage payment.
You will also have to cover repairs, landscaping and other maintenance around the home as they are necessary. Sit down and figure out what expenses you may face as a homeowner, especially if you live in a condo or home with an HOA. These have special rules and you may need to pay extra in order to follow those.
Compare Your Rent vs. Buying Expenses
If you were to continue renting for longer, would it be a better financial move for you? Consider the benefits of home ownership versus renting to determine which choice you should make right now. Sometimes it's better to continue renting while other times it's best to buy before prices of homes in your desired neighbourhood increase.
Learn About Tax Benefits
When you own a home in Calgary you have a lot of expenses, but you also have deductions for the property taxes and mortgage interest that you pay. If you have a business, this could save you a lot of money when tax season comes around and may make owning a much better choice than renting.
Look at Mortgages and Down Payment Options
If you don't have 20% to put towards your down payment, then you'll have to take out mortgage insurance, which is an expense on top of your loan, insurance and tax. The good news is that if you're willing to pay that mortgage insurance, you may be able to get a loan for as little as 5% down.
Take these tips and implement them into your home-saving strategy. By doing your research, saving your pennies and focusing on what you want, you should be able to invest in a place in Calgary that you love. Just remember there's no reason to rush, and a great real estate agent can help you work through all the details.