How is the Flood Going to Impact the Housing Market in Calgary?
Posted by Joe Samson on Wednesday, June 26, 2013 at 5:59 PM
By Joe Samson / June 26, 2013
Comment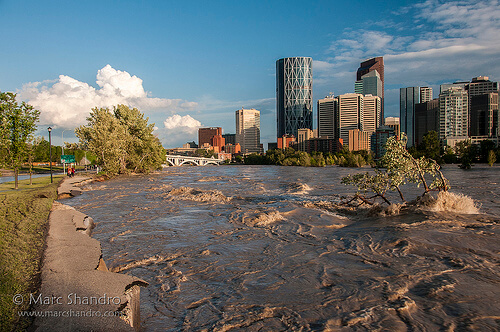 Calgary was going through a great period of growth in its housing market but the recent floods around the Bow and Elbow Rivers have dramatically impacted the city.
The floods have harmed many neighbourhoods all around the area and have made it harder for people to predict the city's housing market.
For many, it is extremely difficult to think about Calgary's real estate market at this point. In an interview with The Calgary Herald, Calgary Real Estate Board economist Ann-Marie Lurie recently stated that the flood may impact short-term values and might even cause people to flock to other areas. In fact, Lurie also said that about 700 MLS listings were in places that were harmed by the flood. It's unclear as to whether any of those listings were hit by difficult flood waters over time.
CREB was to release a mid-year report but it has delayed its release due to the flood. In January, there was a projection that the sales were to grow by 2.2% with a 2.9% price growth. MLS sales were up by 4.28% when compared to last year while the median and average sale prices went up by more than 5% each. Active listings are down by 18.3% from last year.
Prices in Calgary May Increase Outside Flood Zones
It's estimated that about 12% of houses for sale in Calgary may have been impacted by the flood based on the areas that were harmed by it. Lurie is not certain as to what will happen in the long run but she feels that it won't make much of a difference in the end. In fact, the prices of some properties in no-flood areas might go up as there are fewer properties available for sale.

Still, it is important to think about how prices might grow at certain rates based on the reduction in values. Don Campbell, the founder of the Real Estate Investment Network, says that current sales and values won't reflect the way how the market is going. He says that Calgary is going to go with different trends that are not relevant to overall trends.

This is an understandable consideration. It might take about a year or so for the statistics for homes in Calgary to be closer to overall trends. This is especially since so many people might reconsider their homes and their values as a result of such a dramatic event as this. These homes might be more affordable as a matter of fact.

Campbell particularly agrees that the next twelve months will be dramatically influenced but the long-term status might not be harmed. He even feels that the 2005 flood did not really do anything in particular.

The fact of the matter is that there are plenty of different desirable neighbourhoods to take a look at around Calgary. This is an interesting place to see for real estate but it is a good idea to think about how the industry might change.

It's not clear as to exactly what's going to happen with the Calgary real estate market but it's clear that the world of houses for sale in Calgary might be impacted in the next year. It should not be too much of a problem for long-term investors. In fact, the potential for values to go down might be great for people trying to get in on the ground floor.
Photo by Marc Sandro