How much is a REALTOR® worth?
Posted by Joe Samson on Friday, June 21, 2013 at 6:03 PM
By Joe Samson / June 21, 2013
Comment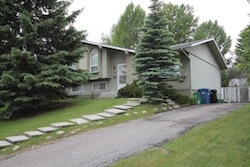 Here is a true story to prove that hiring a REALTOR® will actually save you tens of thousands of dollars.

In about 24 hours, my client received $85,000 more than initially expected and $25,000 above the asking price for her property than what she almost sold it for without using a REALTOR®.

That's right, almost $85,000 was left on the table for someone else. The owner of this property in Canyon Meadows had approached several developers and renovation companies before calling us to provide her with an evaluation on her property.

At first, when I shared my market research with my client she seemed quite skeptical that she will be able to receive close to $300,000 for a house that needs a major renovation. In fact, she shared with me that one of the developers offered her $240,000 for the same house and they were going to accept the offer because the property needed lot of work and they just wanted to get on with their lives.

Fortunately, the developer never came through with his promise to close the deal and six weeks later I have received a call back from the owners that they are ready to list the home on MLS® with Joe Samson & Associates.

The REALTOR'S® sign did not even go up on the front lawn, and less than 10 minutes into loading the listing to the MLS® System, I started receiving phone calls of showing requests from other REALTORS® and calls from the public that was interested in looking at the home.

Fast forward to the next day is where things started to get interesting. I had received over 46 showing requests in 24 hours, and because of that, I happened to live out all REALTOR'S® dream by having to get in line to show my own listing to one of my buyer clients.

I found it sad but ironic, that while some unfortunate people in other parts of Calgary were being evacuated due to the flood, yet at the same time dozens of people were waiting in line to get into a modest size 4-level split in the midst of a mosquito invasion. I gotta tell you, you should have seen the dance show that the buyers were putting on because of the mosquito bites.

Before the sun set, we have counted a total of 13 offers for this little house that needed a ton of work. By this time, I had to recharge my cell phone 2 times and must have made over 150 phones calls or sent text messages.

Finally, we were ready to call the seller and review all of the offers with her one-by-one. However, we ran into a bit of a snag with technology as she was one of the many residents who was being evacuated and she lost cell phone coverage in the area where she was relocated to.

By now it was way past 10:00 p.m. Many of the REALTORS® and buyers must have been quite edgy of not knowing what's going on with their offers. But finally we got a break and we managed to make contact with the owner to discuss the offer.

The lucky winner of the bidding war had offered $25,000 above asking price and submitted an unconditional offer meaning that the buyer had chosen not to do any due diligence on the property or to seek bank financing.

It looks like everyone walked away as a winner from this transaction as the seller of the property had never imagined that she could profit over $85,000 more just by hiring a REALTOR®. The buyer is also very happy as most likely they are going to be busy for a few months working on this project and perhaps making a bit of profit themselves.

Don't forget, call before you sell. It pays to have a REALTOR®, not the other way around.