How to be an Amazing REALTOR® - Keep Your Clients for Life!
Posted by Joe Samson on Thursday, May 14, 2015 at 6:55 PM
By Joe Samson / May 14, 2015
Comment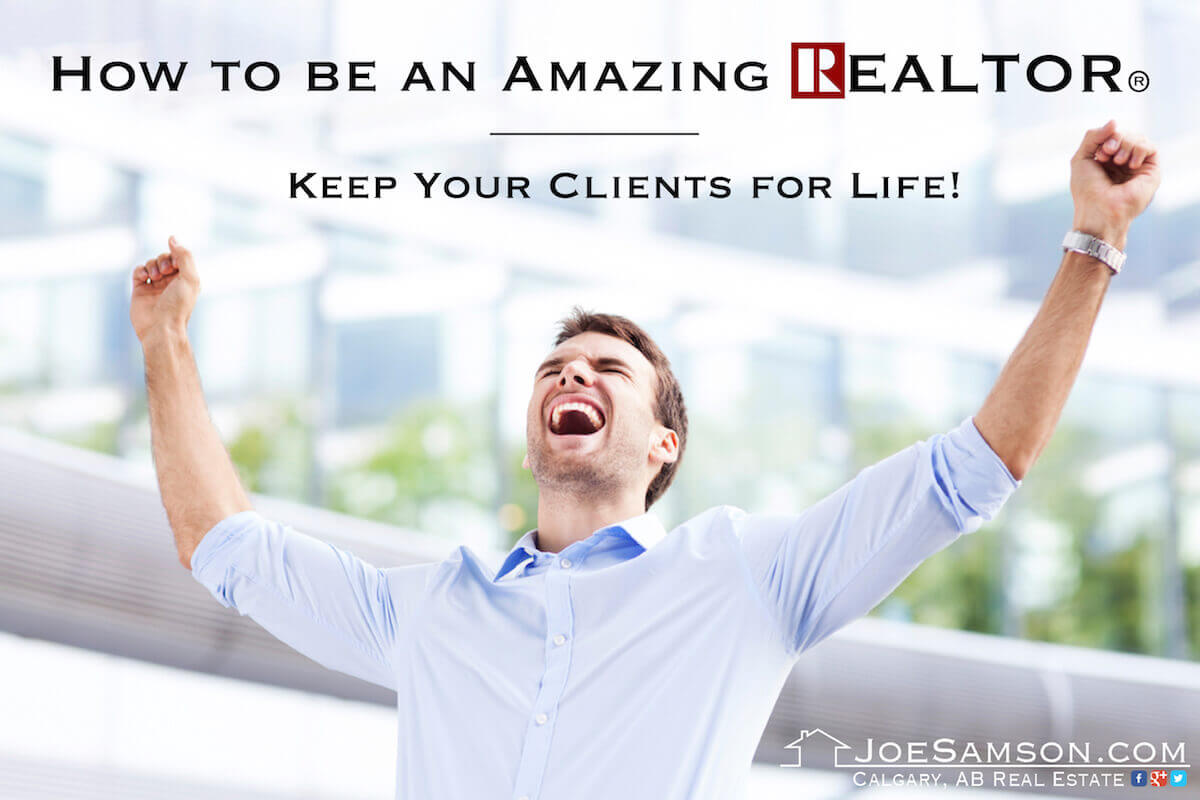 When it comes to being a successful real estate agent, retaining clients is essential. And that's not only because over 80% are likely to use their service again in the future, but also because they may recommend their friends and family their way. In fact, 92% of individuals looking to buy or sell will take advantage of recommendations over all else, so the power of the past client is incredibly important.
Unfortunately, as the real estate climate changes, it can be difficult to not only keep clients but also attract them to do business with you. There's a lot of competition, and setting yourself apart is more important than ever. Ask yourself this: Are you doing all you need to do to keep your clients, or could you be doing more?
Some real estate agents aren't open to the idea of changing, saying their methods are working just fine. They'd rather stick with what they know, and if that's how they want to do things, there's nothing wrong with that.
However, if you want to get ahead and improve the way you interact with clients, there are a lot of changes you may be able to implement. These may help you move forward and to better serve home buyers and sellers rather than hitting a plateau.
How important is it for you to have repeat clients? This should be one of your top priorities no matter what type of real estate you sell. According to a research done by Sabel Harris (Senior Manager at Contactually), that's because around 25% of real estate agents actually generate over HALF their business from repeat clients!
If you want to benefit from this just as so many other agents do, take advantage of the tips below. They'll help you nurture and grow your business relationships so you can keep those clients on your team.
---
Create a Cohesive Team
You work with a smart, effective and experienced team of agents that you know you can trust. They help you manage your clients on a regular basis, but even with their help, you're not seeing the sales that you should. What's going on? What most agents don't realize when they work with a team of other agents is that their service can fall by the wayside as a result.
This isn't to say you're not being kind and welcoming to your clients, but you may be confusing them as they filter through the different individuals you're working with. To help clients buy or sell properties, they need to be on the same page as you and the rest of your team.
Take time to create a bonding real estate team that effectively communicates not only with the client, but with each other. Make sure every client understands the roles on your team and that if they are being referred to someone after they meet with you, they know who they are working with. The last thing you want is for a client to love working with you, only to be tossed to someone else without seeing you ever again.
A HUGE part of retaining clients is making them feel like they are a part of your professional family. Welcome them with open arms, get to know them and have them get to know the agents you work with. This will create stronger connections so they are more likely to stay with you and come back to you.
---
Don't Over-Inflate Your Value
Ouch! Does this tip hurt a little? It's a delicate subject for agents to discuss, but it's one that's incredibly important. You should be offering great value for the commision that you charge, and that should be crystal clear to your clients. And when it comes to value, it should be more than just helping them negotiate a good rate for their next home (although this in itself is very valuable to the client).
To the customer, true value for the price they're paying means hiring someone who knows their field. Prove to them you know what you're talking about by updating them on real estate news, talking to them about market conditions or telling them why homes in the area are priced a certain way. Show off by presenting facts, information and statistics, but make sure you do it in a friendly way (don't be arrogant).
If you aren't currently doing this, try it out. When your client feels that you are an expert in real estate that you can trust, this will ultimately strengthen your relationship. They want to know they can turn to you for everything they need to know. And if you want to keep up-to-date ahead of time, subscribe to newsletters for real estate news.
---
Update Your Website
An average of 92% of home buyers look online while they are searching for a home to purchase, and 43% actually find the home they end up purchasing online. Therefore you need to have a website that doesn't look like it's from the year 2000. If prospective or even current clients can't utilize your website in the way they need to, they're likely to turn to an agent that's embracing the internet more effectively.
Here's what you need to do:
- Make a website or have one created
- UPDATE your listings regularly
- Include pictures in listings, possibly videos as well
- Write in-depth descriptions
- Update your Real Estate Blog, even if just weekly
- Offer e-mail newsletters
If you do all of these things, your clients will stick with you knowing they can turn to your website when they want to browse homes.
---
Care About Your Clients
In order for any potential client to stick with you, they need to know you care about them, says Marty Green a top Real Estate Broker/Manager in his blog. Marty explains it's crucial to remember to "C.A.R.E - Contact And Retain Everyone". It's so important to show your clients that you appreciate them because you do! You wouldn't be in business without them, and you should be proud to show them how much you enjoy having them around.
You need to communicate with your clients regularly, but this shouldn't be bothersome to them. Send a quick e-mail, make a phone call or send out a flyer. The goal is to have them know that you're thinking about them and are there for them if they do need anything. If they feel important, you are much more likely to earn their loyalty and keep them coming to you well into the future.
This is similar to those who show brand loyalty because they know they're going to get a good product, even if the price is more expensive. If the client knows you're the best real estate agent for them, they'll turn to you no matter what. Give them reasons to stay, not reasons to leave.
---
Don't Take On Too Many Clients
Too many clients certainly isn't a bad problem to have, but it's one that you need to handle in the proper manner. That's because if you are overwhelmed, you're not going to give any of your clients the attention they need or deserve. This can send them off to other agents within days, and result in them not giving you a second chance.
Avoid this downward spiral before it gets that bad by recognizing your limits. Honestly ask yourself how many clients can you comfortably handle. This means giving them each individual attention, with quick response times and regular visits to make sure they feel valued. The thought here is that you don't want to compromise the quality service that you're known for, so how many people can you take on while maintaining that?
Once you know your limit, refer excess clients to agents that you trust, and keep your focus on building a quality team around you. Sure this might mean missing out on a few clients now, but what would happen if you took them on and ended up upsetting them because of your lacklustre service? You don't want this, and neither does your reputation.
If you keep the focus on building a business team, you'll eventually be able to grow your business and keep all clients within your workgroup. It's worth the time and effort to do this slowly because ultimately it can mean more money and more success.
---
Keep E-mails Fast and Efficient
When clients e-mail you, avoid sending them an auto-response. James Kimmons who is a Real Estate Business Expert suggest in his post that if you really can't take a few minutes to write out a message, then let them know you'll get back to them soon because you want to help them in the most comprehensive manner. If you do this as soon as you receive messages, your client will know they are a priority for you.
When you do respond to messages, keep e-mails short to medium in size! Don't write a book that they'll have to dissect paragraph for paragraph.
---
Keep Buyers Motivated
The dream for every buyer and agent is to find a home, make an offer and have it accepted, all without any problems. Unfortunately, this rarely happens today, as real estate is a constantly changing market. A lot of buyers end up having to walk away from homes that they were ready to live in, which can be disappointing. It's crucial for you to be there for them during this time so they know there is hope.
One great way to overcome this type of slump is to make sure the client LOVES the home when they are about to make an offer. If they do and know they want it, then make an offer that they are comfortable with. If they do end up being beat by someone else, let them know there are many other homes that are suitable for them.
It can be a struggle dealing with emotions when offers aren't accepted, but it's all part of the real estate buying process. All you can do is keep them motivated with new choices, and make sure you're giving them honest information about what they can expect.
Remember, the average number of homes each person looks at is around 10, so let them know it's okay to search. Don't promise them everything they want, or else they will likely jump ship to someone who gives them realistic expectations.
---
Don't Appear Too Eager
There's nothing worse than walking into a store and being pushed to purchase a product because the salesman is desperate. Do you come off like this when clients come to you? Of course, you need to work to support yourself, but you shouldn't ever come across as desperate. This will cause you to lose business simply because the client won't be sure you're being genuine with them.
Change your perspective from about you to about the client and they'll notice. Show them that you're passionate about helping them, and take into account their needs and wants. Serve them in the most comprehensive manner that you can, and you'll find that success follows you.
---
Don't Falsify Information
Honesty in real estate is mandatory. This doesn't only mean telling the client the honest truth, but it also means not hiding information from them. Trust me, the last thing you want is for your client to learn you were either lying or omitting information from them, just because they did a simple online search. Even if the truth isn't pleasant, it's important.
Another tip for being honest is to let the client know when you're joking. Otherwise, you could say something they take seriously, or even worse, you could offend them.
---
Don't Ignore Even Small Needs
Never ignore what your clients need! Even if they are interested in a piece of information about homes in the area, accommodate them. Remember this: if you don't do this, a different agent will. Offer the type of service that you would want when you were reaching out to a professional. Your client will appreciate the fact that you're there to help.
Even if a client isn't looking to buy or sell right now doesn't mean they won't be in the future. Keep yourself in good graces with every person you come in contact with and it will pay off in the future.
---
Show Overall Gratitude and Respect
A lot of people feel neglected by their real estate agents, but if you utilize these tips, that won't be the service that you present.
Show them the high level of quality that you offer and they'll likely become loyal to you for all their real estate transactions.