How to Choose a Home Inspector
Posted by Joe Samson on Thursday, May 28, 2015 at 6:39 PM
By Joe Samson / May 28, 2015
Comment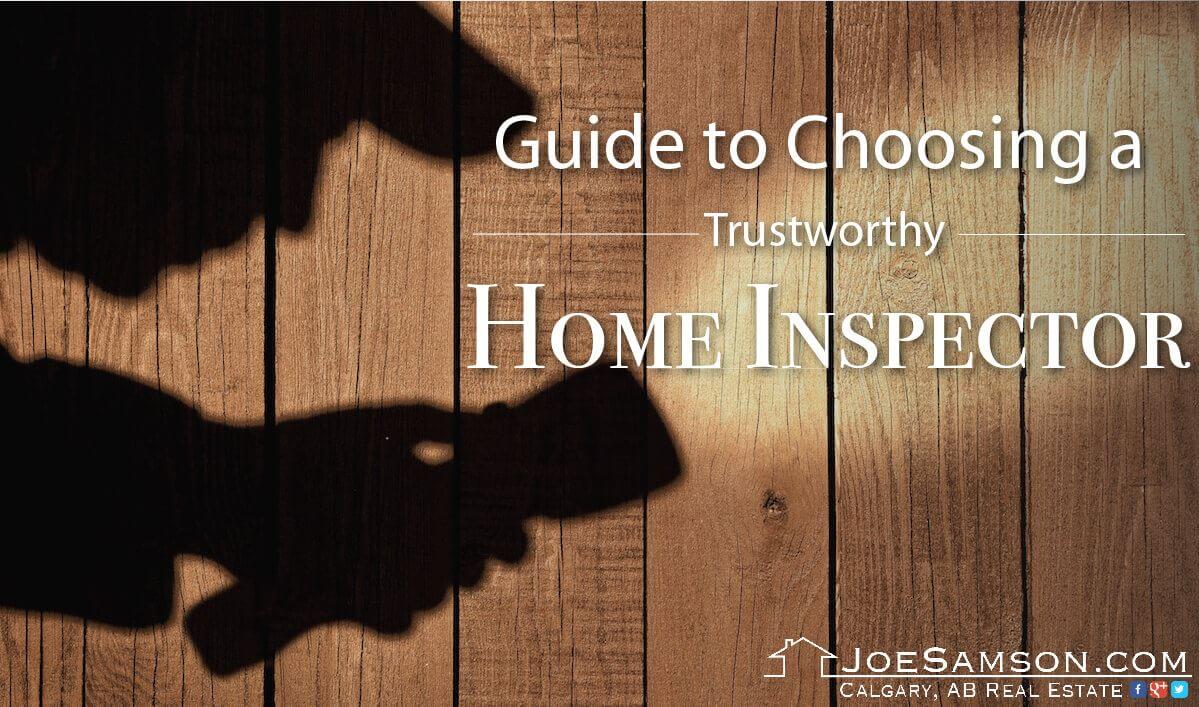 Home inspections are crucial parts of the selling and buying process and can be advantageous to either party. The insight given by an inspector can mean a more accurate price for the property, as the entire structure is looked over with this service. However, not every inspection is a walk through the park for the person who hired them. Occasionally with marginal professionals looking to get things done quickly, there is a lot of room for error.
Finding a qualified, honest and licensed home inspector is more important than ever. And thanks to the popularity of the internet, more people are aware of that. According to a recent survey by the NAR (National Association of REALTORS®), 87% of frequent internet users were more likely to use home inspectors for their next purchase. And even 83% of those who said they used the internet "just a little" said they would hire a home inspector.
In addition to this; news articles, social media and other outlets are helping internet users think more about who is doing their inspection They want to avoid the nightmares they've heard or read and want only qualified professionals to help them. How can you make sure this is your experience? Keep reading and you'll learn all you need to know!
You've walked around a home and love the way it looks, so why should a home inspection be done?
---
Getting Your Mortgage Approved
Are you going to have a mortgage on the home? Then some of the bank's top requirements are that you have a home inspection done. This is non-negotiable for most lenders once they request it because they want to know if the home has any defects that could cause you to go bankrupt and foreclose.
---
Paying a Fair Price
What would you do if the home that looked perfect was far from it when you actually moved in? If the plumbing needed to be repaired, the foundation was cracked or the roof needed to be replaced, you could spend thousands having those things done. If you have an inspection, then you'll be able to negotiate with the seller the cost of the repairs or having the repairs done before you sign the final paperwork.
---
Your Own Piece of Mind
A home that's in a bad condition can be extremely unsafe for you, your family and your pets. With an inspection done by a qualified professional, you'll have peace of mind knowing that you have increased safety. Of course, this doesn't mean you'll never run into problems, but it means you know what risks you're taking on from the start.
DON'T BUY WITHOUT AN INSPECTION! Some buyers get lucky with properties that are in perfect condition, but this is very rarely the case. Most find out about at least one or two problem areas that need to be addressed and are able to have those fixed (or will be compensated for the cost of repair) by the seller.
---
The Goal of the Inspection
The ultimate goal is to make sure the home really is in good condition, from the top of the roof to the foundation. If it's not, then it can open your eyes to any problems that may be a financial burden down the road, like repairs or replacements.
---
The Role of the Home Inspector
A home inspector is a licensed professional who is responsible for telling the client if there are any potential problems within the home. They provide an independent review, which means they are not biased to help either the buyer or the seller. They simply get paid to give professional advice on the state of a home, and to write that in a report.
And because 82% of buyers hire these professionals, they are more in demand than in previous years. Buyers want to minimize their risk, and they know that having a home inspection done is one way to make sure that happens.
Some of the things inspectors look at include:
- Heating/Cooling Systems
- Roof Quality
- Foundation
- Interior Outlets
- Windows
- Chimney
- Plumbing
The assessment of an inspector is based on a visual inspection. They won't be taking things within the home apart, but they will use their professional training and expertise to determine if something, like a heating system, for example, is going to fail soon.
---
How to Choose a Home Inspector
Even if you're buying a property with cash (lucky you!), you should have a home inspection done. Don't be fooled by a property that looks great, because you never know what could be lurking behind the walls. I've seen people go into financial turmoil because they avoided an inspection, and soon found out they had to replace entire electrical systems and plumbing parts.
If you haven't watched the movie Money Pit, I highly recommend it. Sure it's a comedy, but it's also a very real situation you could end up in without a home inspection being done.
- Research Online:
The internet is going to be an important resource when finding a home inspector you can trust. If you're lucky you might find websites with reviews for various inspectors, and that can help make the decision easier. However, don't take all of those reviews seriously. Although it sounds like paranoia, some of those reviews could very well be fake. Make sure you do additional screening on each inspector to make sure they are truly the best.
- Ask Your REALTOR®:
Your real estate agent will likely be able to recommend several inspectors that they know and trust because they have worked with them in the past. However, there's a caveat with this as well; you have to make sure you trust your representative in order to trust their recommendation.
Do additional research to make sure they don't just have a business relationship with the inspector where they receive a kickback for recommendations. It's best to talk to three different home inspectors before deciding on the one you're going to hire.
- Ask Friends and Family:
If any of your friends family or even neighbours have recently bought a place, ask them for referrals! At least one or two will likely have someone that they had a wonderful experience with. And just like with the other options for finding an inspector, you should do additional research as well.
All of this work to find someone you can trust might seem like a lot, but think about the consequences of not doing so. What if the home was a "lemon", and ran your savings dry with necessary repairs? It is worth the time and energy to find someone who is going to do an honest and thorough inspection.
---
Questions to Ask
Once you meet with a REALTOR® you're thinking about hiring, take time to ask them some questions. This will give you a chance to get to know them and their professional background, which can mean weeding out those that aren't suitable for the job.
- What professional organization are you a part of?
If you're dealing with a reputable inspector, they'll be glad to give you this information. They should also be able to explain how they came to be a part of this organization by passing certain requirements.
- What experience do you have?
Trustworthy inspectors will have many years of experience with this type of work. They should know basic building codes, but also have an eye for detail. They should also have a current license.
- What do you look at during the inspection?
Inspectors only look at things that can be seen, so don't expect them to take apart your HVAC unit to make sure it's in good shape. They should answer this question with an electrical box, water heater, furnace, roof, foundation, attic, basement and any other place that is visible in the home.
- How long does it take?
If they tell you they do quick inspections, then move on. It's important that they take their time, so 2-4 hours for a single-family space. If you have a larger home, then it should take longer.
- Can I come with you?
Do not hire someone who tells you "no". They should be 100% okay with you attending the entire inspection. And during that, they should explain to you what you're looking at so you familiarize yourself with your home. If you can't make it to the inspection, then wait to have it done. You should be present for at least 30 minutes, not only so you learn more about your home, but to ensure your inspector is doing a good job.
- When will I receive my inspection report?
Most inspectors will give you your report right at the house as soon as they are finished, but it's important to ask just to make sure you know what you're getting into.
---
Safeguarding Yourself From a Bad Inspector
By doing your research, making sure the inspector is licensed and asking those questions above, you should be able to protect yourself from a bad inspector. After all, the answers to those questions will tell you whether or not they are honest, hard-working, thorough and reliable. Fortunately, there are a few other things you can do to protect yourself if you really want to find someone you can trust.
---
Avoid Someone Who Wants to do Repairs
One major red flag to look out for is an inspector who offers to help you with repairs or upgrades. This creates a big conflict of interest because you never know if they are lying to make more money. And while they might be able to do these things, their sole focus should be on giving you an accurate and thorough inspection.
---
Read a Sample Inspection
By reading through a sample report you'll become more familiar with what they include and how long they should be. Problems should be easily displayed and highlighted, and information should be clear. Most inspectors offer sample reports to their clients as well, so this is something to ask for when interviewing different people.
Below you will find a few sample reports provided by Calgary's most preferred and helpful home inspectors. Be sure to contact them for further questions regarding their services.
- C.H.I. Home Inspections:
Locally owned and operated inspection service where you are dealing with the owner of the business one-to-one. Cliff provides great service and makes sure to explain his report in great detail. Click to download sample report HERE.
- Mr. Home Inspection Services:
Uses the latest technology and thermal imaging inspection equipment to guarantee a thorough analysis. Mr. Home Inspections is well known to take his time to discuss any issues found and whether they need any further attention. Click to download sample report HERE.
- Odds on Home Inspection:
Provides a 135 point home inspection report. They are so sure about their quality of work that they are more than happy to provide their customers with a 100% money back guarantee. Click to download sample report HERE.
---
Find out if Re-Inspections are Included
If a problem is found in the home, and the homeowner repairs it, the inspector may offer to come by and re-inspect it. This is not included with all professionals, but it is something that the majority will offer as a free service.
---
Avoid Unbelievable Offers
If an inspector talks a lot about what they can do for very little money, they may be just telling you what you want to hear. It's important to make sure the inspector has the proper credentials, like a licence that's still active and experience in this field. They should also be licenced so you are fully protected. Last, but not least, their pricing should be in line with what other inspectors in Calgary or in your city charge.
Another aspect of an unbelievable offer is an inspector who tells you that everything in the home is perfect. Even new homes aren't perfect, so don't believe this. Every home has problems, even if they are small and can easily be repaired.
---
Hiring a Trustworthy Professional
Qualified home inspectors should not miss anything (like a major repair issue) while they are working because of how thorough they are. This can help you avoid those nightmare situations where you end up in a "money pit", and will ensure you end up in a home that you can feel comfortable in. Nobody wants to invest in something that will suck up all their money, and a qualified inspector can be a big part of making sure that happens.
---
Investing in a Home Without Worries
Most home buyers are not aware of what to look for when they are hiring someone to inspect their next investment. By taking the time to use the tips above, you'll be one step ahead! You'll end up finding someone that you can trust, and that will give you a thorough report you can use to determine whether or not your next home purchase is worth it.
You only know as much about the home as your inspector tells you, so do your homework to make sure they'll tell you everything.
Resources: