How to Stop Paying Rent
Posted by Joe Samson on Wednesday, January 2, 2013 at 10:35 AM
By Joe Samson / January 2, 2013
Comment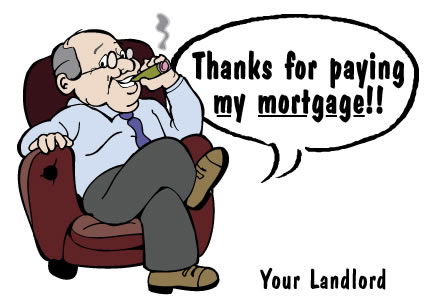 Seriously! Is 2013 going to be the year for you when you are finally going to take charge of your life and move towards realizing your dreams?

It's time to make your New Year's resolutions and time to establish the foundation of your future by getting into your own home.

Start Saving To Buy Your First Home. And you can do it right here in good old Calgary.

Now, you're probably thinking that's about as likely as a 30-degree heat wave striking Calgary in mid-February. It's hard enough making ends meet, let alone saving a bundle for a down payment. But in this case you, d be wrong. Totally wrong as a matter of fact. People just like you are buying their first homes every day.

How do they do it? Glad you asked! Because after you read what we have to say, you'll be one of them.

And just to be nice about the whole thing, we'll give it to you for free. Hey, when was the last time someone offered to change your lifestyle, save you money, build your wealth and put you smack in the living room of your own, first home – for free! And we're not talking about that palm reader you went to a while back.

Stop Paying Rent will explain, step-by-step:

• Why the down payment on your property doesn't have to be as large as you think.
• How your lender may help you with your down payment and closing costs.
• How the seller may assist you in purchasing your home.
• How you may be able to borrow without going into debt.
• While purchasing, how to consider becoming a landlord yourself.
• How you may be able to secure a loan even with a lower credit rating.
• How to secure a mortgage before you begin your searching.

Plus, lots, lots more. It's simple to read, with no legal or real estate mumbo jumbo. Just the facts that will help you ditch your rental unit, and get you into a home you can call your own.
You see, here's the thing.

Every day you rent, you're losing money. To be more specific, your money. Now, the person you're renting from may be a really, really, super individual. Probably nice to small animals, and always willing to help old ladies across the street. But the point is this: you're adding to his wealth while detracting from your own. He's putting your money in the bank, and you're taking it out to pay him.

Does this make any sense? Of course, it doesn't.

Especially when buying your own home, and building equity and wealth, is a lot easier than you thought. But the problem with many folks in this situation is that they're actually afraid to take the steps that will make them homeowners, build that equity, and be eligible for the tax deductions that come with owning a home.

Maybe it's the fear that the whole process is too complicated to go through, or that they may get turned down. Or that they don't have an adequate down-payment. But after you read our guide Stop Paying Rent, you'll see that the process isn't complex, lasts just a few weeks, and that if you're a hard-working individual, your chances of getting a mortgage are actually very, very good. You see, banks and mortgage companies want to lend you money for your mortgage. That's how they make their money. Without people buying houses, they'd be out of business. So when it comes to buying a home, they're on your side!

So let's get back to that New Year's Resolution.

Read our free guide Stop Paying Rent now. Then, follow the step-by-step instructions and within a short period of time, you can be outfitting your own Man Cave, in your own home (or Woman Cave as the case may be!). This is a resolution you can keep!

Here's what you do: Go and read our Stop Paying Rent guide about home buying. The time to read it will probably take you no more than a couple of minutes. It will, however, open your eyes in a big, big way. In fact, it could change your life!

We've helped hundreds of folks buy homes, and we can help you! No kidding! We're waiting for you!