Is it Better to Buy an Pre-owned Condo or a Pre-construction Condo
Posted by Joe Samson on Tuesday, February 18, 2014 at 2:00 PM
By Joe Samson / February 18, 2014
Comment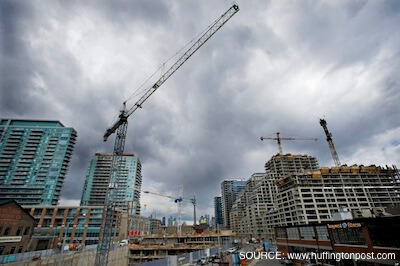 Recently I have been asked by a client whether they should be purchasing a condo that is already built and occupied or they should jump on the bandwagon with others and sign up for a brand new condominium to be built?
This is a great question. I wish everyone would be asking this before they rush out and spend hundreds of thousands of dollars.
Things to Know About Buying a Pre-construction Condo
First, the good side of buying a condo that is under construction is that you will end up with a brand new home but have to wait for it a very long time to be completed.
So unless you are in a hurry to move, buying a new condo could benefit you as well if the prices of condominiums continue to rise in Calgary. What it means is that as long as real estate prices increase, your new condo should be worth more at the time of taking possession than when you signed the contract.
The only caveat I want to mention here that it's very important to make sure that you are not paying more for the condo than fair market value. As surprising as it may sound, developers are in business to make a profit and if they can help it, then they will make as much as they can.
If you happen to overpay, then it could take a very long time for the market to catch up to where your purchase price is. There are still many homeowners who fell into this trap 8 years ago and they are still struggling to sell for what they paid for it.
If you work with a REALTOR® to look for used condos, part of his obligation is to make sure that you are only paying fair market value for your new home. Some condo developers will allow you to have a REALTOR® representing you, but you will need to check with them first.
Possible Traps of Buying a New Condo in Calgary
What else could go wrong with a new condo?
In the province of Alberta, it is stated in the Condominium Act that every condo building needs to have a Reserve Fund Study or an engineer's report about the state of the building. Then they will take that report and professionally calculate how much money they need to start saving and collecting from the homeowners so that repairs will be covered twenty-five years from now.
There are several condominium buildings in Calgary where the condo fees are closer to the sky than the skyscrapers you see in downtown. The reason for that is due to the fact that the condominium board members have neglected to follow the recommendation of the report in the past and time has caught up to them sort of speak.
For example, if a building is older than 30 years then most likely the roof needs to be renewed or windows should be updated as well. These expenses are very costly and if there isn't enough money set aside for these repairs then the board only has two options to raise money. They can either increase the condo fees and gradually raise the funds needed or they can pass a special resolution at one of the board meetings to levy your property with a special assessment of any amount that is needed for the project. In the past, I've seen this amount vary to be anywhere from a few hundreds of dollars to all the way up to $50,000 even.
Must Keep in Mind When Buying a Condominium
The bottom line with condominiums is you want to do a lot of research about the building itself and how it's being managed. When you buy an existing building that's been around for a few years at least, you are entitled to request from the seller the condominium documents that is going to reveal to you the condition of the building.
Usually, this package can be quite cumbersome for the average home buyer to analyze, but for a few hundred dollars there are experts whose job is to evaluate buildings based on the information at hand and provide you with an accurate risk analysis before you go ahead and finalize your purchase.
So going with a brand new condo will mean fewer problems?
Unfortunately, it's not a guarantee. After the latest real estate boom that was in Calgary around 2006, there were several buildings where known builders ended up going out of business and never finishing the project completely.
If you happen to purchase in a building that won't be a 100% finished then you will either end up fighting for your rights in court or you may end up forking out the extra thousands of dollars as a special assessment to finish the construction. Either way, it's going to cost you a lot of money and an enormous amount of time and stress.
Condo Fees in a Brand New Building
New construction condominiums don't have an exact condominium fee established yet. It will be up to the new owners to decide how much it's going to be once the building becomes operational.
At the sales centre, they can only tell you estimated figures which could and often changes on a spin of a dime. Once again, don't be surprised if the developer's interest is to make the building look very attractive by suppressing the estimated condo fees.
So then what should I do?
If I were to look for a condominium today, I would probably consider buildings that are a couple of years old at least. Purchasing in an older building is not a problem by itself. There are many older buildings in Calgary that are managed properly and the condo fees are still very reasonable.
Remember, if there are any problems with the management or the condition of the building, it will be revealed to you when you review the condominium documents. But if everything checks out okay, then most likely end up with a fantastic home.