Moving to Calgary, AB? - 22 Reasons Why You'll Love it!
Posted by Joe Samson on Tuesday, January 3, 2017 at 1:37 PM
By Joe Samson / January 3, 2017
Comment

---
There are many emotions experienced when moving to a new city, from the excitement of being in a new home to the wonder of what the area is going to be like.
Fortunately, if you're planning on relocating to Calgary, AB, these emotions can be met with peace of mind knowing that you're moving to an area that offers a lot of promise to residents and affordable homes for sale in Calgary. Of course, that doesn't mean moving can't be tough and met with challenges about leaving friends and family, but when you look at the big picture, this can turn out being a great decision.
Calgary offers incredible opportunities for individuals just as well as families. In addition, to be visually stunning, it has a number of amenities that make it a place that people want to stay once they move here. If you're still a little nervous about your move, keep reading to find out the specifics of what makes Calgary one of the top cities to live in the country. It's genuinely a place that you will fall in love with for a long list of reasons, allowing you to reflect back on your decision to move here with a smile and pat on the back.
What is it like living in Calgary?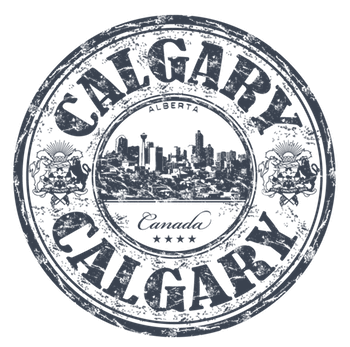 Calgary is a vibrant and energetic place to live, with a youthful and prosperous economy that makes it a joyful place to live. However, before it achieved this reputation, it started out as a small police post in 1882. The city wasn't actually incorporated until 1893, which was followed by rapid growth. This was especially true in the 1970's when it became a hub for energy resources such as the Canadian oil industry. In fact, over 85% of Canadian energy companies made their headquarters here due to the expanding economy and incredible growth.
While those energy industries still maintain a major presence in the city today, they are now accompanied by many others, including financial, manufacturing, technology, logistics, film/creative, and more. These businesses have greatly contributed to the expansion of the economy and the appeal it provides to residential and commercial investors. Offering an even more, promise is the fact that trusted analysts have predicted that this prosperity will continue for at least 8-10 years as the city expands.
Although exponential growth from a diversified economy is a big reason why Calgary is so loved, the low tax rates are one that's not to be forgotten. Alberta as a whole enjoys having 10% provincial corporate tax rates, which are the lowest in Canada.
Calgary is not subjected to PST (provincial sales tax) or municipal sales tax. And unlike all other provinces in Canada, which work on a sliding income scale, Alberta has a flat personal income tax rate of 10%.
If you're wondering about the weather, Calgary is known for having blue skies and sun almost every day of the year. These sunny days are beautifully complemented by the four distinct seasons of spring, summer, fall, and winter. For those who love the snow, in particular, the average annual snowfall is just around 135cm.
For those who love the warmth of the spring and summer, the dry winds that blow off the Rocky Mountains (known by locals as "Chinooks") can raise temperatures more than 20c in just a few hours. While this feels good in the summer, it could also mean wearing shorts in January, making the weather exciting and downright enjoyable all year round.
---
Community Life
Although the prevalence of big businesses and energy industries has continued to grow, Calgary hasn't forgotten its small-town roots. You will still get the feeling of a small town when you walk through it, especially in each of the communities that make the city as a whole so desirable.
People who live here have the unique ability to create a diverse and welcoming cultural environment that is constantly adapting to the influx of young residents that move here. In fact, there are over 120 languages spoken in Calgary and many of the foreign-born citizens who speak them have warmly brought their religions, food, traditions, and ideas into the city. Overall that has contributed to a vibrant, diverse, and unique culture that has defined the identity of Calgary.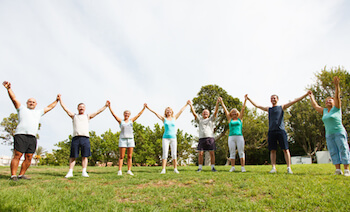 The majority of people in Calgary are those who live here and work here every day. However, it's not uncommon for festivals and yearly events of Calgary to bring visitors in from all over the world.
The annual Stampede is one example of an event that brings cowboys and cowgirls to the city during the month of July. This action-packed festival features a world-famous rodeo, nightly shows with country singers, and evening entertainment for people of all ages to enjoy. Sure not everyone in Calgary enjoys this type of "cowboy culture" or even takes part in it, but they are tolerant and generally welcoming, just as they are with most other events that celebrate diversity.
Something most people notice when they move to Calgary is that people here are genuinely friendly. In general, the communities are warm, the residents are accepting, and people are willing to celebrate diversity and unique cultures. Part of the reasoning for this is the fact that such a large percentage of residents are young, as Calgary has the lowest average age in the country thanks to baby boomers.
Another reason for this acceptance and warmth is the fact that most residents have a strong sense of community and take pride in the neighbourhoods they choose to live in. They know that they are part of one of the cleanest cities in the entire world, even boasting about the fact that it's rat-free (which is a feature only shared with the Arctic and Antarctica).
---
People of Calgary
It's easy to see that Calgary can be a place that's a lot of fun, thanks in large part to the diverse people that make it so unique. It's a refreshing change from cities that tend to be stuck in their ways because they don't share the desire to adapt to their changing residents. This is why so many people are glad to call Calgary home and look forward to the unique festivals and events that contribute to the accepting and lively atmosphere.
It's definitely not the "gun-wielding cowboys of the west" city like so many thinks, as the variety of ethnicities and progressive thinking of communities have made it genuinely modern. In fact, Calgary elected a Muslim mayor in 2010 and has been noted to have one of the most multi-cultural populations in Canada.
If you're moving to Calgary, you will find that you are welcomed into the city and community in a way that's completely different from anywhere else. Residents here greet their neighbours with open arms, and it's not uncommon to see perfect strangers helping new residents get acquainted with the city as well.
Although you might think one way about Calgarians and this city, you'll change your mind once you arrive. Don't be surprised to find friendly neighbours, a youthful population, beautiful scenery, fun events, and communities that work together to offer residents great lifestyles.
There's a reason that Calgary has been given the nickname of the "most American" city in Canada. It's young (with 41% of people being ages 20-44), accepting, and FUN! It's also a place where you can find all different cultures in one spot so there are endless new activities, foods, and events to try out.
---
Calgary Employment Opportunities
If you don't already have a job lined up but are moving to Calgary, don't worry. You shouldn't have too much difficulty finding a job, especially when compared to other cities in the country. After all, Calgary is home to oil reserves, many corporate headquarters, and energy industries.
There are also opportunities in agriculture, technology, construction, engineering, television, and many other industries for you to find. With so many options out there, it's easy to see why there was a point in time when fast food companies simply couldn't find workers to hire.
The standard of living in Calgary is high and people are able to find jobs at a much faster rate than they would in other areas. In fact, Calgary's employment rate is one of the best in the country, including for immigrants moving to Canada. This is especially true for industries that have recently experienced labour shortages and need workers to fill positions quickly. This is common in the oil filed although other energy-related sectors are always looking to hire new workers. These industries are vital to the economy here and employ a large percentage of the residents in the city.
If you're new to Alberta then you might be surprised to learn that it has oil sands that provide huge production opportunities. In fact, these are only second to the oil giant of Saudi Arabia, making Calgary a hub for anyone who is in the oil field.
Being such an important resource, there are always people who need to be hired to help keep the industry running at top speed. The wealth of this industry is a huge contributor to the wealth of the city as a whole and one of the reasons it has the strongest economy in all of Canada.
To make Calgary even better, it was recently named the 5th "Best City to Live in the WORLD" from 2010-2014 by the trusted Economist Intelligent Unit. Although there are many reasons why it has earned this title, the magazine looked at the factors of education, infrastructure, stability, health care, and safety in particular. Adding to the list of accolades, Calgary is also one of the nation's safest major cities, offering residents a lifestyle that they wouldn't find in other parts of the country.
---
The Economy of Calgary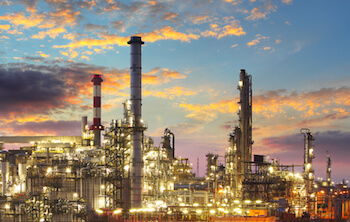 The economy in Calgary is always expanding due to being the leader in the oil and gas industries. To put this in perspective,
Canada owns the third largest oil reserve in the world, 97% of it being in Alberta. However, it's important not to forget that this city also has the second highest concentration of corporate head offices in the country. These offices are home to a wide range of businesses that include health, manufacturing, industrial, energy, environmental, and many others. All of these different types of businesses have set the stage for a flourishing economy where jobs are abundant and there are opportunities for all types of workers, including those just entering the workforce.
Entrepreneurs come here to make it and there are start-ups everywhere you look because of that "can-do" spirit. Residents have a desire to succeed and to make their dreams of owning a business a reality. However, are you wondering if the only resources are petroleum and agriculture? While these do play major roles in the economy of Calgary, especially since there are more than 100 years of oil reserves left in the sands, they aren't the only energy resources.
Solar, wind, and biomass, are all alternatives that are promoting diversity for energy resources. With diversification has become a priority in recent years, green technologies like these are crucial for getting rid of coal mines and reducing power usage.
---
Calgary Real Estate & Rentals
Calgary is an excellent place to live because it boasts the highest percentage of ownership in the entire country. Much of this is due to the strong economy, especially with the abundance of jobs available. If you're thinking about buying real estate in Calgary, then it's important to have reasonable expectations when it comes to pricing.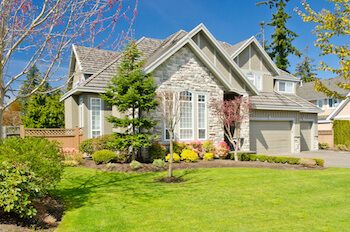 Homes inside of the city and acreages around Calgary are priced based on a number of factors but mostly real estate values are driven by location. If you're looking to live in the downtown core, expect to find condos that start in the $200,000's and extend up into the multi-millions.
If you're looking for a single-family home or a townhouse around the inner city, their prices will start around $450,000 but expect to do renovations if you want updated finishes.
If you're looking outside of the core, you'll find that the prices are greatly varied depending on the area. For example, the homes for sale in West Calgary tend to be the most expensive because of the sizes of lots. South Calgary and North Calgary are ideal for homeowners who are looking for turnkey properties that are fairly priced starting around $400k. For those looking for something smaller, there are apartments, condos, and townhouses located throughout the city as well. However, new construction homes are typically available in the outskirts communities of Calgary.
If you are looking to rent or are a buyer who wants to know what rentals go for, the prices are pretty consistent in the city except for the downtown area. Most people can find 1 bedroom apartments priced from $750 to $110 and 2 bedrooms for $900 to $1200.
Basement suites tend to be the most affordable at around $500 to $750 while houses are the most expensive ranging from $1200 to $1500+. If you're looking for the cheapest place to rent, it's the northeast side of the city.
No sales tax is an added advantage of buying in Calgary and a huge reason why it's one of the most modestly-priced major cities in the country. If you're thinking about relocating to Calgary, then you are likely to find a home that you absolutely love. The city is unique, there are many different home styles, and the communities offer incredible amenities.
---
Transportation in Calgary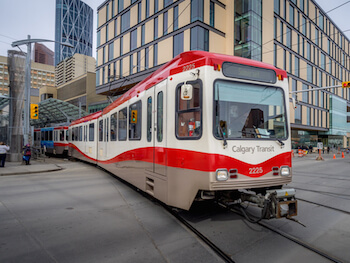 It's easy to get around Calgary by driving, however, public transportation is still a viable option for those who do not wish to get behind the wheel for every outing.
While buses and shuttles make up a large part of this transportation, the LRT (light rail transit) is one of the best forms of public transit. Otherwise known as the C-Train, this is constantly growing and expanding, with stops all over the different communities of this city. It's even free to ride in downtown, encouraging those who work in the area to keep their cars at home.
If you plan on taking public transit often, then it's recommended to move next to an LRT line within your community. This will shorten your commute time and make it easier to get to the stop when the weather isn't nice.
If you're planning on driving, the nearly-completed Ring Road can help shorten your commute while making it easier to get around. Another thing you will find if you decide to drive is that the roads in Calgary are very well maintained.
However, this is due to the fact that there is a lot of construction during the summer, which can mean traffic jams that extend your commute. This is when it will come in handy to be near a public transit line that will eliminate the need for driving.
If you're nervous about walking after getting off of the train or a bus, don't! Calgarians are known to be very courteous to pedestrians and wait for them to cross the road before they continue driving.
For anyone planning on walking, Calgary is incredibly pedestrian-friendly. While drivers are courteous to those who are crossing the road, the streets are also very easy to navigate. As you walk out from the middle of the city the street numbers will increase, making it easy to find where you're going.
However, it's important to know which quadrant you're going to so you can navigate based on NW, NE, SW, and SE. If you don't know which quadrant you're going to, you will likely end up at the right address but in the wrong section of the city.
To make walking in Calgary even more appealing, the +15 Skyway Network in downtown provides elevated indoor pedestrian walkways. In addition to being heated during the winter, they allow for easy travel between buildings without any worry of vehicles.
For those who work in this area, the Skyway network helps make getting around a lot easier and virtually eliminates the need for a vehicle.
---
Food & Best Restaurants in Calgary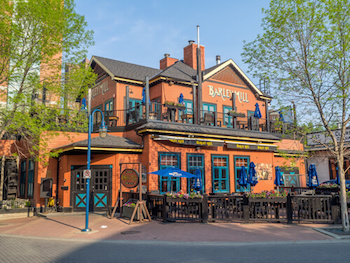 Food lovers... welcome to Calgary! The city where you can find an abundance of amazing restaurants for a wide variety of cuisines.
There are thousands of restaurants in the city, with the majority being local spots that you won't find anywhere else.
You'll never run out of delicious food to try, whether you're looking for authentic Italian, spicy Indian, or a classic sub. Making these spots even better is the fact that the service is always friendly, keeping in tune with the welcoming vibe you'll get when you move here.
The cost of a good meal in Calgary will vary based on the entree and type of restaurant you visit. However, the average cost of a meal will run you around $12-$17. If you're looking for the cheapest option, then a food court is the spot where you'll get the most for your money.
Fast food will be even cheaper, but a few dollars more is worth it to get the quality food from local restaurants. If you're a bargain hunter, you can even find $1 loaves of bread at Superstore and $1 doughnuts at Tim Hortons, making it easy to grab something fast on the go.
Unfortunately, if you're in the mood for something fancier, like steak, you'll need to expect high prices. Steak and even veggies are priced quite high at the moment.
In the mood for a beer? You've come to the right place. Calgary residents tend to drink beer like people in other cities drink coffee!
Of course, there are good coffee places (Tim Hortons can't be beaten), the bars here are well worth checking out if you want an adult beverage. Brasserie Kensington and Oak Tree Tavern are two examples of popular options, each offering amazing bar food in addition to beers from all over the world. Want a burger instead? Check out Peter's Drive-in to see where all the locals get the best hamburgers.
There really are endless options when it comes to great bars, restaurants, and coffee shops in Calgary. If you're looking for some solid suggestions, then it's recommended to check out Avenue Calgary Magazine. They've collected data from all over the city to create an in-depth guide to dining in Calgary. With this resources on your side, you'll be eating the best food in the city in no time!
---
Best Schools in Calgary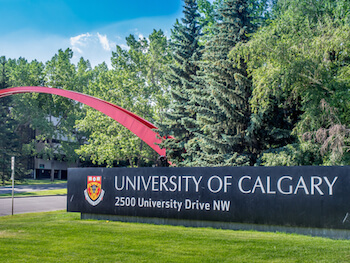 Calgary is a city that's passionate about education. After all, it is home to the largest percentage of individuals in Canada who have received a post-secondary education! It was even named the third "most educated city in Canada" by Maclean's Magazine.
Fortunately, this means for anyone moving here there are many educational opportunities to choose from. Each school is set to the highest of standings, especially the universities and colleges. A degree from any of the many that are available will be recognized throughout Canada as well as the rest of the world.
MountMount Royal University and the University of Calgary are two of Calgary's schools that stand out in particular for their excellent programs and high educational standards. However, there are many other schools to choose from, offering something for everyone who is looking for the right program for them.
If you're moving here and in need of schools for younger children, the public education system in Calgary is excellent and held to incredibly high standards.
There are also a large number of private and separate schools available to choose from that are known worldwide for the quality education they provide. This can make it a lot less stressful to move to a new place like Calgary, simply knowing that school isn't something you will have to worry about.
Want to know where the very best schools in Calgary are before you move? Check out this link to read what MoneySense Magazine has to say here. Are you interest in school ratings in Calgary instead? Save yourself time and visit the website of The Fraser Institute for rankings by a school.
---
Ski Resorts Near Calgary & Banff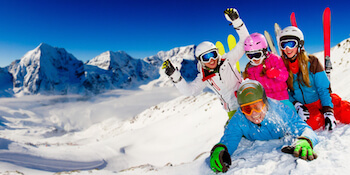 Calgary is home to some of the best ski resorts in all of Canada, making it a wonderful place to live for any ski-enthusiasts. It's just a short trip away from the Rocky Mountains in particular, which offers world-class hills and skiing people of all skill levels. There's a reason the 1988 Winter Olympics were held in Calgary; it's beautiful and the nearby ski hills have been expertly crafted.
Whether you're interested in the stunning resorts in the Rocky Mountains or those that are a couple of hours away, you have many to choose from. Some worth considering include:
Castle Mountain
Doesn't it just sound majestic? This ski resort is located in the Rocky Mountains 270km from Calgary. It's absolutely worth the trip to get here, as the long and steep runs are incredible for those who love to ski.
The snowfall also reaches around 9 meters annually, making it an excellent place for lots of powder. There are 78 ski trails with options for beginners, intermediates, advanced, and experts. It's one of the resorts that has a lot of old-school charm, friendly folks, and great food to complement the experience.
Lake Louise Ski Resort
Located near Lake Louise about a two-hour drive from Calgary, Alberta in the Banff National Park is this popular ski resort. It's very easy to access and has breathtaking views of a setting that can't be beaten. It's common to see ski events hosted here, meaning it can get quite busy and crowded.
Nakiska Mountain Resort
Located only 60 minutes from the heart of the city and tucked in the Canadian Rockies, Nakiska is a quaint ski resort that once held the privilege of hosting the '88 Olympic Alpine Events. Today it's still well-maintained but is generally best for families and intermediate skiers (there are no options for experts). Anyone can have fun on the slopes here for a day without having to worry about a long drive back home.
Sunshine Village
If you're an expert skier or someone who enjoys steep and rocky terrain, then Sunshine Village is an ideal choice. The exposed terrain and steep trails make it both exciting and a challenge. It's definitely one of the better mountains in Banff, making it a place worth checking out when you're in the area!
Winsport
Winsport is formally known as Canada Olympic Park. It is used for professional training as well as recreational purposes. Winsport is an excellent choice for all types of skiers. To make the park even more challenging, they recently added the "black diamond run" for those who are more advanced.
What's unique about Winsport is the details, such as the magic carpet that transports people around the park so they don't have to walk. They also have night skiing and an Under Armour SuperPipe for snowboarders to take advantage of!
---
Rocky Mountains - Calgary & Banff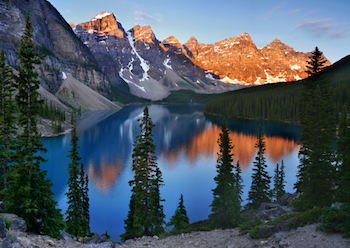 Less than 90 minutes away from Calgary is the stunning Banff National Park and the Rocky Mountains. Although this park may have started as a small hot springs reserve in 1885, today it is an astounding 6,641 square kilometres of gorgeous outdoor space.
From this park, you can see unobstructed views of the incredible Canadian Rockies. If you're adventurous, these are excellent for climbing, skiing, snowboarding, hiking, snowshoeing, or doing a wide variety of other outdoor activities.
Other features of Banff that you don't want to miss out on include: the sparkling waters of Lake Louise, flower fields of Sunshine Meadows, and the jagged peaks of the Icefields Parkway. One of the best parts about coming here is the fact that there is so much to do. There are even bird-watching groups that come out here along with guided tours. If you want to learn more about this park and the mountains that surround it, visit the official website at: (banffnationalpark.com).
---
Calgary Recreation & Sports
There's a sport to do for every month in Calgary, including the winter and summer seasons. Lacrosse, field hockey, volleyball, basketball, netball, Australian football, and cricket are only a small selection of sports that are played regularly across the city. If you enjoy being involved in activities, you will surely be able to find something that you're interested in, especially if you're willing to try a new spot.
What's special about Calgary is the fact that it's home to many sports camps for children and teens, many of them starting from the age of 3. There are also teams for children of all ages, including baseball, hockey, football, soccer, and baseball. If you're an adult and love these sports as well; don't worry. There are many teams for adults as well!
With the Rocky Mountains so close by, it's easy to see why they have used for adventure trips and a wide variety of outdoor activities. However, if you want to stay within the city limits, you can find facilities and outdoor areas for recreational hockey, cross-country skiing, swimming, kayaking and even rock climbing. Are you more interested in watching sports? There are many professional and amateur sports teams that you can watch all throughout the year, including at the World Pro Rodeo Centre.
Calgary Flames
Anyone who loves hockey is going to enjoy seeing the Calgary Flames play a game at the Scotiabank Saddledome. If they score a goal, you'll see actual flames shoot up, causing the entire audience to erupt in cheer. There's nothing like a Flames game in Calgary.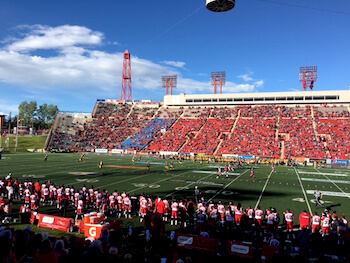 Calgary Stampeders
The Calgary Stampeders are a professional football team that you can watch regularly at McMahon Stadium. One of the best parts of seeing them score is seeing the touchdown horse named Quick Six run down the sidelines! There's also tailgating and a lot of fun post-game activities to enjoy with other fans outside.
Calgary Roughnecks
If you enjoy lacrosse you'll have fun watching these games all across the city of Calgary. This city is home to some of the most hard-core fans out there, making it easy to find others who share your love of this sport.
Olympic Oval – Skating
The Olympic Oval is a world-class skating facility where you can take public skate lessons or just enjoy watching shows with professional skaters. The oval ice surface is over 450 metres, making it large enough for big classes and expert skaters.
Fly Fishing in the Bow
The Bow River winds throughout Calgary and provides excellent fishing opportunities for those who love the thrill of the catch. It's best known for trout fishing but there are much other fish you can find all along this beautiful river.
Floating on the Elbow River
There's nothing quite as relaxing as lying out on the Elbow River in an inflatable boat, especially with the stunning views of the city just beyond the trees. This is a popular place to find people from all over the city during the summer, but make sure to play it safe and wear a life vest when you're on the water.
Skateboarding at Shaw Millenium Park
As the largest skate park in North America, Shaw Millennium Park will not disappoint anyone who loves to skate. There are roll-on rails, bowls, half-pipes, ledges, a fun box, stairs, and wall rides all located throughout this 88,000 sq ft concrete facility. There's even a 30' full-pipe that skaters can use to refine their skills or just try something new. No matter what skill level you are, there's something you'll find to love at this park.
Calgary Polo Club
The Calgary Polo Club, which was established in 1890, sprawls across 200 acres that has 8 grass playing fields, horse boarding, an outdoor arena, an exercise track, and so much more. Whether you want to watch one of the fast-paced tournaments or learn to play polo for yourself, this is the place to do it.
Calgary Climbing Centre
There are two impressive climbing gyms inside of this centre where you can scale, dangle, and ascend to new heights. If you want to work your way up to outdoor climbing, this centre offers excursions in the Rocky Mountains where you can test your abilities and enjoy a group climbing experience.
Hot Air Balloon Ride
Hot air balloon rides are some of the best ways to take in the skyline of this beautiful city. It's an experience unlike anything else, and with professionals who offer these rides throughout the year, you will have many opportunities to go.
Mountain Biking at Canada Olympic Park (Winsport)
There are 25km of trails at WinSport that offer beautiful views, challenging trails, and a lot of fun for those who love to mountain bike. Fortunately, there's a chairlift that takes you back to the top of the hill so you can save your energy for the ride.
Biking, Walking & Running
The Pathway System in Calgary is one of the most incredible features that residents use on a daily basis. It's made up of over 500km of pathways that connect throughout communities and along the boundaries for those who want to walk, jog, bicycle, or run. It's even used for commuting due to the fact that trails are vehicle-free.
Sail, Kayak, Canoe & Bike at Glenmore Reservoir
The Glenmore Reservoir is a popular place for gorgeous views as well as incredible outdoor space for all types of activities. You can barbecue, kayak, sail, swim, or even bike, run and walk along the trail system that winds around it. If you visit the Glenmore Reservoir just once you'll likely want to go time and time again because it's such an amazing resource, especially during the summer.
Soccer
There are many soccer fields located throughout Calgary to accommodate those who love the sport. There are also two soccer domes in the southeast and northwest sectors of Calgary where you can play indoors to escape the cold or snow.
Spruce Meadows
Calgary is home to one of the best equestrian facilities in Canada and North America as a whole. If you enjoy watching jumpers show their skills, then Spruce Meadows is the place to go. The grounds are also stunning, so it's a great place to spend an afternoon after you watch an equestrian show. There are also events held here all throughout the year, making it a fun spot for families in Calgary.
---
Calgary Nightlife & Entertainmnet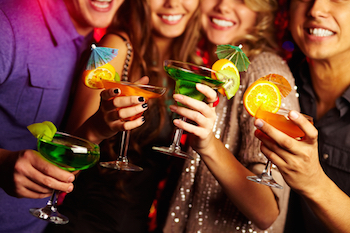 If you plan on going out for a night on the town, Calgary will not disappoint. When moving here, you will find that there are a number of things to do for entertainment and fun. This begins with the downtown area, which is home to a lot of great bars, shows, and nightclubs.
What's even better is that you can walk from one place to another or use public transit, so there's no need to drive. Downtown is also a popular spot for big events and free concerts, so it's likely you'll run into something exciting going on if you make this your destination for a night out. If you want to learn more about the nightlife scene, then take a look at this excellent guide here.
If you're looking for something different, like shopping or sipping a hot latte on a street-side patio, 17th Avenue is a great spot to check out. This street features 400 different businesses including bars, restaurants, boutiques, and retail shops.
It's the perfect place to go shopping, go to dinner, then grab a cocktail or cup of coffee. It's also part of the 17th Ave Retail & Entertainment District, which is home to a wide variety of shows and plays. It's also close to Stampede Park, which has shops, restaurants, lounges, cafes, and much more.
---
Calgary Events & Festivals
There are seemingly endless festivals and large events held in Calgary during the spring, summer, and even winter! Some of the most popular that you should check out upon moving here include:
Sun and Salsa Festival!
Hosted in the community of Kensington, this festival is exactly what the name says: sunshine and salsa! You'll find salsa from some of the best companies in the area, with all of them competing to win the top prize. In addition to this, there are merchants that set up booths so you can purchase lots of fun items and delicious food.
Making this even more fun is the fashion show that's held during the event, which features clothing from the area's top retailers. This is perfectly complemented by live bands, musical acts, dancing, and other entertainment that changes every year.
Globalfest
Globalfest has been an August tradition for Calgarians since it was started in 2003. Organized by the Calgary Fireworks Festival Society, this features incredible fireworks shows that last for hours. In fact, there are different teams that make the fireworks shows so each is unique, beautiful, and elaborate.
Calgary Stampede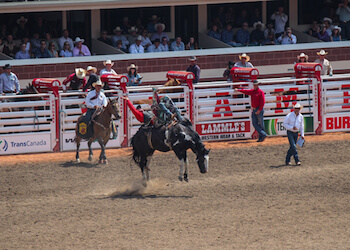 The Calgary Stampede is an annual event that's held during the summer. Named "The Greatest Outdoor Show on Earth", this celebrates the cowboy lifestyle and rodeo in Canada. It features entertainment, country western bands, amusement park rides, delicious food, and a lot of other fun activities.
One of the best parts about this is to get involved in dressing up! It's the one time of year when you'll see Calgarians dressed in casual country wear, such as cowboy hats and plaid shirts. While most people don't dress all-out, it's still a lot of fun to be part of something so unique.
This event has become such a popular annual tradition that even most of downtown Calgary close down to join in on the excitement! You'll even hear country music playing at most stores a week or two before it happens, getting residents excited about what's to come.
However, if this isn't something you're interested in, there are other cultural events that go on, including theatre, the Dragon Boat Festival, the Folk Festival, and Shakespeare in the Park. There are also a lot of small community events that make this weekend fun for people of all ages.
Calgary Folk Music Festival
This is a 4-day festival that happens every July on the beautiful Prince's Island Park. It features celebrities, local bands, and performances on eleven different stages.
There are tens of thousands of people who come to watch these performances, normally over 50,000 in total! Even if you're not a folk music fan it's worth it to check this out once because of the food, friendly people, and the views from the island.
---
Weather in Calgary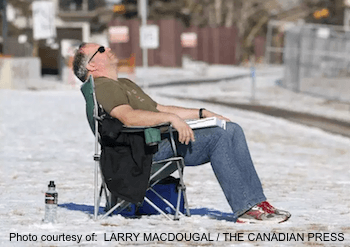 Calgary is known for having a lot of sun and beautiful blue skies due to it being at an altitude. This unique climate makes it truly a beautiful place to live, especially if you appreciate having as many sunny days as you can.
When it comes to daily weather, it can be unique in the fact that it changes quite rapidly. This is why the saying goes "If you don't like the weather, wait five minutes!". It's common for sudden thunderstorms or rainstorms to occur just as common as it is to experience cold snaps in the summer.
It's even common for the weather in the winter to warm up to t-shirt temperatures because of the Chinooks, which are warm winds that blow off the mountains. On any given day the temperatures can go from +20 to -20, making it difficult to predict what any given day will be like.
Will it snow on Christmas? There's really a 50% chance of snow, depending on how the weather has been throughout the rest of the year. However, snow regularly comes by Halloween, so chances of a white holiday are pretty decent. However, one thing you can be certain of during the winter is that it will be cold. In fact, it normally reaches -30c and even colder sometimes, which might take some people moving here a little bit of getting used to!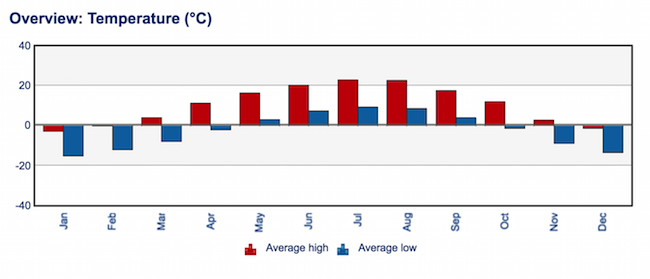 Summer is normally from +20 to +30 but don't expect to see these temperatures in the spring. In April it's normally still snowing, same for May as well. Of course, every year can be different, but it's pretty common to not see warm temperatures until well into June. For more information about the weather in Calgary go to The Weather Network (source for average temperature chart)
---
Calgary Golf Courses
Are you a golf enthusiast? If you are, then you will LOVE Calgary! There are a number of stunning golf courses in Calgary that range from public to private, so you have options for any type of course that you prefer. With this city being ranked by Golf Advisor as one of the top 10 for golf in the country, you won't be disappointed with any that you choose.
There are actually over 47 different options, meaning you can take your time to visit them all! There's a reason people come to Calgary from all over the world to play golf, and once you experience one of our courses, it will be easy to see why.
---
Things to Do in Calgary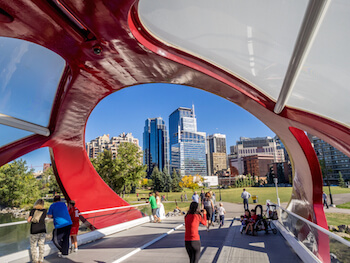 With the stunning nature that surrounds Calgary, there are endless natural resources to enjoy. Banff National Park, in particular, is 125km northwest of the city and offers beautiful views of the Rockies and tons of outdoor space.
Nearly 5 million people visit here every year, as it has so much to offer all types of nature lovers. If you're looking for something closer, Bragg Creek is just 30km west of Calgary and is a great place to hike, ride horses, raft, canoe, walk the dog, mountain bike, or do a wide variety of other outdoor activities.
A short 45km west of this is Kananaskis, which offers everything from horseback riding and biking trails to ice climbing and cross-country skiing. On your way there you can find a Provincial shooting range for even more options for things to do.
All throughout the city, there are beautiful parks that are perfect spots for picnics or just afternoons doing activities. These offer convenience, especially for residents in communities that are walkable. Most of these neighbourhoods connect to the Pathway System, which is North America's Largest Network of Pathways. It's over 700km long and goes through parks, natural areas, communities, and alongside rivers. These paths are vehicle-free, so they are perfect for pedestrians. Public parks are also situated throughout the city and can be used for a wide variety of activities during the spring, summer, and winter.
If you're looking for something different to do, then Calaway Park is a spot worth checking out. It's located on the outskirts of Calgary and is a seasonal amusement park. There are also a number of incredible malls, cinemas, and theatres located all throughout the city for additional entertainment options. Check out Globe Guide's "Best Things to Do in Calgary" here.
---
Generous Calgarians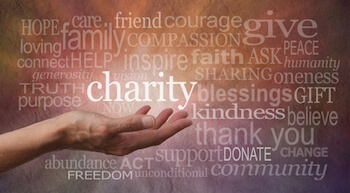 Albertans are incredibly generous and rated among the most giving in all of Canada, which can be seen in these statistics.
Within Calgary specifically, residents give the most per capita to the United Way. Residents here are willing to give as much as they have to help their neighbours and make a difference in others lives. One example of this is when the great flood of Calgary occurred in 2013. During this time residents did everything they could to help those who had been affected, which brought the city closer together as a whole.
Another example was the Fort MacMurray Fire in 2016, which brought out the best in Calgarians who wanted to help the nearly 100,000 people who were affected by it.
---
FREE Alberta Health Services
Healthcare in Calgary is excellent, with a large number of high tech and world-class facilities being situated within it. What's even better is that health care in Alberta is free and you don't even have to pay a monthly premium for it. However, it's important to keep in mind that if you make over $50,000, health care premiums will now affect you. The amount will depend on how much you make but will range from $200 to $1000 per year.
---
No PST & Low Taxes in Calgary, AB
Although free (or very affordable) health care makes Calgary a wonderful place to live, the low taxes are another huge benefit for those who live here. Calgary, as well as Alberta, has the distinction of having the lowest personal and corporate tax rates in the country. This is in part due to the fact that there is NO PROVINCIAL SALES TAX in Alberta and the structure of taxation is different from all other provinces in Canada.
For example, all other provinces in the country use a progressive rate schedule for personal income taxes. In Alberta, there's a flat 10% tax rate regardless of income level.
---
Safe Neighbourhoods in Calgary
Anyone who lives in Calgary will tell you that it's a very safe and comfortable place to live. In fact, it was once named one of the safest major Canadian cities by Maclean's Magazine. Whether you are looking to start out on your own or you're raising a family, this is definitely a wonderful place.
Calgary's crime rate is very low, especially when compared to other major cities in Canada. The crime rate has even lowered as the city has expanded due to the efforts of fire, emergency medical services, and police.
The City of Calgary and its residents continuously contribute towards making Calgary a safe place to live. By organizing lottery draws to fund Calgary's STARS Air Ambulance helps to keep this important service up in the air.
---
Calgary Arts & Heritage
Art is a major part of the culture in Calgary, starting with the beautiful statues and architecture that make this city so unique. You can see influences from local artists and other cultures all over the city and in various communities.
Another way to take in the arts is to visit the Southern Alberta Jubilee Auditorium (opened in 1957), which is a performing arts facility. With thousands of seats available, this is where large audiences can bee Broadway music, theatrical productions, and local shows put on by community centres. The twin facility, which is located in Edmonton, is home to the Alberta Ballet Company, the Kiwanis Music Festival, and the beloved Calgary Opera.
---
Architecture in Calgary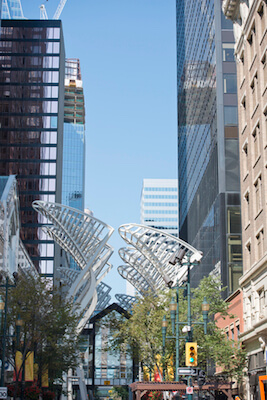 The architecture in Calgary is stunning from anywhere you look, especially in the downtown area. There are numerous skyscrapers that have been thoughtfully designed with innovative details and unique exteriors. Some of these were even constructed during the skyscraper boom in the late 1950s, making them true pieces of Calgary's history. The rest of the buildings are a mix of residential and office towers that generally extend at least 40 floors high.
Two of the best structures to check out, in particular, are the Scotiabank Saddledome and Calgary Tower, as they are some of the most unique in all of the country.
The Peace Bridge is another famous piece of architecture, which was designed by designed by Spanish architect Santiago Calatrava. Calgary's Bankers Hall Towers are twins that you should visit as well, especially because they are the tallest twin towers in Canada. Last but not least, don't forget to check out The Bow (which is Encana headquarters), as it's the tallest office tower in Canada.
---
Final Thoughts on Relocating to Calgary
Now that you've read all about the features of Calgary, it's easy to see why it's such a genuinely fantastic place to live and work. There are endless things to do, so you'll never get bored or run out of new things to try. And because the people here are so friendly, you're likely to make a lot of new friends and like all of the neighbours that you live by. The close-knit spirit of each community makes it all that much better, with everyone feeling like they are a part of something special.
If you have questions about your move to Calgary, which is understandable for anyone, then contact us! With their incredible knowledge of the area, you'll find that they can give you personal and professional advice like nobody else. We can even help you find a perfect place to live so you look forward to your move even more!