New Luxury Mall Coming to Calgary Near Springbank
Posted by Joe Samson on Friday, November 15, 2013 at 4:53 PM
By Joe Samson / November 15, 2013
Comment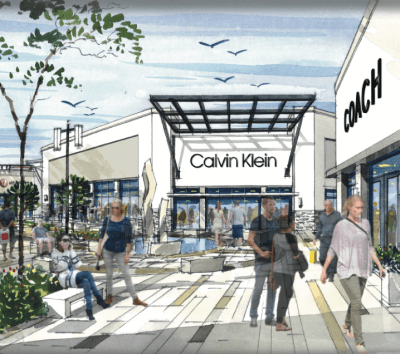 The western Calgary suburb of Springbank is going to become a more popular part of the city thanks to a new outlet mall that will be opening up in the near future. This type of mall will be available in the future to give residents and visitors some high-value deals on a number of high-end brand names.

The CBC is reporting that Tanger Outlets, a prominent international outlet mall chain, will be opening a new mall at Calaway Park in Springbank. This outdoor mall, which will be around a quarter of the size of Cross Iron Mills, will take up 350,000 square feet of space.

There will be plenty of things for shoppers to do and look for while at this mall when it opens by the end of 2015. There will be 80 retailers in nine buildings around the outdoor mall. A series of porticos and walkways will also be introduced as a part of the entire project's space.

It's uncertain as to which stores will be at this mall but Tanger has a history of bringing many high-end brand names to its outlet malls. These include many stores with fashions, accessories and apparel for men, women and children. Specialty stores can be found at these malls as well as a few spaces for dining.

The location of this mall is right next to the Calaway Park amusement park near Highway 1 and Range Road 33. Rocky View County re-zoned this spot in 1996 for use as a shopping space and Riocan will be working with Tanger to prepare funds. In addition, the owners of Calaway Park are excited about the development and are looking to promote it alongside their park.

It should not take too long for construction to start. Most likely they will break ground in the middle part of 2014 and is planned to be finished by 2015 at the earliest. There are no details just yet on how many new jobs will be introduced to the local area thanks to this mall.

There is one concern about the mall though. The developers are trying to get the zoning space to be expanded in order to meet the building's plans. Residents say there are 158,000 square feet of zoning space available for a property that's going to be twice that size. New traffic lights will also be added, thus creating concerns about how the dark-sky policy in the Springbank area will be impacted.

Still, no one seems to be willing to fight the development as several things are being done to make the process of adding a new mall to the area a little easier to digest. A new southbound lane will be added to the bridge over the Trans-Canada Highway at Range Road 33. A new entrance and parking lot for both the mall and park will be added too.

This is news for a spot that's already got another large development coming. A 25-hectare area across from Calway Park called Bingham Crossing is also in the plans. It will have a retirement home along with residential and commercial spaces.