New Skyscraper in Calgary to Break All Record Heights!
Posted by Joe Samson on Wednesday, November 13, 2013 at 4:58 PM
By Joe Samson / November 13, 2013
Comment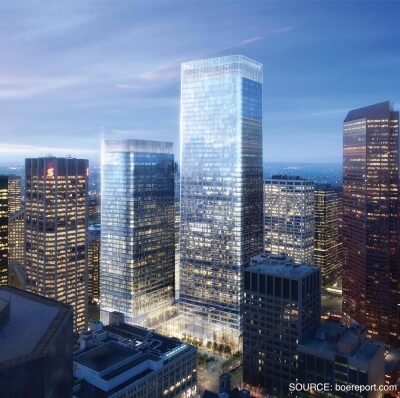 It looks like the sky is the limit in Calgary right now. It's only been a year since the completion of The Bow, Calgary's current tallest building, but developers are already getting to work on something even bigger. Brookfield Place will cost $1.3 billion and, at 810ft, will dominate the city skyline as Western Canada's tallest building.

You know, there's nothing more exciting than watching a new skyscraper soar up towards the clouds, but it's important to keep your feet on the ground and think about the reality too.
Brookfield Place isn't just a pretty ornament on the Calgary skyline; it's also a high-stakes investment that's reliant on the local office property market supporting the venture. So how likely is it to succeed?

Like the rest of the world, Calgary has experienced changing economic fortunes over the past few years. In 2009, office vacancy rates in the city were as high as 18% but the upturn has seen that rate fall to 6%, safely below the national average.
Rents in the better neighbourhoods are at just under $40 per square foot, and appetites for premium office space seem to be at a peak in Calgary just now, so signs for the Brookfield Place project are looking healthy.

But what's surely helped most in securing funding for this project is the pre-existing commitment from Cenovous Energy Inc. The energy firm has agreed to a long-term lease on one million square feet, meaning that over two-thirds of the project is secured before work has begun. Filling the remaining space should, in theory, be a cinch, given the prestigious location. All in all, it looks like a smart and solvent project that should end well for all concerned.

The other question is the knock-on effect on the rest of the market. We've seen an additional 5.3 million square feet come online in Calgary over the last few years, yet vacancy rates have fallen dramatically. Calgary is undergoing something of a boom right now which always raises the question: is this market going to overheat and tail off again?

Perhaps it will, in time, although Brookfield Place shouldn't put too much pressure on existing properties. When you remove the space already earmarked for Cenovus, you're looking at an additional 400,000 square feet becoming available and recent events suggest that the local market will absorb that with ease.
A bigger concern might be the Canadian economy in general: with the US showing a renewed commitment to reduce dependency on foreign oil, energy concerns such as Cenovus may start to come under pressure. As ever, a lot of this comes back to the Keystone XL project, the transcontinental pipeline project which may or may not end up providing a boost to the national economy.
While our energy companies are showing increased profits, our business property market will continue to expand. But should the opposite happen...

Time will tell what the future holds. In the meantime, Calgary residents should prepare themselves for a project that's going to make the city look a whole lot taller, even if it's maybe quite as architecturally exciting as it's slightly smaller cousin, The Bow.