O', You're Kidding Me!
Posted by Joe Samson on Wednesday, October 9, 2013 at 5:06 PM
By Joe Samson / October 9, 2013
Comment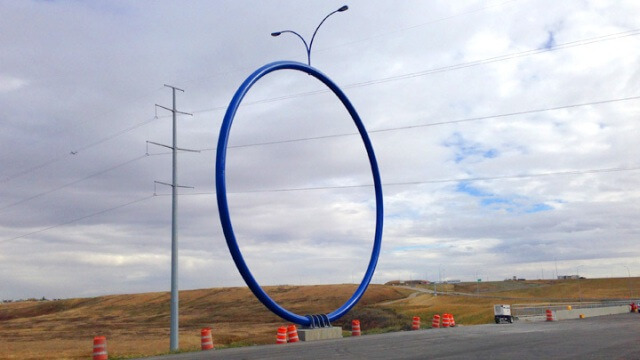 Earlier this week when I was heading North on Deerfoot Trail and I couldn't help wondering what is that 17m tall circle thing doing just off of an adjacent road on 96 Ave?
First I was thinking that maybe it's some sort of a construction left over. After looking at it for more than I should have while driving at 100 clicks an hour, I gave up solving this question in order to avoid killing myself.
But really, what is it?
It turns out that the City of Calgary has a policy to spend 1% of their budgets on public art. Which is great by the way, but maybe I am in the wrong business because they ended up paying $471,000 for a big pipe bent into a circle and painted blue.
Apparently, in Calgary, we don't have any talent that is able to design a circle with a light on top of it so they had to award the design to a German group. The question is, why don't we support our local artist instead?
In an interview with Global Calgary - Rachel Seupersad went on to explain that the ring is supposed to represent a transportation theme where the "ring is reminiscent of the oldest mode of the transportation: the wheel". I don't know about you, but I'd never travelled in a ring before or ever seen anyone roll around inside a big round object except when I was at the circus with my kids.
Is this really a joke?
What I find even more amusing is that Nenshi himself said in an interview that he hates the "Circle".
So then who is driving the bus here? If the Mayor doesn't like what they spend the city's budget on then does it really matter who the Mayor is if he doesn't have a say in these kinds of things?
I think it's very sad to see this much money to go into a light stand when other projects are being delayed due to budgeting or perhaps an even more important topic than this is providing support to families in need.
Remember, we just had a major flood recently. There are hundreds of families who have lost literally everything and now they can barely find a place to rent.
Let's put things into perspective a little bit. I would love to hear your thoughts on this. Please SHARE this post with your comments.
(Photo by globalnews.ca)