Ooops... My Neighbour Just Cost Me $750
Posted by Joe Samson on Thursday, July 18, 2013 at 5:55 PM
By Joe Samson / July 18, 2013
1 Comment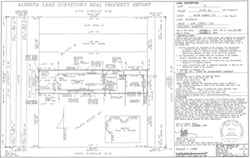 Imagine that you are sitting across the table from your lawyer and ready to sign the sale documents thinking that you are moving next week. Well... Not so fast!

It turns out that your neighbour had built a fence without asking you, or you have installed an A/C unit last summer. What about that awesome looking retainer wall or the oversized shed that you have built and shown off to your buddies?

These little things could instantly cost you near $750. It could even collapse your sale or trigger a significant hold-back amount that you may not receive for many more months to come.

The solution is...
Make Sure That You Have An Updated RPR Before Selling Your Home
If you are a homeowner, you must understand what an RPR is and how it is important to you. A Real Property Report (RPR) is one of the most important documentation of a property.

The RPR is a legally important document which records the complete layout of your property and the improvements with respect to the boundaries of the property. It also shows any issues or violations of construction guidelines mandated by the City of Calgary Planning & Development.

The importance of an RPR:

If you have an existing RPR for your property with a compliance stamp from the city's planning department before you sell your property, you have taken a big step in protecting yourself from any liability that may arise at a later stage. It also makes your property easier to sell because it reassures the potential buyer about the legal aspects of the property.

Here are some of the highlights of an RPR:
It is an accurate documentation of the boundaries, structures and improvements.
It shows any encroachments with respect to the right of way in relation to the boundaries.
Identifies any compliance issues with the building and any encroachments on the neighbour's property, or any encroachment made by the neighbour.
The RPR is a legal document that provides all necessary disclosures to the buyer or any other stakeholders. The surveyor who prepared it can testify as an expert in a court of law in case of any dispute. The surveyor also takes full responsibility for the accuracy of the document.

RPRs may get outdated over time.

Most people make improvements to the property. Changes made to the property after the last RPR will not be documented.

As I had mentioned previously, A/C units, new fences, decks and garden shed over 10 m2 are the most common triggers why an RPR needs to be updated.

In 2008 the, the City of Calgary's Land-Use-By-Law had decided that they need to see an update to the RPR if an A/C unit had been installed after this date. If you have installed your A/C prior to June of 2008 you should be alright, however, they will require proof of receipt when the unit was installed.

The importance of an updated RPR in a sale transaction:

If you don't have an RPR or it is outdated when you sell the property, then you will not be able to complete the transaction without updating it first. If any new issues come up when the RPR is updated, then the buyers may raise objections causing huge problems for you. It is best to get your RPR updated even before you start looking for buyers. If you don't do this, you may lose time, peace of mind and money.

Getting an RPR is easy, but it will cost you a bit.

Considering what your property is worth and the value we all place on peace of mind, the cost of an RPR is almost negligible. On an average, a fresh RPR in Calgary should cost you about $500 to $750, plus taxes.

If you already have an obsolete RPR, then it's recommended to get it updated for a lower cost. This cost of updating the document depends on the number of changes that have been made since the previous RPR. Obviously, updating a very old and outdated RPR may cost almost the same as preparing a new one.

The time taken for an RPR depends on many factors including the size, shape and number of features of the property. It takes about three weeks to prepare an RPR for an average sized property. It is possible to fast-track it for an additional fee. However, it is best to get it done well in time. So if you are planning to sell your property, get it done or get it updated well in time.

If you need to deal with any encroachment or relaxation issues, then it may take several more months to sort things out. If you are thinking of selling your real estate, it is a very crucial step to take in advance to avoid stress and financial disappointment at the time of closing your sale. However, a competent REALTOR® should be able to give you a heads-up and explain how things work.

In some rare situations, if your RPR is not fully compliant, the buyer may even refuse to close the deal and walk away at the last minute. Best case scenario, you may be looking at a substantial hold back by your lawyer to get your RPR in order.

An RPR is an indispensable document for people owning, buying or selling a home in Calgary. Even if you have no plans to sell, it makes sense to keep the RPR up-to-date. If you are a seller, make sure you have an updated RPR and if you are a buyer, insist on an updated RPR before proceeding with the transaction. Regardless of which side you are on, for a Calgary real estate transaction you need this document to ensure a smooth deal and to avoid trouble later. It is a small price to pay for the peace of mind that it provides.