Outside Calgary Real Estate Sales Pick Up During Spring
Posted by Joe Samson on Wednesday, April 17, 2013 at 9:04 AM
By Joe Samson / April 17, 2013
Comment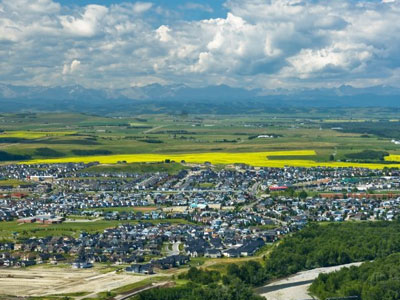 While the Calgary real estate market is slowing down, buyers are looking at the surrounding areas for a new dream home. Property sales see fluctuations depending on the area, but some neighbourhoods, such as Cochrane, Okotoks or Airdrie have approximately the same number of transactions for the first quarter of 2013 as in the same period of 2012, reaching a total of 865 units.

According to Becky Walters, CREB president, there is a relatively strong demand for real estate which, in turn, reduces the number of time properties is available on the market. The good news, however, is that the inventory remains at strong levels, with a vast number of homes listed, as well as Calgary home buyers, leading to an overall balanced market.

Among the communities near Calgary, Okotoks boasts an 18 percent growth in transactions during the first quarter of 2013 compared to the similar period of 2012. On the other hand, Cochrane shows sales slowing down during March, but thanks to strong sales during January and February, the end result is good, amounting to an overall growth of 6 percent compared to 2012.
Ann-Marie Lurie, chief economist at CREB, explains that Okotoks saw an improvement because of an elevated inventory of properties, compared to other areas. This means many home buyers have options, although there have been 15 percent fewer properties available on the market.
A continuing decrease in single family homes available across inner Calgary may lead to growth in the surrounding areas, while home buyers may stop looking at resale products, in favour of new homes.

Jodi Rogers and Dave Beckford made the decision to move to Airdrie, even though they both have jobs in Calgary and Chestermere. They explain their choice by saying that Airdrie provides everything Calgary does, but at a far lower price, with an average home price hovering under $300,000.
Also, because buying an already built home is quite expensive even in Airdrie, Jodi and Dave decided to build their own new home. The existing homes available were simply too old while building a custom design house has lead to an overall lower price.

Airdrie shows a 12 percent decrease in total sales for the first quarter of 2013 when compared to the similar period of 2012, with new listings going down from 471 to 411 in the same span of time. The good news is that the sale to listing ratio remains at a decent number, 0.64 percent. However, tendencies show that Airdrie may experience the exact phenomenon present in Calgary, with prices going up because of a low number of listings.

The prices in the area remain approximately the same as in the previous year, with a single family home listed at $401,800 in Cochrane, which still is the most expensive community near Calgary, even though it's now 6 percent cheaper than in 2012.
The average single family homes for sale in Okotoks are listed at $374,000, while Airdrie sits at $348,300. These prices reflect the average home in the typical market, taking into consideration the number of rooms, size of basement and furnishings.
Sales also seem to pick up in other surrounding areas near Calgary, with Chestermere reporting sales in March reaching 24, compared to just 12 for February. Also, Strathmore went from 14 sales during February to 30 for March, while Langdon went from a disappointing two sales during February to 14 sales during March.