Over the Top Customer Services Stories by REALTORS®
Posted by Joe Samson on Wednesday, May 25, 2016 at 4:11 PM
By Joe Samson / May 25, 2016
Comment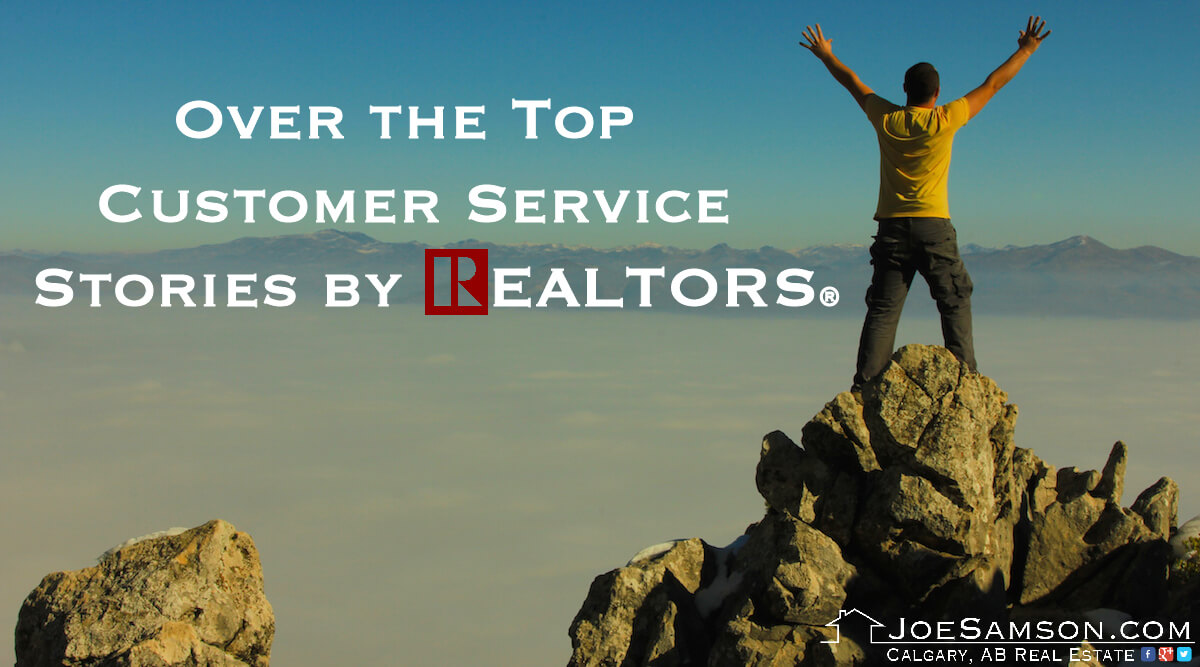 Being chased by an 80lbs dog, jumping 6 foot high fences or being yelled at by a naked person in a shower while showing houses are common stories that many seasoned real estate agents probably experienced at one point in their career.
No doubt, all successful real estate agents often go far out of their ways to look out for their clients best interest. The most common example is working long hours, getting stuck in major traffic and sacrificing personal family times to accommodate the client's work schedules. Interestingly this is just the tip of the iceberg as most of the things that we do to help our well-respected clients almost never gets mentioned or recognized.
Believe it or not, there are some really crazy things that some of the top real estate agents had done to help their clients. Read on to get a glimpse of the unexpected situation that could be easily taken from a best seller story.
---
Outstanding Professionalism & Some Lemonade
Wayne Munden - Top REALTOR® in Burlington, ON
I had a wonderful OFFER last night that earned my selling clients $150,000 over list price on their original family home. It was a pleasure to work with 6 professional TORONTO Agents. Each one of them brought a unique integrity to the negotiation table.
I felt bad for all who didn't get the deal, and many of them left sad, I felt really bad because I can tell by the look on their face that the last few months have been a struggle to get a deal done. Wish I had 5 more of these houses. Oh, and one Agent rode his bike to the Home.
BTW...one of the Agents who was in our MULTIPLE OFFERS last night knew it was going to be a long night. He walked over to College Street and bought all Agents, who brought OFFERS in, and Sellers, a Fresh Squeezed LEMONADE, for us all, including competing agents. Brilliant. It is why I respect all REAL ESTATE Brands and REAL ESTATE Professionals. We have to learn how to work together for the betterment of our clients & the industry. Maybe that is the magic pill. Think about it. (Toronto Agents are really cool)
The Hero is not the Listing Agent in the city of Toronto, the Hero is the Buyer Agent. Our role is to simply direct traffic.
---
A Flat Tire and Getting Stuck in Snow Won't Stop an Offer
Andrew Fortune - Top REALTOR® in Colorado Springs, CO
I had some buyers that I met at a property for the first time this past winter in January. I work in Colorado Springs and for the most part, there are not many deep mountain properties that get snowed in. We do have a few neighbourhoods that are very mountainous though. Here's a video I made driving down from one of those neighbourhoods recently: click here
After watching the video, you can imagine that it gets interesting in a snowstorm. This particular client wanted to meet me at a property that is located up near the neighbourhood in the video. I told him to make sure that he had good snow tires and all-wheel/4-wheel drive as we just had 2 feet of snow up there. I headed up to meet him and brought along a new agent that I was training.
My buyers show up in a 1980's Honda Civic with bald road tires (not snow worthy). He drove (or slid) right past the driveway and then got stuck on the road in front of the house. This property was the first house on a single lane road with no outlet but 11 homes behind it, so we were in a bad spot.
My new agent and I tried to push the car, but then realized that it also had a flat tire! It was a disaster. Of course, this was all happening in the evening when people come home from work, so there ended up being a line of people parked behind us trying to help them get out. Eventually, we got the tire replaced and pulled them out with no damage to the car. It was a crazy day.
There is so much more to the story than this, but the funny part was that the first thing these buyers said when we were finally past the drama was "So, what do we need to do to make an offer?" Apparently, my expression showed my shock because they started laughing as soon as they saw my reaction. I said, "Really, after all that?". Once I collected myself we put in an offer, but they ended up buying a different home in the mountains a couple months later.
Incredibly, at our walkthrough right before closing, my buyer (who had driven once more without good tires) got stuck in the snow again. It took an hour to dig him out. It just goes to show that no matter how bad your showing experience is if the clients want the home they really don't care about anything else!
---
Elderly Couple Doubles Their Assets by Smart REALTOR®'s Advice
Bruce Firestone - Top REALTOR® in Ottawa, ON
Photos: http://profbruce.tumblr.com/post/118954634839/realtor-hero
Elderly clients of mine came to see me last year. They were living on a large rural property, quite isolated from everything—neighbors, services, shopping, jobs, friends, family, you name it. That was OK when they were younger, but not so much now, especially since the husband was suffering terribly from a combination of illnesses. They asked me to sell their property, and to help them find a visitable home nearer to the city centre as well as to hospitals and other services.
To maximize value for them, I led a team of lawyers/planners/surveyors that successfully severed their lands into two parcels—one 10-acre piece with their home on it, and one 60-acre piece of vacant land. The former was sold to a nice couple in their 30s, and the latter was sold to a developer…
We probably doubled the value they were ultimately able to obtain from their holdings via this strategy since a developer places little or no value on a house and a young couple doesn't have the wherewithal or interest in holding onto development land or immersing themselves in byzantine procedures that pass these days for the approvals process in most jurisdictions to make lands usable for purposes other than growing weeds.
But then the story gets interesting. How many bungalows do you think we looked at to find one that was suitable for elders? 22, and really none of them were. The one my clients finally decided to purchase (out of sheer desperation) required significant renovations to a) create a 0-step entry and b) a bathroom accessible to someone using a walker.
This brought to my attention how badly served elders are in our society, and how, with just a little more aforethought, we could build new homes that serve all age groups better, including seniors.
And homes with roll-in showers, 0-step entries and accessible bathrooms with grab bars don't have to be stigmatized by ugly design either or, for that matter, excessive costs. I mean a 0-step entry works not only for seniors but a woman (or man) with a baby carriage too.
---
A Bit of Night Mowing to Complete the Sale
David Welch - Top REALTOR® in Orlando, FL
If you know Orlando, you know that there are tons of landscape maintenance companies. If you're a real estate agent in Orlando, you know you can't get any of them to mow a yard to clean it up for showing or closing. I had a property listed for an out of state owner and was fortunate enough to find the buyer as well.
The prior tenant had skipped out on the owner, and the yard was about a foot high, so the buyer had asked specifically in the contract for the seller to have the yard mowed prior to closing. She agreed to have it done, then asked me to find someone to do it.
The property was not located in the safest area of town, and I could not get anyone over there. It was a cash deal and closed very quickly, so I did not have much time. I was also really busy, so the night before the closing my wife and I went over at about 9:00 pm. I had her stay in my Tahoe aiming the lights on the yard, while I mowed as quickly as I could. She moved the truck around to keep the lights on in the area I was mowing. I got it done, and we closed the next morning.
---
The Cop is Naked... Run!!!
Jean Richer - Top REALTOR® in Ottawa, ON
A quick story about feature sheets. I had a client who was a 6'4" policeman and I was selling his house. On a Friday afternoon, I called him and asked if I could drop off some feature sheets at his house. He said no problem if I am not there just come in, drop them off and we are good to go! I show up at his house, ring the bell as usual and wait a minute or so. No answer so I open the door with the lockbox, go to the kitchen and smell his pizza in the oven.
I figured he went to the corner store to get a beer or something like that. No worries it's all good. I had to go look in his master bedroom as he had done some fixing up and wanted me to check it out, so I went upstairs. As I get into his master bedroom I hear the shower going and right away I am thinking " There is a 6'4" naked policeman behind that door with a gun. I'm a dead man!! ".
I quietly go back downstairs, lock the door and leave as fast as I can. I get a call from the client a few minutes later to see if I had been in his home. I told him yes and that I had dropped off the feature sheets. He just wanted to confirm it was me. I wished him a good weekend and kept on going! That was a close one!!
---
Arachnophobia at a Client's House
Ryan FitzGerald - Top REALTOR® in Cary, NC
I have a story about a client who lived in Seattle and was selling his home here in Raleigh. In order to sell his house, I went to the home and discovered that the water was not working. Turns out that the seller didn't have water. They called the city of Raleigh to turn the water back on and the city told him there is a valve under the house in the crawl space that he needs to turn.
The seller called me and asked if I could turn the valve for him to get the water back on. I obliged and drove to the property to turn the water on so we can get his home listed and sold only to find out the crawl space is loaded with spiders! I HATE SPIDERS! It took me a good five minutes to work up the courage to crawl underneath the house and when I found the valve I turned it and crawled back out covered in webs. Then we listed and sold the home!!
---
Drawing Blood to Show a Property
Joe Samson - Top REALTOR® in Calgary, AB
It was a weekday on a late October evening when the first snow started to appear in Calgary. My clients had called me about wanting to see a listing on the other side of the city which was about 45 minutes away plus the time stuck in rush hour.
As it happens to most of us, I was running a little bit behind with my things to do and I was in a hurry to leave the office to get to the property on time. After making my way through in a major traffic jam, I finally pulled up to the house and the timing was just perfect as my clients had arrived right behind me.
One last check in the mirror before I get out of my car, fixed my tie, and off I went to greet the client and take him inside the house. Then all of a sudden I froze in my steps and forget to breathe for a few long seconds. I started doing my Macarena dance looking for my REALTOR® access key. And I said: "Noooooooo…!" I left it in the office.
Driving back and getting it was not an option. Especially on a snowy evening while all the drivers seemed to forget how to drive on a slippery road even though when Calgary could see snow on the ground between October to May.
I knew that I had to come up with a solution very quickly. So I figured that I could try climbing in the basement window and open the door from the inside. Luckily I knew the client really well and I was pretty sure that he wouldn't mind me doing this to sell his house.

I still had my suit on and crossed my fingers and I was hoping that nobody is going to call the cops thinking that I am a burglar. So I prepared myself for the "breaking & entering" manoeuvre. Asked my client to hang on to my winter coat and suit. I carefully rolled up my white shirt's sleeve and tossed my silk tie behind my neck so that it won't be in the way.
All of a sudden I felt the MacGyver power coming on to me and with full confidence, I carefully put both of my hands on the single pane glass and started to apply a bit of pressure to be able to slide it sideways. BANG!!! Both of my hands just went through the window and the glass was shattered into pieces. And I noticed that I was dripping blood all over my shirt.
I ran to the front door and let the client in to view the home. While they were checking out the vacant property, I excused myself and cleaned up my wound a little bit. The more interesting part of the entire event was that I choose not to go to the ER at 8:00 p.m. as I was very tired. Instead, I went straight home and stitched it up all myself.
Do You Have a Story to Tell?
Do you have an interesting story to share about working with your clients? I know that there are lots of great stories out there to tell. If you got something funny, heroic or have an awesome example from the past of an outstanding service that you had provided, then please send it to me or share it in the comments below. Contact me today as I am planning on expending this blog post with YOUR story!