Real Estate Agents vs. Private Home Sellers
Posted by Joe Samson on Wednesday, March 30, 2016 at 4:36 PM
By Joe Samson / March 30, 2016
Comment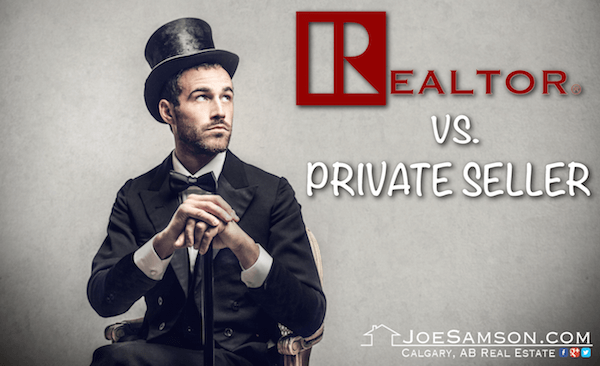 Are you thinking about moving, but need to sell your home in order for that to happen? Before you can get the keys into another person's hands you'll first have to choose how you're going to sell. Do you want to hire a real estate agent, or do you want to handle the sales process yourself?
If you're thinking about taking the reigns and selling on your own, there are many facts you should know before jumping right in. Understanding these can make you more aware of the drawbacks you may face.
---
The Expense of Advertising
When you hire a real estate agent you're paying for their full service, which includes the expense of advertising. Agents regularly pay to have memberships to real estate websites and directories, and if you are able to get into those that aren't exclusive, you'll have to pay for that membership as well.
If you want even more exposure you'll have to pay to put your home on various other home sale sites, especially those that are popular. On top of that, you will need to cover the cost of taking professional pictures so you can attract people to actually want to click on your home in particular.
Advertising expenses don't stop there, especially if you want to maximize your chances of a quick sale. Brochures, flyers and ads all cost money to produce and maintain. It's important to be prepared to shell out a lot of cash up front for various fees and memberships. And doing so doesn't even guarantee you'll get a lot of attention since it can be difficult to separate yourself from other homes without adequate advertising experience.
---
Selling for Less than What Your Home is Worth
Nobody and I mean nobody, wants to sell their home for less than it's worth. You want to get maximum value for the property you've worked so hard on, and in order for that to happen, you have to price it appropriately. It might seem easy to do this because you can simply call an appraiser, but there's actually considerable risk in this.
The majority of appraisers will often their clients lower numbers because they don't want to be sued for overpriced homes. Even someone who seems reputable and honest may low-ball the numbers they give you, and that's not going to help when you put your home up on the market.
When you hire an agent this scenario is far less likely to happen because part of their service is a thorough market analysis. They'll use their experience with selling homes combined with current market conditions to help come up with a fair price. Agents want you to make money on your home and are motivated to price it accurately so it doesn't spend a lot of time sitting in limbo.
Still not sure if it's worth it to hire an agent? Keep this in mind: the majority of homeowners who privately sell end up losing tens of thousands of dollars from underpricing their home, which is far more than many agents charge. This doesn't even take into account the risk you take with negotiating on your own, which could result in selling for less than you anticipated. If you're not aware of what your home is worth, you could end up taking an offer that's too low.
---
Not Preparing Your Home Properly
Did you know a properly staged home can sell more quickly than one that's not? For example, a home may be more likely to sell if personal pictures are taken down, the right window treatments are installed and the right paint colours are chosen.
Making your home appealing to you is important while you live in it, but it needs to be appealing to potential buyers while you're selling it. The details are extremely important, and you have to consider every last one to have a chance at selling your place quickly.
Real estate agents are helpful during this process because their experience means they know how to make your home look more appealing. While you could certainly look up tips on the internet, nothing is a replacement for real-life experience. It could take you months of trial and error with your home's preparation to figure out what is going to help make a sale possible.
---
Dealing With the Paperwork
It's well-known that there is a ton of paperwork to sign when you buy a home, but when it comes to selling a home yourself, there's much more. In addition to legal forms, there are also confusing papers that are crucial to the sales process.
All of those have dates at which they have to be signed/filed as well, which is why it's so important to be familiar with what they are and how to take care of them. It could take you months to learn how to do all of the paperwork on your own, and if you missed just one thing it could be a hindrance to the selling process.
The biggest benefit of hiring an agent is the fact that they take care of this paperwork for you. Sure you'll have to sign things as they come, but you won't be the one responsible for finding them and filling them out. Your agent will do all of this for you, which makes it so easy to track everything that's going on.
Doing the paperwork on your own is certainly possible, but it is an incredible amount of work that you have to be prepared for. If you're going to do it then I'd recommend finding as many resources as you can.
---
Not Getting Exposure
Remember the advertising that we talked about above? That can pay off by getting you mild exposure, but it's not anything compared to the exposure that an established real estate agent can get. That's because only licensed agents to have access to some of the largest and most popular listing services that buyers trust.
Maximizing exposure without professional tools and experience is difficult, and may take a lot of time to get used to. You may have to go through a lot of different options until you find something that gets you a lot of phone calls or e-mails.
Another reason why you may not get exposure is that your home is listed for sale by owner. While not everyone will be discouraged by this, some buyers specifically want to work with agents because they trust their expertise. This is why a lot of people will filter out homes that are privately sold and will only search through agents.
---
Going Through Unqualified and Non-Serious Buyers
When you're in charge of selling your home it's important to be welcoming to all potential buyers who come your way. But, it's also important to remember that not everyone who contacts you or comes into your home will be the right buyer. Some may not even qualify for the price of your home and others may just want to take a look around to see what the place looks like.
The benefit of having an agent around is that they help you weed through the buyers by asking the right questions. Doing it on your own means you're the one who needs to ask questions and you'll need to make sure buyers are pre-qualified before any of the paperwork is started.
It can be exhausting to go through a lot of buyers, and it can be a huge waste of time. Through experience, you'll learn what to ask and look for in buyers, but that could mean sitting on the market for months or even years longer than you ever anticipated.
---
You Take All Liability
It's your responsibility to tell the buyer all about the home you're selling before any paperwork is signed. If you were to fail to disclose information about the home, then that liability could fall on you in the future.
For example, you could potentially be liable for a lot of repair costs and other expenses because you didn't tell the buyer that the roof was in bad shape. That would end up cutting into your profits and would make the entire process of selling privately not even close to worth it.
This is likely not to happen when you hire a real estate agent because they unearth all information about the home from the start, and they make sure you are aware of the need to disclose the details.
It might not be pleasant to tell potential buyers about the things that aren't 100% great in your home, but it's necessary. If you really want to avoid potentially turning people away, then you should try to have repairs and upgrades done ahead of time so you can talk about the quality work you've had done.
---
You'll Have to Clear Your Schedule
Thinking about going on a short trip during the weekend? Think again if you're responsible for selling your home. If a buyer wants to come and see your place, it's important to be open to their schedule. Always being unavailable may cause you to turn a lot of people away, including the buyer you've been looking for. It's okay to be unavailable while you're working, but other activities may have to wait until you find a serious buyer.
If clearing your vacation or activity schedule is okay, then hopefully you'll be okay with opening your availability for phone calls and e-mails. People want to learn more about homes before they buy, and will likely contact you to ask a lot of questions. Quickly responding is essential, and may help increase your chances of selling.
---
Discovering What's Right for You
Selling a home privately is something that can be done, but that doesn't mean it's easy. It requires a lot of time, a lot of energy and a willingness to learn the ins and outs of real estate. If you're not sure whether or not it's right for you, ask yourself if you could deal with the considerations above. There's a good reason real estate agents are in demand, and you'll find that they offer true value for the service that they provide.