Reasons Why You Need a Mortgage Pre-approval
Posted by Joe Samson on Thursday, August 24, 2017 at 11:35 AM
By Joe Samson / August 24, 2017
Comment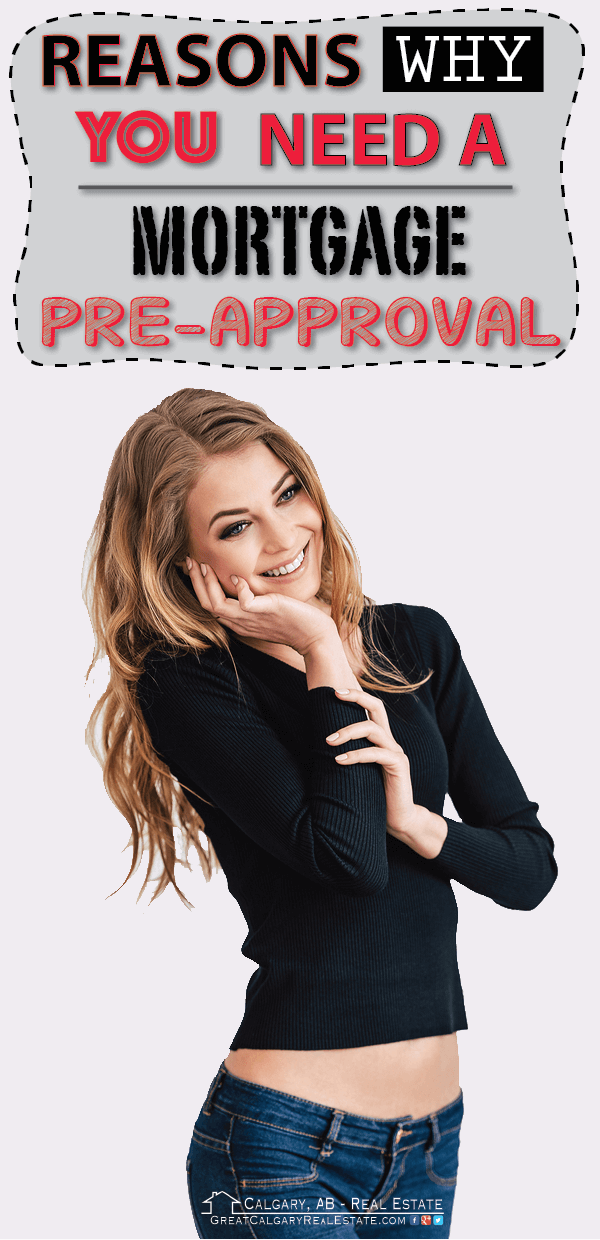 When making financial decisions that will heavily impact your life, such as buying a home, it's important to be informed before jumping into a decision and making sure ahead of time that you are ready to buy a home.
This means asking questions and using all resources available to understand more about the commitment of purchasing a property. To gain this understanding, the first (and arguably the most important) step is to determine how you will pay for it. While paying all cash is ideal because it eliminates the need to pay interest, this isn't something most people can do. This is when the majority of home buyers turn to obtaining a mortgage so they can secure the funds they need to purchase a home.
Fortunately, as a buyer, you have many mortgage options available to choose from. You will find that each of these is different, as some will require more money down while others may have strict requirements dependent on their financial history.
To determine which is best for your situation, getting pre-approval for a mortgage is crucial. In fact, doing this before you ever look at homes is highly recommended by real estate agents and it can even help streamline the entire buying process.
With awareness of the fact that you need to get pre-approved for a mortgage, the next step is to understand more about the process of how to go about getting a mortgage pre-approval. The following guide will help you get started and anticipate what to expect. The information you learn through this can help you have a more enjoyable experience and smoother transaction in the future.
Reasons for getting a mortgage pre-approval:
Negotiate Better Terms & Price
Build Trust & Win Multiple Offer Situations
Take Possession of Your New Home Faster
Get Your REALTOR®'s Attention & Priority
Seller May Request Proof of Financing
Establish a Laser Focused Search
Avoid Disappointment and Frustration
Interest Rate Increase Protection
What is a Mortgage Pre-approval?
Each lender has a specific set of guidelines that they use to determine whether a borrower will get approved for a mortgage. These guidelines are more in-depth than those associated with a pre-qualification, as that only involves a superficial look at you as the borrower.
Due to the fact that requirements can be so different with each lender, it's easy to see why doing your own calculations is not recommended. An official pre-approval means that the lender has gone through your financial information and qualified you as a borrower. This will give you a more accurate idea of what your interest rate will be, as it will be based on your specific information as a borrower.
It's always recommended to get pre-approved before you ever start looking at homes so you have a more realistic and accurate idea of what you can afford. In addition to saving money, it's one of the most beneficial things you can do as a responsible buyer. The length of time it takes to get pre-approved will is usually no more than a few days once you have provided all of the supportive documents
Most mortgage pre-approvals and interest rate holds are guaranteed for a period of 3-4 months, which is why it's recommended to start the process up to 120 days before you'd like to purchase a property. By taking care of this early you will be able to look at homes with more peace of mind and avoid the potential stress of dealing with offer negotiations at the same time.
Before filling out any paperwork, it's important to gather financial documents that support your ability to afford a home. This may include paperwork proving income, proof, and source of down payment funds, asset information, and liability information. In addition this, you will need to provide personal information such as your social security number or SIN number, so the lender can review your credit score.
How Do I Get Pre-approved for a Mortgage?
To get the pre-approval process started, you will need to speak with an experienced mortgage broker (or lender) who can help you. If you aren't familiar with any professionals you can rely on, then ask your REALTOR® for recommendations.
Once you meet with the mortgage broker ask them questions to help you learn more about their rates and programs. If you aren't interested in interviewing different lenders, then go online and research banks or mortgage brokers.
...if you work with a real estate agent who doesn't mention getting a pre-approval letter at all, then they may not have the expertise that's so important in this type of profession.
While doing this research is pretty straight-forward, it's important to keep awareness of lenders that make things seem "too easy". If you speak with any lender that claims they can provide you with a pre-qualification letter without taking a look at your financials, do not go with them.
Also, if you work with a real estate agent who doesn't mention getting a pre-approval letter at all, then they may not have the expertise that's so important in this type of profession.
How Much Mortgage Can You Afford?
With most buyers, there's a considerable difference between what they think they can afford and what they actually can afford. Getting the mortgage pre-approval will point you in the right direction, as it will give you the best idea of what you can realistically afford.
However, it's important to be aware that some lenders approve buyers for less than they want to spend while others will approve buyers for more. This is when it's important to be self-aware of your finances and what you're genuinely comfortable with spending on this significant purchase.
The hard numbers you receive from the lender will be a great starting point that allows you to narrow down your search for homes. Knowing your price range will give you an idea of how many rooms you can afford, which area you might want to live in and if you can genuinely afford what you want. For most people, this is when shopping for a home becomes more real and they can finally picture themselves as homeowners.
By taking the time to get pre-approved, you will ultimately be helping yourself avoid many pitfalls that first-time buyers run into. For instance, knowing your financial position can help you avoid looking at (and falling in love with) homes that you simply cannot afford.
When you're ready to start looking, analyze the approval letter and monthly payment information provided by your lender. Once you've determined the maximum that you're content with, the down payment and closing costs can be calculated so you can look at homes within your ideal budget.
Obtain a Mortgage Pre-approval Letter
A pre-approval letter is contingent on you as the borrower keeping your credit score and finances the same until you close. This is why most lenders warn their clients against making large purchases or taking out new credit cards, as these types of transactions can affect their credit score and financial situation.
As long as they do this, the pre-approval letter will play an important role in the buying process. Sellers will appreciate the fact that a qualified buyer is looking at their home, and if you end up competing with another buyer, this could be what helps you secure the property. The pre-approval essentially shows that you are qualified and serious about purchasing.
Negotiate Better Terms & Price
One common and frustrating situation for sellers is dealing with buyers who aren't qualified to buy their home. This wastes time because it generally results in the deal falling through and other potential buyers moving on.
As a pre-approved buyer, sellers will appreciate the fact that you've proven your financial backing. Beyond that appreciation, this approval can act as a negotiation tool because you've already gone through the work of proving your ability to buy. This entices the buyer to negotiate with you, as they won't have to worry that the deal will fall through because you won't get approved for a mortgage.
Your pre-approval may also persuade the seller to accept your offer rather than a higher one from a buyer without the same approval. In addition to this, an eager seller may be willing to change their terms of the sale due to the fact that your purchase would be a done deal.
With the pre-approval being such a strong negotiation point, it's easy to see why top real estate agents request that their clients take care of this before they are shown properties.
Build Trust & Win Multiple Offer Situations
The real estate market is always changing, therefore you can never anticipate whether or not a home is going to attract offers from multiple buyers at the same time. However, it's important to be prepared just in case this situation does occur.
A pre-approval letter from your lender is just what you need, as this will make you stand out. Sellers see this letter as security, not only because you have proven that you can obtain financing, but also because you've proven that you're serious about buying the property. As a result, you will be one of the top candidates they consider accepting an offer from.
Take Possession of Your New Home Faster
Finally, your offer has been accepted; what next? If the home inspection turns out to not show any issues, then you'll likely anticipate moving into your new home. While packing your bags is a great way to get started, there will be some waiting time before your new keys are in hand.
Most of this wait time is the seller deciding whether or not to accept your offer, which will generally be minimized with your pre-approval letter. Even more beneficial is the fact that your bank will already have the paperwork and documents that are needed to approve the loan, so you can close the home as quickly as possible.
To gain insight into what happens after your offer is accepted, the lender will need to have all your information in order to determine if you can afford the property. Having already done this legwork to get the pre-approval, your lender will be able to move on to requesting an appraisal of the property. Once everything is in order, you will finally be able to close the home, likely without having to wait the 45-60 days that most average buyers do.
While choosing to get pre-approved for a mortgage is your decision, it's a smart and beneficial move on your part. If you are serious about buying, it's the very first move you should make. A top real estate agent will tell you the same thing, making it something you don't want to wait to take care of.
Get Your REALTOR®'s Attention & Priority

Getting pre-approval for a mortgage is not something that is guaranteed. Even if you think your finances are in order and you'll be approved for a specific amount, you won't know for certain until you have that letter in hand.
To avoid frustration and stress for you, your REALTOR®, and the seller, don't ask to be shown properties until you've taken time to get your pre-approval taken care of. Real estate agents want to spend quality time showing you potential homes you could buy, not homes you may only dream of living in.
If you get pre-approved for a mortgage, you will have the attention of your real estate agent if they are caught between deciding which client they can make time for. By showing that you are ready and able to buy, your real estate agent will know they aren't wasting their time or yours by showing you properties.
Seller May Request Proof of Financing
There are many additional reasons, aside from time savings, why real estate agents request their clients obtain pre-approval before showing them homes. One of the most common is because the seller often requires it, as they don't want non-qualified buyers walking through their home. This is most common with luxury real estate, although this seller preference is seen with budget-friendly homes as well. For these reasons, don't take it personally when you are requested to have pre-approval done before you're allowed to view a home.
An added benefit of having this done is that you'll be in a better position to present an offer on a home that you would like to buy.
Sellers take buyers who have pre-approval letters readily available much more seriously because they have shown their ability to pay. Without this, the seller would never know if you would be able to get financing for their home or if the deal with go through.
Establish a Laser Focused Search
You're ready to buy and don't want to waste time looking at homes that may be outside of what you can afford. By taking care of financing before you search, you'll have an accurate idea of the amount you can spend on a home. This is due to the fact that your lender will analyze bank statements, pay stubs, your credit report, and all other necessary financial information to determine what you can borrow. With that information, you can establish a much more accurate price range so you can search for homes you can afford with confidence.
One additional highlight of knowing your budget is the fact that you will be able to narrow down your options for properties. This will give you a limited selection to choose from so your search can be expedited.
Another advantage of knowing how much you can spend is that you will be less likely to find properties you like but cannot afford. You will only see homes that fit your budget so the entire buying process is overall more enjoyable and efficient.
Avoid Disappointment and Frustration
When you think about applying for a pre-approval, you may be intimidated by all that are involved. From digging out your tax returns to proving your income, it can be a lot to take in at once.
However, this shouldn't be a reason to postpone doing the pre-approval until you actually find a home that you like. To avoid disappointment and frustration, you should embrace your inner-strength and put all of your documents together. Once you have done this, you'll likely find that the process isn't as intimidating as you thought it would be.
After the application is completed and you've been pre-approved, you will know exactly what your realistic budget for a home and taxes is. This means you won't waste time looking at listings that are far outside of your budget, such as homes that cost $400,000 whereas you're only approved for $350,000.
Ultimately this saves you from disappointment when home buying, making it clear why real estate agents request you do this from the very start. By doing something as simple as applying for pre-approval now, you will do yourself a great service that will make shopping for a home easier down the road.
Interest Rate Increase Protection
Most pre-approvals for mortgages provide buyers with a 90-120-day rate guarantee to protect them in the event that rates increase when searching for a home. This essentially allows you to lock in a rate so you can shop for homes knowing you won't see an increased rate surprise when you're ready to buy.
However, if interest rates decrease while you're shopping, most lenders will honour that rate instead. If no other reason compels you to obtain a pre-approval, this "lock-in advantage" may be just what does.
Final Thoughts
Buying a home is a huge financial decision and therefore should be treated with careful consideration. Real estate agents understand this, which is why they are likely to request their clients take care of this before they are shown homes.
Walking through properties before doing so will be pointless as well as a waste of time for both you and your agent. If you are serious about buying, then prove it by obtaining your pre-approval as soon as you can. Once you know how much you can afford, you'll find that buying a home is less stressful and you're able to enjoy searching with confidence.