Repeat Home Sales Increase in Calgary
Posted by Joe Samson on Thursday, May 15, 2014 at 11:54 AM
By Joe Samson / May 15, 2014
Comment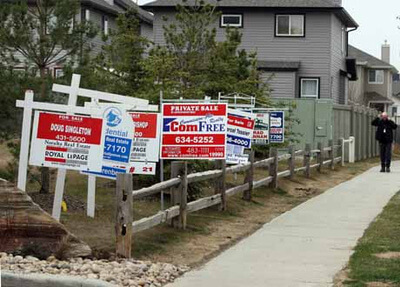 A brand new report has just been released on Calgary's housing market, and the findings are great!
Calgary has one of the best housing markets in the country, and it is continuing to see strong growth.
The report looked at homes in the area that were sold at least twice and found that the home price index in Calgary had risen much more than the rest of the country. In fact, it's seen a year-over-year home price increase of 10%, whereas the rest of the country is only at around an almost 5% increase. Each month Calgary's real estate is getting better, and it's reaching new highs as a result.
Calgary's Flourishing Economy
Economists say that that the great economy in Calgary is a reason why the housing market is flourishing, but also why housing prices are seeing all-time highs. There is a large influx of people moving to the area from all over the country and world, and they are looking to buy instead of rent.
With all of these migrators flooding the housing market, there just aren't enough homes to keep up with the demand. This lack of inventory is causing a large increase in the prices of homes, and those won't likely cease until there are more homes brought into the market.
Ann-Marie Lurie, who is the chief economist with the Calgary Real Estate Board, said that things are actually starting to turn right now. She stated that more new listings of homes are coming on the market, and that should continue as the weather warms up. After all, spring is one of the busiest times in real estate, as the snow has melted and buyers are able to see what other properties are out there for sale.
The good news for buyers is that as more homes come on the market, the price growth should settle down slightly. But Lurie warns that there is still going to be a strong demand, so the price growth is certainly not going to reverse anytime soon.
Sellers in Calgary
In Calgary and many other major cities throughout Canada, the sellers hold all the power, as they know that there are not many choices for buyers. As a result, the median price in Calgary has gone up almost 8% within a year, making it almost $433,000. As for the average sale price, that has also increased over 5% to almost $484,000.
This month has already been a busy time for Calgary's real estate market, as it saw a huge 21% increase in sales from the exact same time last year. This means that 1,276 sales occurred from just May 1-13th alone! New listings have also started to rise, but active listings have decreased almost 12% from the same time last year.
As for the migration, that is only expected to continue as the strong economy in Calgary attracts more people. The numbers speak for themselves, as net migration in 2013 was 45,168 compared to 31,996 in 2012.
Sellers will still have the upper-hand for a while, but they must remember that there are a record number of homes that are currently under construction. These should bring more balance to the market once they are completed and up for sale.