Ridiculous Reasons to Overprice a Home
Posted by Joe Samson on Thursday, March 19, 2015 at 7:05 PM
By Joe Samson / March 19, 2015
Comment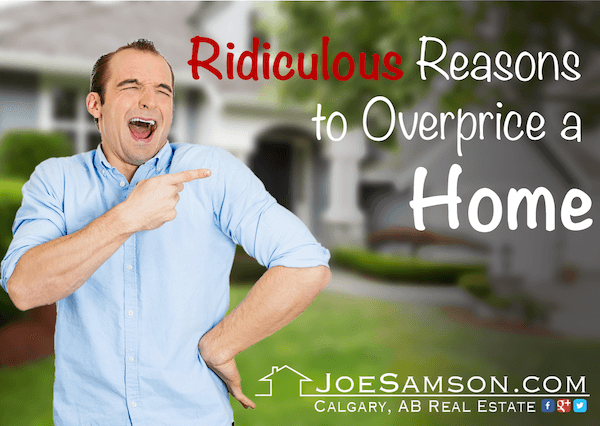 When you think of spending a lot of money on a home, you likely dream of generous master bedrooms, a beautiful kitchen, luxurious bathrooms and maybe even a pool. And while this is the case with many homes, it's certainly not the case with them all.
There are some homes that sellers overprice considerably, and not because they have made a mistake. They are fully aware that they are pricing their home high and the reasons why vary from one seller to the next.
When you see the ridiculous reasons why sellers hike up the prices on their homes, you'll be left in amazement. After all, some reasons just make it seem like sellers don't even want their home to be taken off the market!
Take a minute to read about these overpriced properties; you'll be thoroughly entertained and may even learn a few things NOT to do if you decide to sell a home in the future.
---
Sweet Memories
Everyone gets an emotional attachment to their home, especially if it's a place where they raised children or went through a lot of lifestyle changes. I know I have a lot of great memories in mine and cherish those on a regular basis.Of course, those memories are important to you, but they aren't necessarily important to the buyer. Sellers who hike up the price of their home just because they have an emotional attachment generally don't sell quickly or end up lowering their price down the road.
If you're putting a price on your memories, then you may want to re-think things. This could end up costing you more in the long run when you sit on the market unable to sell.
---
A Celebrity Used to Live Here
This is a tricky one because sometimes a celebrity owner can absolutely mean getting more money for the home. BUT, that's not always the case. It really depends on the celebrity who lived in it and how long ago that was. And, of course, it also depends on what the home looks like and where it's at. Most people won't want to live in a run-down house if someone they've never heard of lived in it 30 years ago.
---
Pride of Ownership
Some owners feel entitled to a certain amount of money for their homes and are insulted when they are offered anything less. Unfortunately this makes the entire sales process extremely emotional, and generally ends up upsetting the seller, buyer and even the real estate agent! In fact, having too much pride in your home can actually get in your way of selling it. Buyers don't want to work with someone who isn't flexible or willing to negotiate.
It's good to have pride in your home, but it's also important to have a realistic view of how much you'll receive for it when it comes time to sell. In order to have the best chances of getting it off the market, try to disconnect from the emotional attachment you have to it. View the house from a buyer's perspective and you'll have a whole new point of view.
---
DIY Home Evaluation Research
"I went on X website and it told me my home is worth a LOT more than you're telling me it's worth." That is something a lot of agents hear every day (including myself), and a big reason why sellers think they should sell at a higher price point. The truth is, those websites don't consider all of the small details that go into pricing a home. You know who does do that? A real estate agent! Their job is to fairly price the home so it sits on the market for the shortest amount of time possible.
---
The House Around the Block Sold for the Same Price!
At any moment there are generally several homes in every neighbourhood up for sale. It's extremely important to look and see what those homes are going for price-wise, but you shouldn't base your selling price off of those. Your neighbours could have homes that sold for more money because of upgrades, square footage, more bedrooms, a better layout or many other reasons.
Talk with your agent about homes in your neighbourhood and what makes them different from yours so you can price accordingly. Every home is unique, and you can't assume your home is worth as much as another in your area. It's also important to keep in mind the market fluctuations can affect your selling price, and your agent should consider that when helping you.
---
The Last Agent I Met With Gave Me a Higher Price
Agents realize that you're going to meet with several different people choose who you sell your home with, and it's actually something I encourage you to do. After all, you want to find the person who is the best fit for selling your home and who will work hard for you. What's important to know is that some agents are simply going to tell you what you want to hear so you are more likely to hire them. This is really unfortunate because it sets you up for likely failure to sell.
You need an agent who is going, to be honest, and realistically set your expectations. Overall this will be the more reliable choice, and that can mean selling your home more easily than you would otherwise.
---
I Have Great Neighbours
How close are you to your neighbours? Most people who have great relationships with theirs think that this is a huge selling point for their homes. After all, who wouldn't want a neighbour they could rely on for house sitting, the occasional dinner or getting the mail while they are out of town? While this could certainly be something that attracts some buyers, it's not a reason to raise the price of your home. That's because most buyers simply want to live in a good, safe area.
Most purchasers generally aren't necessarily looking to have close relationships with those who live next door to them, and that could potentially raise some problems for both households involved. It's crucial to keep in mind that just because you're friends with the people around you doesn't mean that new buyers will be as well. Very few people will pay out a premium to know they have good neighbours, especially since people move and not all personalities mix well.
What buyers today do pay more for is safer, more beautiful neighbourhoods, not those that only come with a couple of nice people next door. They want security in knowing that their purchase will be an investment that will increase in value because the entire neighbourhood is desirable as a whole.
---
I Want to Retire
Are you ready to take out your retirement funds and finally travel the world? Or maybe you're just going to move to a comfortable little home that you can live the rest of your life in? When sellers are ready to retire, they are normally extremely motivated to get the keys into the hands of a new owner. Unfortunately, this motivation can get in the way of that happening when the seller calculates how much money they'll need for a cushioned retirement.
Any seller should know that they can't overprice their home just because they need the cash to retire. Buyers want a good deal and won't overpay just to make the current owner's bank account ready for their next stage in life. Unfortunately, if the seller doesn't realize this quickly, they could hinder their own plans by not selling their home in a timely manner.
---
I Made Repairs/Upgrades and Deserve a Premium for Them
Doing upgrades and repairs to a home is incredibly important, and can absolutely make all the difference with how much you can sell your home for. However, the type of work you did and where it was done is what's key to getting more for your asking price.
For example, if you made a really cute kid's room, it may not be something that buyers really care about, especially if they don't have kids. But, if you took the time to have your kitchen renovated and your bathrooms upgraded, then you will likely get more money for that work.
Another thing to consider is who did the work. Most buyers want to see that a licensed contractor did it, as that ensures that any construction was done up to code, especially if it included plumbing or electrical work.
---
If the Agent Works Harder, the Home Will Sell at Any Price
Almost every agent who has been selling homes for a while has heard a client say "if you work harder then I can sell my home at the price that I want to". Unfortunately, this is not at all reality, because even the best agent in the world can't sell a home that's priced too high for no apparent reason.
Agents do all that they can to sell homes as soon as they are hired, and that's because they genuinely want to get it off the market. There's no "hard work" they can do to make buyers want to purchase a place that is obviously not worth the asking price.
Any seller that thinks an agent can work magic to sell their home is going to set themselves up for frustration and disappointment. They likely won't be able to sell their home for a while and may have to go through several agents before they realize their error.
---
Thoughts to Consider
Have you ever come across a home that was clearly overpriced? If you haven't but are about to search for homes, it's very likely that you'll see several. And, if you end up really liking one that you know is priced too high, make sure you have a reliable real estate agent by your side. They'll be able to give you honest advice about what you can expect and whether or not the home is worth pursuing.
Are you thinking of selling a home? If you ever decide to sell your place the future, you'll know exactly what you should avoid so you don't overprice. Of course, you don't want to price your home too low, either, which is why your agent is going to be such a useful resource!