Should I List My Home During the Holidays?
Posted by Joe Samson on Sunday, December 22, 2013 at 4:00 PM
By Joe Samson / December 22, 2013
Comment

Are you enjoying this holiday season and all the beautiful weather it brings? Or are you one of the many homeowners that are struggling to sell a home? It's no secret that this time of the year is the off-season for selling a home, and that spring and early summer dominate the entire market.
So, what are you supposed to do if you really want to get your home off the market, even if it's not during the sweet warmer months of the year? Before you go dancing around in a snowman costume in front of your home with a "for sale" sign, consider some tips for an easier sell!
With these, you may be able to entice those buyers that are still looking despite the cold winter weather
1. Use Snow to Your Advantage
Have you seen those paintings where there is a beautiful home draped in freshly fallen snow? A lot of people love these pictures because they are beautiful, peaceful and make them feel like being home. You can actually bring that look to your home, but this is only applicable if you live in an area that actually gets snow. After you have the snow on the ground, don't just leave it there and hope that buyers will like it. You have to shovel your driveway and any walkways to make sure people can safely walk around.
After that, decorate! That's right, hang up some lights, add some winter decorations and give the outside of your home a true winter feeling. This will make your home look warm and give it a lot more curbside appeal than it would with a plain, un-shoveled and snow-covered area. Just make sure to do this tastefully (seriously don't go overboard or you'll likely scare people away) in order to attract all different types of people.
2. Be Unique
Despite winter being an off-season for sellers, that doesn't mean you can't stand out and look unique. In fact, it's extremely important to do something to make yourself look unique, or else you could end up really struggling during those winter months. Utilize all selling options (videos on your selling website, a lot of pictures, home staging) and do your best to do more than other homeowners in your neighbourhood are doing.
3. Light it Up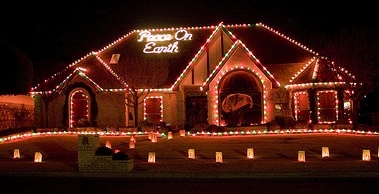 You've probably noticed that it's getting dark a lot earlier since daylight savings time ended (if this makes you feel like going to bed at 6 p.m., you're not alone). Because of this, you should make sure you leave the lights on in your home or put them on a timer. This will ensure that anyone passing by sees that the home looks bright and welcoming. It will also ensure that people can see the decorations in the front of your home or the landscaping that you work hard to maintain.
If you plan on doing an open house or just are allowing buyers to come in with the REALTOR® at any time, they always leave the home in a "welcoming" state. This means making sure it smells good (candles and potpourri are your friends) and making sure the heat is turned up. These are things that will make potential buyers feel comfortable and like they are home in your home!