That House Smelled So Bad... But There Was More Than the Smell
Posted by Joe Samson on Monday, August 5, 2013 at 5:47 PM
By Joe Samson / August 5, 2013
Comment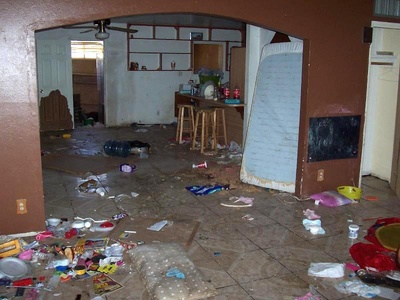 Memories of that day are fresh and close as yesterday. Around that time, I was working with a real estate investor, and we'd go around looking for fixer-uppers which he could flip.
We would go out around three to four times every week, mostly in the mornings, see a few of these homes and submit a few offers ever time. During our scheduled tour, we'd visit around 3-4 properties.

The majority of investment homes that we considered fell within the price range of $200,000 - $250,000, mostly foreclosures or bound to be foreclosed on very soon. What we saw wasn't just crap, but it was enough to be a good subject for a great book, not the kind you'll find in coffee shops, but one you want to read when you need something that falls in the line of not-so-ordinary. I saw not only poor homes but many that could be aptly described as fielty.

It was a couple of years ago, on a hot and humid day, the scathing heat piercing through every pore of my body, that I saw this house. It was located in the basement, a small two-room house that could have been easily described as "This House Needs Serious Work." As I write this, I could still feet the wetness of the basement and the stale air that filled my nostrils.

If you're having your lunch, you may as well take a break from reading; it'll do you more good returning later.

The air wasn't just stale with the staleness you get when you get into an abandoned house. If abandoned, it would smell of "unused", but there was something else that I smelled as we entered the basement, and the closer we got to the house, the stronger the smell was. When we opened the door, an indescribable wave of smell hit us hard. I bet I almost lost everything I had inside me. Yes, literally!

I rolled my eyes as the investor declined my plea to just walk away from the house at that moment. He was already on his way to his car, fidgeting with his car keys. He wanted to get his gas masks immediately.
The main floor of the house looked good, from a structural point of view, but the rest of it actually needed serious work. The carpets were old, the floors needed to be sealed, and the walls with flaking paint needed coats of paint to hide the smell.

I turned to the investor and told him beneath the gas mask that he'd never get that smell out of the house. What it needed was a bulldozer to get the rancid smell away. The investor was almost about to go, but when we looked at the basement, we immediately understood where the smell came from. It wasn't from the house, it was from cat feces that covered the entire basement.

When we left the house, neighbours told us that the previous owner of the house was a loony who started taking crack and went completely nuts. She kept over 50 cats in the basement. No one knows for sure what happened to her, but I hope she's fine. However, that basement wasn't fine at all. The house sold eventually for way below market value.