The 50 Year Old Property Virgin
Posted by Joe Samson on Thursday, January 2, 2014 at 3:49 PM
By Joe Samson / January 2, 2014
Comment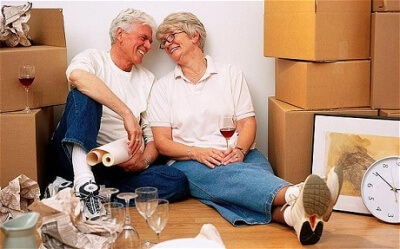 A lot of people struggle with the decision of when is the right time to purchase a home, especially as they start to get older. But what happens when you're past the age of 50 and still haven't made the move to buy?
Is it too late to jump into home ownership, and if you do, what is the outcome going to be? A lot of people have questions just like these, so if you have them too you shouldn't feel alone. This type of purchase is a big deal, so getting as much information as you can ahead of time is very important! You can begin by downloading our 75+ Home Buyer's Guide.
Home Purchase Past 50
Let's consider a situation where you would be wondering whether or not to buy a home. Imagine you're 53 and single and have been renting apartments and homes for the majority of your life. You make around $65,000 per year and have a 16-year-old daughter who is about to embark on her college education.
In your savings account, you have $40,000, but you don't have any assets other than that. Now, you are currently fine with renting, but you're also thinking about buying. The home you've been eying is going to sell for $400,000 and you can put a 5% cash deposit towards that.
Big Questions About Buying Real Estate
Now for the big questions that you might have in a situation like this. Is it a good idea to make this commitment with the income you have? Will this purchase provide security for your child in the future? Is it too late for me to purchase at this stage in my life?
Is this home too much or should I contribute more to the down payment? Before you give up considering this purchase, take a break and put everything into perspective! There are answers out there, and real estate agents can help you out.
Taking a Look at Your Situation
The first thing you should do is consider what your future would be if you didn't have an owned property under your belt. In assuming you do not have a pension that you have been paying into, you would be able to get a CPP pension once you reach your 65th birthday (assuming you paid CPP for years of working).
If you didn't own a home when you retired, then that money would end up going towards your rent each and every month. But, if you were to purchase a home and pay that off by retirement, then you would only have to pay for insurance and taxes on that home. This means that you would be able to take your retirement income a lot further owning than you would be renting!
If you want to set yourself up even better for retirement, then you should join your workplace pension. This will double the amount you pay into your pension fund through contributions from your employer and the government. By the time you reach retirement, this can give you a lot of money that you can use towards expenses that you need to take care of.
The decision of purchasing later in life is really up to you, but you should speak with a real estate agent to get some help with what to do. They can give you a lot of expert advice that makes you feel more secure with your decision!