The Impact Of A Bathroom On Luxury Homes
Posted by Joe Samson on Monday, April 15, 2013 at 9:06 AM
By Joe Samson / April 15, 2013
Comment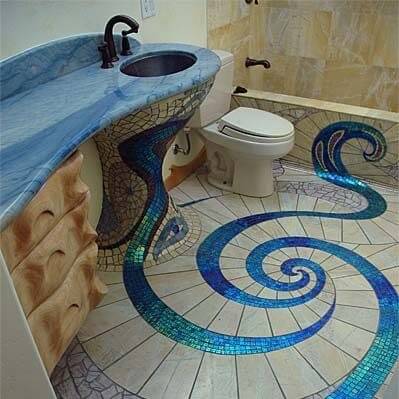 The world of real estate is a complex one. It's a world that relies on choosing an excellent location, a beautiful home exterior, and a beautiful home interior to get the most out of your investment.
There are plenty of luxury homes in Calgary out there that remain on the market for months, often due to the fact that they just don't have that unique touch that lets buyers know that they will truly have an upscale, personalized, and downright comforting home that they can feel safe relaxing in after a hard day's work.

There are no other rooms in a high-end home that provide better evidence of how truly unique the house is like the main bathroom. Luxury homes in Calgary always need to have luxury bathrooms, complete with a spacious bathtub, beautiful tiles, and a stylish sink. In this photo, you can see a beautifully remodelled bathroom that has an artistic, oceanic feel to it.
Just picture yourself taking a bath in this spa-like tub would feel? Can you imagine how many guest comments and compliments you would receive if you had this bathroom? If you already want to consider buying one of the many mansions in Calgary with an upscale bathroom, then you aren't alone – real estate investors know the power of a perfectly constructed bathroom, too.

There are very few rooms in a house that can make as big a difference in the price of a home like a bathroom. A unique and elegant bathroom is a comfort to just about anyone who sees it, and for homeowners who can say that their bathroom is their own, it can be a bit of a bragging right.
Buyers who are looking for an excellent investment in Calgary's real estate market should always check out a home's bathroom before they sign the papers. Having a personalized, stylized bathroom is a status symbol among many homeowners, and it can also be a point of personal pride for those who really love having a beautifully decorated house to entertain guests in.

Moreover, sellers who want to show off their luxury home's worth should consider remodelling or upgrade their bathrooms before anything else. Even though investing in real estate is always a great choice, and even though most areas of Calgary are easy sells, you should always consider adding more value to your home.
After all, it is in your best interest to have a house sell for more than the average price of a mansion since you are the one who will be seeing the majority of the money heading to your pocket.