The Impact of Oil Prices on Calgary's Home Values
Posted by Joe Samson on Tuesday, November 18, 2014 at 10:34 AM
By Joe Samson / November 18, 2014
Comment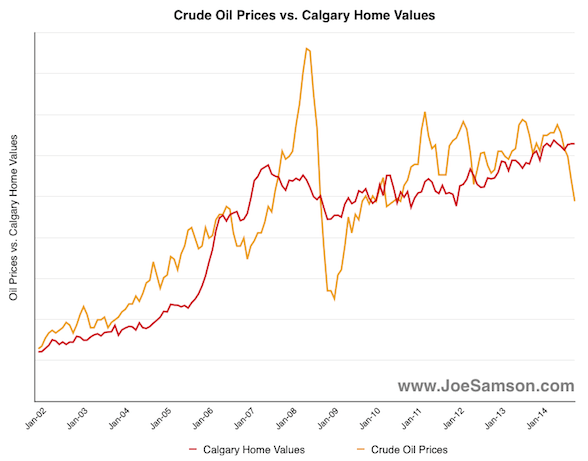 ---
Should I be worried about real estate prices dropping in Calgary since oil prices have begun slipping again?
Oil seems to be the core industry and the engine of our city's economy. Many native Calgarians can relate to oil prices as it is our lifeline. Some might consider oil being as important for Calgary business owners as blood in a human body.
Oil Prices vs. Calgary Home Values
For many years I have been very curious about comparing the facts of the impact that oil prices may have on Calgary home values.
Below I have collected the data for crude oil prices all the way from 2002 and for the same period, I have inserted Calgary home values right on top of it.
*Note: It was intended to display the relationship between price fluctuations. Dollar figures have been purposely removed to indicate proportional variances.
The second graph below indicates a 12-month moving average or a smoother curve of both figures to eliminate the month-to-month market fluctuations.
---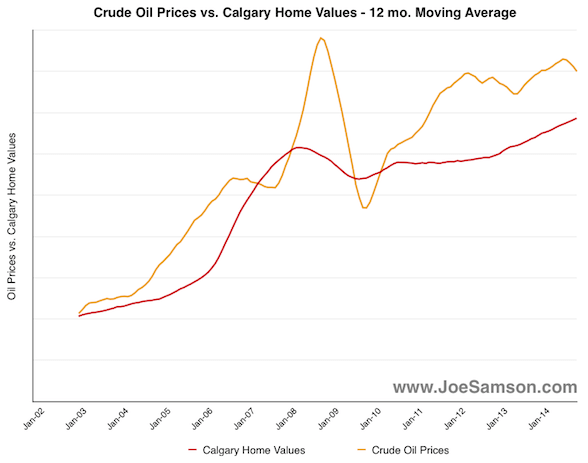 ---
Oil is in Our Veins
Imagine downtown Calgary as being the heart of a human body and the streets are the arteries through which oil is flowing to many businesses within the living organism.
During the lunch hour rush in downtown, restaurants are highly addicted to the fat wallets of well-paying businessmen. The luxurious shopping centres are expecting record-breaking crowds to flood them every weekend. In the wealthy communities, construction companies never seem to have enough working days to complete their projects before jumping onto the next task.
The list could go on-and-on. What's worth realizing is that one way or another, oil is very closely intertwined in everyone's live's in Calgary and either directly or indirectly tens of thousands of employees who are currently homeowners are benefiting from the spin-offs that the oil industry generates.
Fewer Jobs in Calgary
Between 2012 - 2013 Calgary had recorded approximately 57,000 people moving into our city looking for a brighter future.
When the coffers of oil companies are overflowing with cash, finding a job in Calgary seems to be a walk in a park for professionals and tradesmen.
Many industry experts like Ann-Maire Lurie, the chief economist at Calgary Real Estate Board agree that: "If energy prices keep dropping, then it is going to be inevitable not to have an impact on employment growth and eventually on the housing market."
Irresponsible Home Buyers
Similar to the previous oil boom that ended in 2008 it is not uncommon for ambitious home buyers to stretch their budget to their limits just to get into a luxurious property or to have expectations beyond their means.
Due to the blessings of well-paying jobs in the oil sector, monthly cash flow does not seem to be a problem for far too many people. It's not rare to see young professionals in their 20's to be without any savings who are paying between $2,000 - $3,000 each month for mortgage payments alone. Coupled with high spending habits and accumulated credit card debts the outcome could be disastrous if one were to lose his job.
The Media is Already Crying, Wolf
Alarming headlines have already started to surface about dropping oil prices:
"Calgary braces for gloom of falling oil prices" - Financial Post
"Unsteady oil markets prompt fears Calgary housing will follow suit" - The Globe and Mail
"Oil's crash threatens to derail booming Alberta..." - Global News
Many media sources are expecting a considerate correction for Calgary's housing market, similar to what happened to home values in 2008 when the last oil price crash happened.
However, due to the sub-prime mortgage crisis in the U.S.A. home values in Calgary have started dropping way before crude oil prices have peaked in early 2008.
Home Values are Still Holding
So far we are not seeing any signs of a softening real estate market in Calgary. Sales are up by about 10 percent compared to the same period last year. Average home prices are still up by about 6.5 percent in the last 12 months.
Depending on what's going to shake out in the job market in the coming months, home price increased could come to a significant halt if major projects in the oil industry are going to be set aside.
It is imperative to stay on top of the facts when it comes to your real estate. The monthly real estate market update may be a good place for anyone to keep their fingers on the pulse to see which direction is the real estate market going to be moving towards.
Resources:
- Calgary Real Estate Board, (CREB)
- Oil-price.net