The Sky is the Limit for Calgary's Downtown!
Posted by Joe Samson on Wednesday, January 15, 2014 at 2:59 PM
By Joe Samson / January 15, 2014
Comment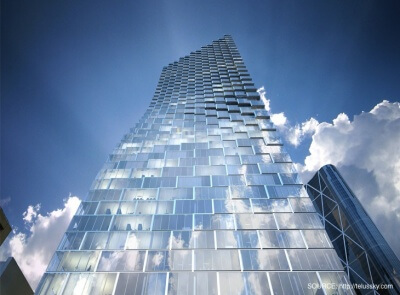 If you live in Calgary then you already know it has a breathtaking skyline, whether you're looking at it during the day or at night.
There have been a lot of changes to it, but none that are as big as the change that is to come! There's a new building in the works that is set to be the new star of this already beautiful skyline filled with condos and office buildings. While you won't be seeing this pop up anytime in the near future, the building process has just been approved and construction is sure to start soon.
The Calgary Telus Sky
So, what is this new building that everyone is buzzing about? It's the Telus Sky building, and it's going to be huge! It's set to be 58 stories total, third tallest building in Calgary and will be located at Centre St. S.W. and 7th Ave. If you've been to Art Central before, then that is where the building is actually going to be.
As for the details, this massive piece of new construction will consist of 750,000 square feet total. And, in order to be environmentally friendly, it will have triple glazed windows that help regulate the amount of energy that is used throughout the year. It will also have a green roof and even charging stations for anyone who drives electric vehicles!
Are you wondering about what the building will actually be filled with? Well, 26 of those 58 floors will be dedicated to retail and office space, so retailers and many new businesses are expected to lease space within the Telus Sky. In addition to this, 32 of the floors will be residential homes, varying in sizes.
A lot of people should show interest in these homes, especially with the changes that have been made to this area. It's much more developed and improved than it was only a few years ago. The Telus Sky will only add more beauty to the street and a unique architectural view.
Saying Goodbye to Art Central
Art Central is a promising spot for the artisan community in Calgary, but it will now have to find a new home with the approval of the Telus Sky. Unfortunately, the building that Art Central is located in just doesn't look good, and a lot of the businesses surrounding it aren't benefiting from it being there.
Although downtown will be losing this older building, it will be getting something that is sure to make the area much more promising. Coun. Druh Farrell said that studio and gallery space is sure to be found elsewhere, so the art community does not have anything to worry about! More details about relocation will come about soon, so keep an eye out for more information.
As for the Telus Sky, it isn't set to be finished until 2017, so it will be a while until you see this third tallest building in Calgary up and running. Until then, you will be able to enjoy seeing it be built, and that should generate interest in the downtown area. This is one new building that is sure to spark much more in the near future, which can result in a lot of beautiful changes to downtown Calgary.
More Images of The Telus Sky