The Truth Behind Secondary Suites in Calgary
Posted by Joe Samson on Thursday, October 30, 2014 at 10:56 AM
By Joe Samson / October 30, 2014
Comment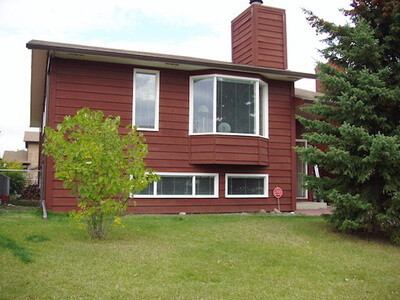 Secondary Suites in Calgary or Mother-in-Law Suites have been a hot topic in Calgary for many years now. Recently the debate started to heat up again whether the city should be more flexible toward supporting secondary suites in the interest of conquering the housing affordability problem.
Just like in any situation, there are two sides here as well. On one side there are the profit-driven landlords who support stuffing two families under one roof to maximize their income and others are claiming that these suites are necessary to conquer the affordable housing problems in Calgary.
Although it sounds like a compassionate approach towards low-income families, the circumstances in which these suites are created are often below normal safety standards.
On the flip side of the coin, the city needs to be very cautious about approving the legalization of existing basement suites as not all are created equally and public safety may be compromised as it is usually the case.
Let's back up for a moment before we delve into the topic and ask ourselves "what is really a mother-in-law suite"?
Mother-in-law suites are found all over Calgary, typically mixed in between regular looking single-family homes. Looking at a suited house from the street may appear just like any other home in the neighbourhood. The only noticeable sign that may give away the existence of a basement suite would be the lack of parking space.
Since there are at least 2 families living at most of these houses, it could mean that a "parking war" may be underway as there is a really good chance that every family has 2 cars on average. Now try to fit 4 cars in front of an average size lot. In most cases, it isn't going to work out and many neighbours have to put up with the congestion that is happening adjacent to their front lawns.
So other than the parking conundrum, this may be the only side effect to the outside world. But let's step inside the suite and explore the characteristics of a typical illegal suite.
Most often you would need to use the rear door to make your way into the dark and noticeably colder living space. As soon as you step inside entrance door, there would be two more doors to be found separating the upstairs tenants from the basement tenants. Usually, these doors are only made of plain interior doors and at best they are only there to provide the impression of separate living quarters, but the security that the door provides may not go much further than a coming bathroom door.
For safety officials, the biggest eyesore to approving basement suites are fire-related safety concerns. A typical basement suite bedroom comes with a very small window and it's constructed closer to the ceiling making it rather difficult or impossible for a person to pass through in case of an emergency.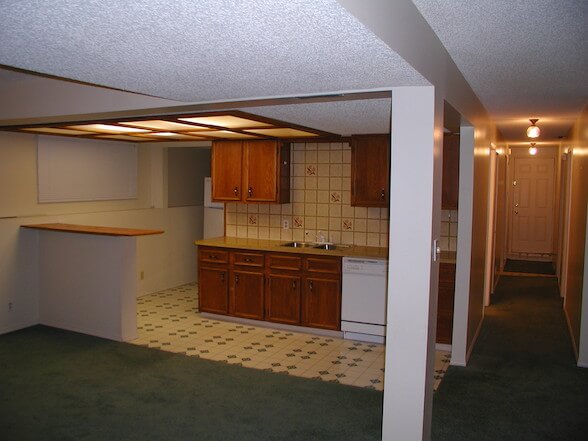 Prior to the 80's basement suites were considered to be a normal occurrence in Calgary and city officials did not worry too much about their safety concerns until after 1982. Any new suites created after 1982 are not allowed to have a stove and a lower countertop unless it meets the city's current building code. However, kitchens in basements that were built prior to 1982 were granted to be "grandfathered" and allowed to continue to operate as long as the suite did not stop being used by a tenant for more than 6 months.
While the safety of the basement suite occupants should be the number one priority, but their comfort level should not be overlooked either.
Most Canadians are familiar with what it's like being in a basement and we can say with confidence that it's often 4-5 degrees C colder. It may not be a big deal for an adult. You may throw on a thick wool sweater to bare the elements.
However having young children around in a cold basement may not be the best environment for them to be raised in. In most properties, it may not be too easy to adjust the temperate as the thermostat is located in the upstairs tenant's home. I suppose you better get along with the folks upstairs?
This brings us to another problem of who is the boss in the house? It's almost unheard of that any of these suites would be soundproofed between the two levels. Conversations by the neighbours are often overheard as clearly as two people sitting across from each other at a dining table.
Everyone feels entitled to have their friends over from time to time. Sometimes these conversations can extend into the wee hours of the night and become a full-blown party. Then what?
Even though many Canadian cities have approved and legalized secondary suites, it doesn't look as easy if we want to deal with both sides evenhandedly.
The everlasting debate is going to continue for the next while at city council, but hopefully, very soon a win-win solution is going to surface from all the effort that is being put into legalizing secondary suites.
I am curious about how would you approach this situation? Please leave your thoughts below if this topic is close to your heart.