Top 10 Reasons Why Your Home isn't Selling!
Posted by Joe Samson on Friday, June 2, 2017 at 12:08 PM
By Joe Samson / June 2, 2017
Comment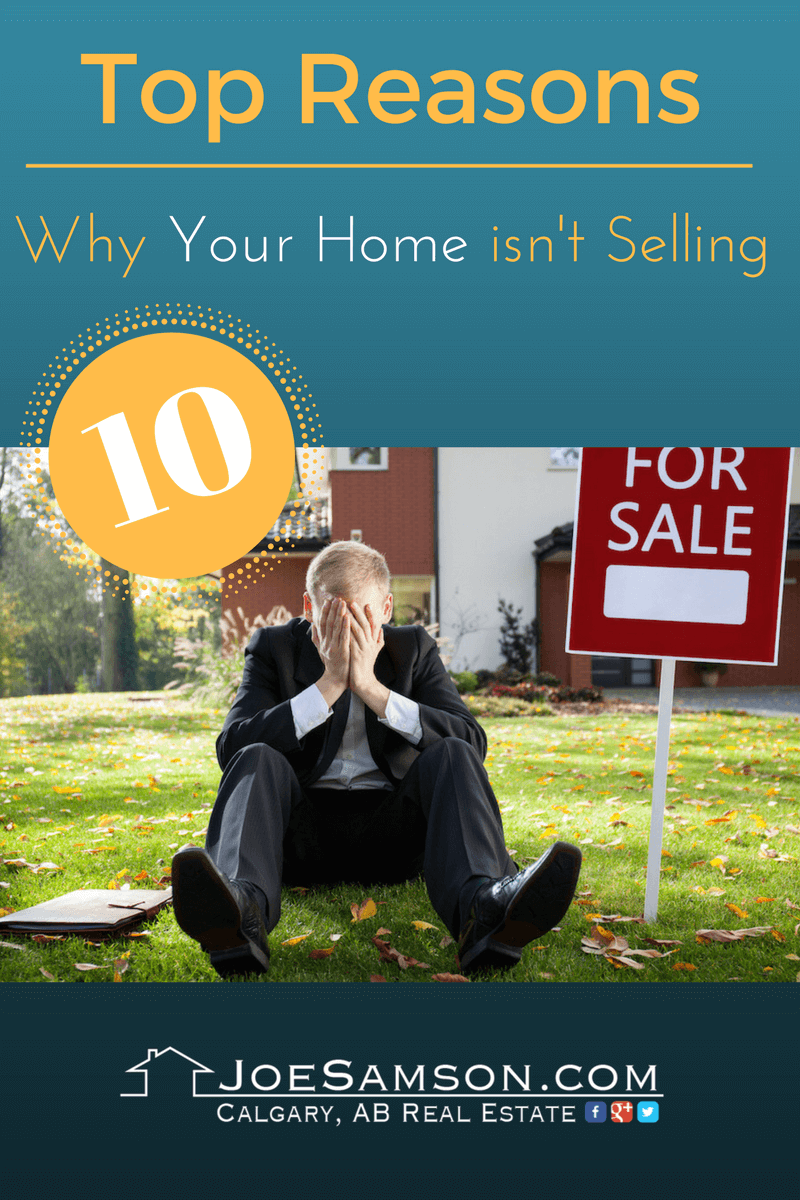 Homeowners who are in the market to sell their home tend to face several challenges throughout the selling process. Many of these challenges are not in your control: unrealistic home buyers, local market conditions, low-ball offers, and more are just some examples.
However, there are also many things that are in your control. You may not know it, but there are factors that can also scare away potential buyers. Even the most minor details can scare away some buyers, while other factors are more significant. If you are having trouble selling your home, these are probably the top 10 things that might be scaring away potential buyers.
1. Asking Above Market Value
One of the biggest and most common mistakes in selling property is overpricing. An overpriced home is a guaranteed way of scaring away potential buyers, and it's unlikely that they will ever come back for a second look.
Most buyers won't waste their time inspecting a home that has too high of a selling price. Potential buyers are aware of the selling value of your home because they've done their research on the internet and hopefully they're working with a competent real estate agent whose job is to verify the market value of the home. They have access to resources at their fingertips that will instantly tell them if your home is overpriced. If your home is $15,000 more than others in the same neighbourhood, they will most likely assume that your home is priced too high.
Avoid the use of internet tools such as Zillow's Zestimate in determining your home's value. Your real estate agent is well equipped to provide a more accurate price point that will result in a sale of your home. Appropriate pricing is critical from the very beginning of the selling process, otherwise, this can cost you time and money.
An overpriced home is a guaranteed way of scaring away potential buyers..
2. Poor Quality Photos and Video
The internet is usually the first stop many people make when researching about almost anything: from booking vacations to books, and even real estate. More than 90% of home buyers start their research online, and what they find on the internet is usually what will prompt them to call up a real estate agent to schedule a visit to the property. In the same vein, if they don't like what they find online, you can be sure they won't be scheduling a visit to see your home.
Poorly taken photographs and videos is a sure way of scaring off potential buyers. Typically, an experienced realtor will ensure that you have excellent photos and videos of your home. As a seller, it is also recommended to ask the realtor what kind of photo equipment they use and even ask for a sample of their work. If you find that the quality of media they produce is low, you can supplement it by hiring a professional photographer of your own.
3. Dirt and Grime
You've probably walked through someone's house and thought to yourself, "Wow this place is filthy!". If this has happened to you in the past, you've likely done everything you could to get out of there as soon as possible. Imagine if a potential buyer walks into your home and thinks the same thing?
When inspecting a home for sale, some buyers will even walk through your bathroom and open kitchen equipment such as the oven and refrigerator. The presence of dirty burners and oven filled with burnt food and grime will not give a lasting impression, causing the buyer to want to leave immediately. It gives a poor perception of the owner, causing the buyer to think that the home has been neglected. What's worse is that it will also leave them wondering what else in your home you haven't been taking care of before you put it on the market.
4. Foul Odour
You may not notice any foul odours in your home, but that's because people tend to develop an immunity to certain smells over time. If you've been living with pets over the last few years, you probably won't notice that there are any pet odours lingering in your home. The foul scent of pet odours is a surefire way of scaring off potential buyers, killing off what could have been a sale.
If a buyer walks through your front door and detects a bad smell, this will send them running away as fast as they can. They might not even want to complete the entire inspection especially if the odours are unbearable.
The most common sources of bad odours include spoiled food, trash, cigarettes, and pet odours. Before you put your home on the market, ask a realtor or someone else who doesn't live there to come in and check if they identify any unpleasant scents. If they do, address the problem before inviting potential sellers into your home.
5. Too Much Clutter
One of the top things any real estate agent would recommend to a seller is to remove clutter before putting their home on the market. Your home may have all the fixing of a luxury home and is in a prime location, but if it's filled with clutter this will scare away potential buyers.
The presence of clutter makes it difficult for buyers to envision themselves living in your home. A simple and effective way of getting rid of things you don't need is by donating them to a charity.
6. Personalized Décor
While personalized décor may look great in your current home, it's time to remove it when you are ready to sell. Once you put your home on the market, ask yourself if something in the house is something that a potential buyer would like to see. It's unlikely that any buyer would appreciate personalized décor the way you have. Remove any personal items hanging on the walls, and paint the walls with a neutral colour.
7. Presence of Mold
There is never any occasion when the presence of mold is acceptable. It's definitely one of the top reasons that you could be scaring away a potential buyer. Aside from being unsightly and disgusting, mold is detrimental to human health. You should never sell a home that still shows signs of mold; the best way to avoid this is to schedule mold inspection.
Most homeowners aren't aware that they are living in a house that has a mold problem. Mold can thrive in many areas that are not easily visible to the human eye. The attic is one of the most common areas that molds will attack, including ventilation fans as well.
8. Nonfunctional Components
Major home components are the air conditioner, furnace, roof, electrical system, and windows. These components also require the most amount of money to repair or replace. Selling a home with nonfunctional components will scare off potential buyers.
Keep in mind that most home buyers aren't looking to shell out much more money after they've just spent on a new home. One of the worst things that can happen to a new homeowner is to have to pay for repairs a few weeks or months into their move. Repairs for major home components can cost anywhere from several thousand dollars up.
9. Still Showcasing Grandma's Furniture
Most home buyers won't shell out money on a home that they need to update later on. In some cases, outdated décor can scare away potential buyers. Despite requiring inexpensive repairs and minor updates, many buyers don't want to have to shoulder the responsibility of doing the updates themselves.
Before you sell your home, ask for third-party opinions of your home décor. Ask for the honest opinions of young people, even including millennials who these days have more purchasing power and are in tune with the pulse of what's trendy. Even minor updates such as adding new carpets, installing new light fixtures, or getting rid of old wallpaper can make a big difference and increase your chances of selling your home in a shorter amount of time.
10. Unattractive Curb Appeal
When inspecting a home to buy, potential buyers will usually do a drive-by for the properties that they are interested in. They do this to check out how the exterior of your property looks, while also inspecting the neighbourhood. It's always in your best interest to make sure that your home has exceptional curb appeal.
Even if the interior of your home may look better than others in the community, having poor curb appeal can scare off potential buyers. This can easily be addressed by ensuring that you have well-groomed landscaping, planting bright flowers, and ensuring that the exterior of your property is always clean.
Final Thoughts
Finding a buyer isn't always easy, even if you have a beautiful home in a stunning location. While pricing your home has a big impact on attracting potential buyers, the last thing that you need as a seller is to scare away buyers with problems that you could have addressed early on.
These are the most common issues that you need to keep in mind when preparing your home to sell. By being aware of how a buyer experiences the visit to your home, it will most certainly help you to realize your plans much faster than you might have thought!