Why It's Not a Good Idea to Fall in Love With Your REALTOR®
Posted by Joe Samson on Friday, October 30, 2009 at 12:13 PM
By Joe Samson / October 30, 2009
Comment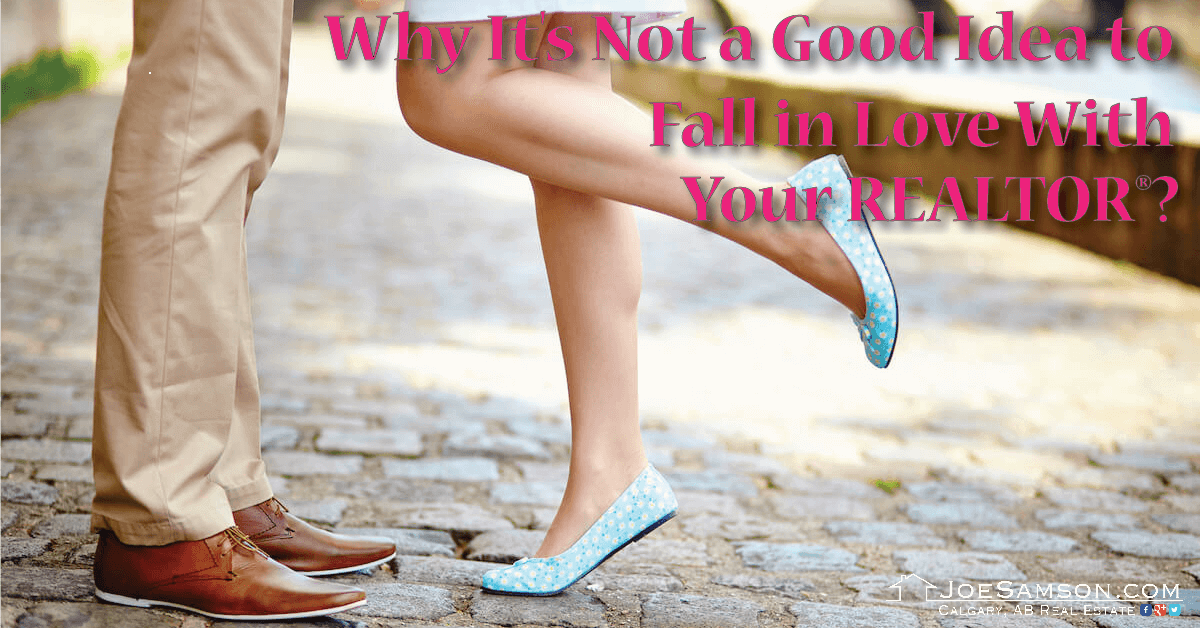 You are ready to spend hundreds of thousands of dollars and make a commitment for 25-35 years of your life based on the advice you receive from your real estate agent… With any luck, you will make the right decision. We are very fortunate here in Calgary, Alberta to have a professional regulatory body (RECA) in place, but is that enough to trust virtually anyone with a real estate license? The truth is that there are several levels of quality, business style and most definitely competence.
You should be asking yourself the following questions: - does your real estate representative have your best interest at heart? But more importantly, are they even capable of properly representing you? There are some REALTORS® with the best intentions in the world, but simply they may lack the ability to properly represent you and the investment of your lifetime. Please read on to find out how to identify a true professional.
Quite commonly people treat others the way they would want to be treated. How about treating others the way they would like to be treated?
Real estate, in general, is relatively easy to get into, but very hard to make a living at. Competition in this industry is at its tops. On the Calgary Real Estate Board, there are approximately 5,400 registered REALTORS® and selling an average of 1,800-2,200 homes a month. This fierce competition to gain the clients sometimes brings the worst out of the agent…
Some REALTORS® will do everything in their power to turn you into a client. Obviously, this makes sense from a time management point of view because they would hate to be running around with unqualified clients who will just take them away from other important clients or perhaps from their family. But do you believe in "love" at first sight?
In my experience, buyers and sellers are only looking for some more knowledge in the beginning. They are sure thinking about buying a house in the future but maybe not right away. So why not educate the potential client first before asking for the order? The bottom line is that you need to tell your Realtor what your expectations are and if he respects them to be sure to hold up your end of the bargain as well. Remember, we are representing your needs, not ours - but it's a two-way street.
You should very seriously think about what motivates your next real estate agent? Ask them the question – why are you in real estate? Are they really in the game to find the best house for you, for the right price… or perhaps they are just trophy hunting to be the "number 1" at the office for the month of July?
Isn't it amazing how many number one REALTORS® there are in any newspaper or on billboards? Also, what's with these 20 years of combined experience if you hire us? Does it mean that there are 20 REALTORS® on your team with each one of them being in the business for one year or they only have two REALTORS® on a team, one with 1-year experience and the other REALTOR® with an experience of 19 years and he is sipping pina-colada in Hawaii somewhere? Obviously, someone is not telling the whole story.
The truth is that, if a top-producing agent was customer-centric vs. self-centric and only interested in your needs, then perhaps they would focus on educating their future clients and constantly feeding them knowledge, rather than telling you how many houses they sold in the past.
Most of us think that the more experience is better and practice makes perfect. A couple of summers ago I have decided to take some golf lessons. My instructor asked me to show him my swing. So there I was on the driving range and I squared up to the ball and I think I had the best shot of my life.
My instructor said that it was the best shot he had seen in a long time… then he went on explaining that it was a miracle that I was even able to hit the ball with those grips and stand that I have. It wasn't until some time after this golf lesson that I had my "aha" moment. You see practice only pays off if you practice consciously. I could have hit that ball hundreds of times over and over, but if I am hitting the ball the wrong way for the rest of my life, then I am never going to improve.
The most important point here is that if there is anything that your REALTOR® doesn't know, it will potentially hurt you in one way or the other.
The average age of REALTORS® out there is just over 50 years. More likely many of them have received their training over 20 years ago. Well, things have changed…. a lot. Be sure to ask your next Realtor about his educational history. Similar to the information technology, this industry is changing on a daily basis and you need to make sure that your representative is on top of his real estate game all the time
At the end of the day, there are a lot of REALTORS® for you to choose from. I greatly encourage you to look beyond what people tell you in their flashy advertisements or what's printed on their business cards. Ask lots of questions before you decide, and objectively look at this person for his motives. Good luck with the rest.