Britannia Homes for Sale
Search all Britannia real estate for sale below in City Centre Calgary! Britannia is located on the west side of Elbow Drive and cuddled by the Elbow River on the west side of the community. Homes in Britannia are considered as luxury real estate and are often priced into the millions due to the community's close proximity to Downtown Calgary and unique lifestyle choices that Britannia has to offer.
The community was annexed to Calgary in 1910, the establishment of this community was to be much later. It is worth noting that this community was included in the Queen Elizabeth II's visit to Calgary in 1959 because of its appealing landscaping and the architectural touch of its properties and homes.
View homes for sale in Britannia, or LEARN MORE... about the community.
Britannia Real Estate Listings
May 31, 2023
$2,124,950
Med. List Price
Britannia Real Estate Information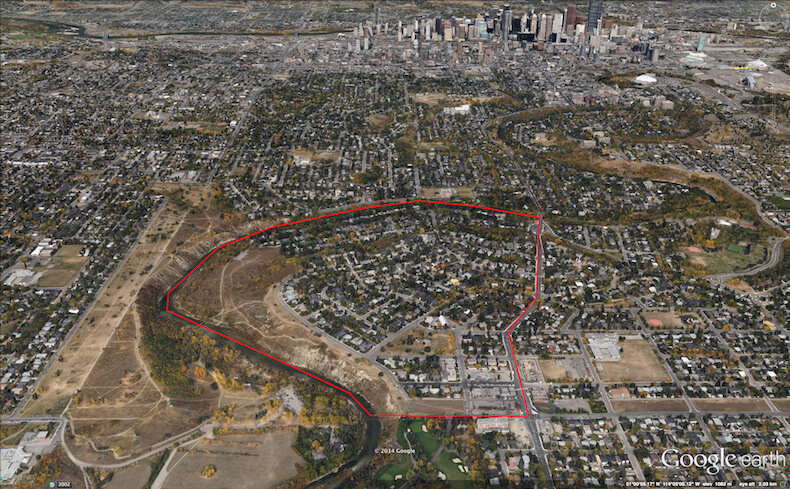 Highest average household income in Canada at $1,452,094.
Number 16 in Canada in terms of household net worth at $7.02 million.
Average home price in 2014 is recorded at $1,493.631.
It was designed to be a new subdivision with upscale characteristics, but most of the properties didn't sell in the 1950's when brought to the market due to high prices and the staggering post-war economy. Around the mid-50s, prices went down, and this attracted many real estate investors to the area.
Real estate in Britannia comes in different styles and is developed with a diversity of features, including detached and attached homes, townhouses, single-family homes, and condominiums. It is a clean community with the feel of a British city. Its name already suggests the British theme, and as you enter its streets, you are already reminded of this British theme from the street names: Edinburgh Boulevard, Elizabeth Road, and Coronation Drive.
The community of Britannia is surrounded by peaceful neighbourhoods and has a lot of the natural landscapes to add to its peaceful décor. The community offers sweeping views of the Elbow River and the Rockies, plus an abundance of a well-manicured landscape.
---
History of Britannia
Britannia is a modest size community in Southwest Calgary that echoes the charm of Great Britain. From the streets that are named after British people and places to the shops that are reminiscent of English villages, it's easy to see the influences that have made this community unique.
Even Queen Elizabeth II made a visit in 1959 due to the community's beautiful landscaping and unique architecture. And although a lot has changed over the years, Britannia today is still a popular place to live with a lot to offer all types of home buyers.
Although Britannia was first annexed in 1910, it was not named an official community until 1956. Once this development started, homeowners and business owners worked to create a neighbourhood that was both high-end and cozy. To achieve this, mid-century modern architecture was used along with telephone wiring and underground electric (this was the first community to feature these conveniences).
The vast majority of properties here are single-family dwellings, although there are a few townhouses and a couple of condominium buildings that embrace the feel of a British city as well. All of these residences are surrounded by peaceful streets, lush landscaping, and manicured lawns outside of homes and apartment buildings.
Being bounded by Elbow River/Riverdale Park to the west, 50 Avenue S to the south, and Elbow Drive to the east, it's easy to see that Britannia is situated in an excellent location. Residents can use nearby access roads such as Macleod Trail and Elbow Dr. SW, and 42 Ave SW to get anywhere they need to go.
There's even an LRT station in close proximity for those who don't drive. Beyond just being convenient, this location also offers residents spectacular views of the lights of downtown Calgary, the natural beauty of the Rockies, and the serene waters of the Elbow River.
---
Britannia Neighbourhood Amenities and Highlights
One of the most desirable features of Britannia is the small shopping centre in the heart of the community named Britannia Plaza. This small yet bustling village is filled with small businesses such as flower shops, bookstores, grocery stores, pharmacies, banks, cafes, restaurants, and more.
It's the perfect spot for residents to spend a day or evening, especially since it can be reached by foot for those who don't want to drive everywhere they go. For even more shopping residents can visit nearby communities or the major retail stores that are easy to find off of Macleod Trail.
Entertainment is another easily accessible convenience for Britannia residents. This includes popular spots like the Beer Market & Stage on Macleod Trail S, which is home to live music, beer, and food. Cinemas and other entertainment hubs are also just a short trip away for anyone who wants something fun to do any day of the week.
The community association that oversees Britannia is also a source of fun throughout the year. It regularly hosts events and activities for residents to meet their neighbours and do something new without having to travel far from home.
Educational needs of the community are taken care of by the many schools that can be found within it. For additional options, there are elementary, junior, and high schools that can be found in nearby neighbourhoods as well.
Medical needs can be addressed at Rockyview General Hospital, which is less than 10 minutes away via Elbow Dr. SW. Several churches can also be found within Britannia, such as the Riverview United Church on Imperial Way.
---
Britannia Outdoor Recreation Activities
One of the most beautiful recreational treasures is located on Britannia Drive. Just walk or drive down this road and it's easy to see stunning views of the ravine that's just down below. In the winter this is especially beautiful, with the tall trees being dusted with white snow to create the perfect backdrop for photos.
Back inside the community are a number of quiet playgrounds with ample space for activities and equipment such as slides and swings. The community also offers skating rinks and sporting fields for residents to take advantage of.
The nearby Sandy Beach is a popular place to visit during the summer, with cool water and quiet exercise pathways that are seemingly endless. This is located just next to the sprawling grounds of Riverdale Park, which many residents can easily walk to.
Residents can also take advantage of the skating rink in nearby Elboya Heights and the tennis club in nearby Elbow Park for even more options for going outside.