Diamond Cove Homes for Sale
Search all Diamond Cove homes for sale in South Calgary. Diamond Cove is one of Calgary's smallest community with only a couple hundred estate-style homes in the neighbourhood. Homeowners in the area enjoy a lot of privacy with minimal traffic on its streets as there is only one entrance to the entire community via Bow Bottom Trail.
View real estate in Diamond Cove, or LEARN MORE information about the neighbourhood.
---
Diamond Cove Real Estate Listings
September 24, 2023
Pending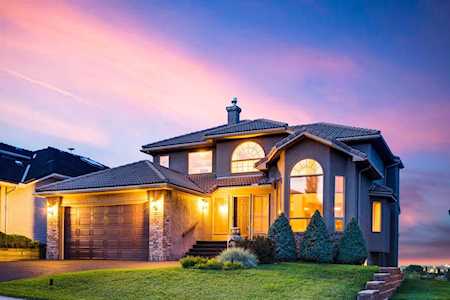 290 Diamond Dr SE
Calgary, AB T2J 7E2
Diamond Cove Real Estate Information
Tucked away in Southeast Calgary is the cozy community of Diamond Cove. With the larger community of Queensland to the south, Bow Bottom Trail to the west, and the Bow River to the east, it's a location that offers both convenience and natural beauty.
Carved from Queensland in 1989 to be established as an estate community, Diamond Cove was not officially recognized the city until 1991. After this, it quickly grew to one of the most desired places to live in this part of Calgary.
---
Diamond Cove Housing Market
Homes for sale in Diamond Cove are perfectly situated with beautiful views of the Bow River and Fish Creek Provincial Park in the distance. Homeowners enjoy all of this within a peaceful environment that doesn't have through-traffic thanks to the one entrance into the neighbourhood. The majority of properties for sale are single-family homes built with modern amenities and large windows to take in the views of the Bow River.
Home buyers will find impressive architecture and home styles that keep the community looking fresh and new. In fact, many homeowners have even renovated their properties so they can enjoy updates while still remaining in this neighbourhood and at the same time they've contributed to elevating real estate prices in Diamond Cove. Landscapes are well-kept, greenery is easy to find, and most properties open up into large backyards with room to relax.
Diamond Cove can only be accessed from Bow Bottom Trail, which is only 1.5km north of the convenient Canyon Meadows Drive and within close proximity to Deerfoot Trail. With nearby amenities being just a few minutes away, it's a small estate community with a lot to offer. Residents don't have to travel far to reach downtown or other neighbourhoods while enjoying scenic beauty that is only found in this part of Calgary.
---
Amenities and Highlights of Diamond Cove
There are numerous amenities that Diamond Cove residents can take advantage of. This starts with several schools nearby that offer after-school activities as well as a bus system that runs throughout the community. Diamond Cove also enjoys being in close proximity to many great restaurants, cafes, and shopping centres.
Southcentre Mall, in particular, is only 7 minutes away and has nearly 200 retail shops as well as a wide variety of meal choices at the food court. Even closer is Deer Valley Shopping Centre, which features hair salons, jewellers, tailors, gift boutiques, health care providers, restaurants, and more.
The amenities located on Macleod Trail has everything that residents of Diamond Cove could need, including big-box retailers, banks, grocery stores, and gas stations. Golf enthusiasts in the area are glad to have both Eaglequest Golf Driving Range and Maple Ridge Golf Course nearby to choose from. For those who want to visit downtown Calgary, it's only 10km away and can be easily reached via several major roads nearby.
The community association of Queensland proudly serves the community of Diamond Cove as well. They host many neighbourhood meetings throughout the year to keep residents up-to-date on what's going on, but they also host fun events. Residents can take part in these fitness classes, art classes, bingo, holiday markets, and many other fun activities as often as they'd like.
---
Diamond Cove Outdoor Recreation
Although the excitement of downtown Calgary is 15 minutes away, there are ample recreation opportunities in Diamond Cove. Fish Creek Provincial Park, in particular, is a short drive or walk away. This park has pathways, hills, wildlife, and educational classes hosted in the environmental reserve for visitors to take advantage of. On the south side of this park is Lake Sikome, which can be reached via Bow Bottom Trail from Diamond Cove.
Another popular lake just 5 minutes away from Diamond Cove in Lake Bonavista. The lake is only open to locals in the community but with the help of a friend living in there, one can enjoy the benefits of the lake throughout most of the year with rowboats available to rent when the weather is nice.
This area also features tennis courts, fishing, and kayak camps for visitors. Douglasbank Park is located close to the community as well and has adequate space for many outdoor activities. For organized sports, Bow Bottom baseball fields are minutes away and host game on well-kept grounds.
The massive community centre that serves Diamond Cove is home to a gym, tennis courts, an outdoor skating rink, sports fields, and a stage. Residents can use this facility as well as the outdoor bbq area during open hours. There are also playgrounds and meadows throughout the community to create an open and spacious feeling for residents.