Silverado Homes for Sale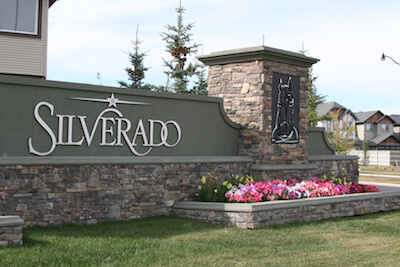 Search Homes for sale in Silverado in South Calgary. Real estate in Silverado often come with breathtaking views, green fields, wonderfully clean and serene parks you can take a stroll through or have family picnics. Homeowners of Silverado can ride horses, celebrate winter festivals and watch horse jumping races at nearby Spruce Meadows. Homes in Silverado are moderately priced and they offer the convenience that urban living holds.
Rolling fields of lush green grass are the first things that residents see when they drive up to the stone entryway, creating a serene and peaceful setting. Past these green fields are beautifully built homes that have been given ample space for maximum privacy in this masterfully built community.
Start your search today of real estate in Silverado, or LEARN MORE... about the community.
Silverado Real Estate Listings
May 28, 2023
Silverado Real Estate Information
The beautiful Spruce Meadows Equestrian facility provides the perfect backdrop for the community of Silverado. Shaded informal pathways, plentiful recreational facilities, three world-class golf courses, 150 acres of green open spaces and lots of equestrian opportunities lure folks into the area to explore houses for sale in Silverado.
As one searches for the perfect home in Silverado, he gets introduced to exquisite architecture and constructions influenced by the facility-- along with areas rich in ranching heritage. The nearby mountains and a wet pond sprawling over an area of seven acres create the community all the more spectacular.
Well designed Silverado houses in South Calgary are connected to Sheriff King Street and are located on the southern side of Highway 22X. Along with easy access to Shawnessy Towne Centre—with a multitude of options for dining and shopping, the community also allows easy connections to the downtown area through the Macleod trail. Silverado real estates are located just minutes away from Fish Creek Provincial Park.
Those who currently own a home in Silverado, do not regret buying into it at all. Parents have a very good time driving their kids to soccer matches, shopping for groceries and just strolling around the community when they feel like they need to get in touch with nature.
The communities of Bridlewood, Somerset, Evergreen and Shawnessy are just to the north. There is plenty of great shopping and restaurants nearby in Shawnessy Towne Centre.
---
Silverado Housing Market
Silverado homes are mostly single-detached houses that are perfectly ideal for starter families. But that is not all there is. There are also condominiums in Silverado and townhouses that can very quickly turn out to be great future investments. Properties in Silverado are mostly constructed in accordance with the owner's preference and designs. Many are very elegant, customized dream homes, especially the homes located on Silverado Ranches along the western part of the community.
Constructions of new homes in Silverado are done on the lines of the community's commitment to preserving the natural environment and its surrounding beauty. Going beyond the high benchmarks established by the authorities of Calgary Waterworks and Environments Canada, many houses in Silverado also feature Energy Star appliances, insulated water taps and low water usage faucets and toilets.
With plenty of move-up homes, starter homes, and estates spread across the two distinct neighbourhoods of Silverado, the community is reputed for its affordable housing options and family-friendly atmosphere. Along with the well ventilated and charming houses in Silverado, several luxury low-rise townhouses and estate homes are also making their presence felt in the community. The Ranches of Silverado is built in estate architectural styles which include English Tudor, French Country, and Georgian Manor; amongst many others.
Transportation in Silverado
Available homes for sale in Silverado are very easily accessible to those residents who do not own cars. Through the C-train (Light Rail Transit system) residents can access nearby communities, get downtown and go to and from work faster. This frees up more quality time for friends and family. Situated close to shopping arena, schools, hospitals and other local conveniences, the community of Silverado is the perfect location for dream homes and residences.
---
Silverado Schools
Designated schools for Silverado, please review the following websites below for the most up to date information:
---
Silverado REALTORS
®

& Real Estate Agents

Are you planning on buying or selling a home in Silverado? By calling us - find out what Joe Samson & Associates can offer you as your local Silverado REALTOR®. We have many years of experience working in the Silverado real estate market. We will make sure to guide you in the right direction with your real estate plans.