Mahogany Homes for Sale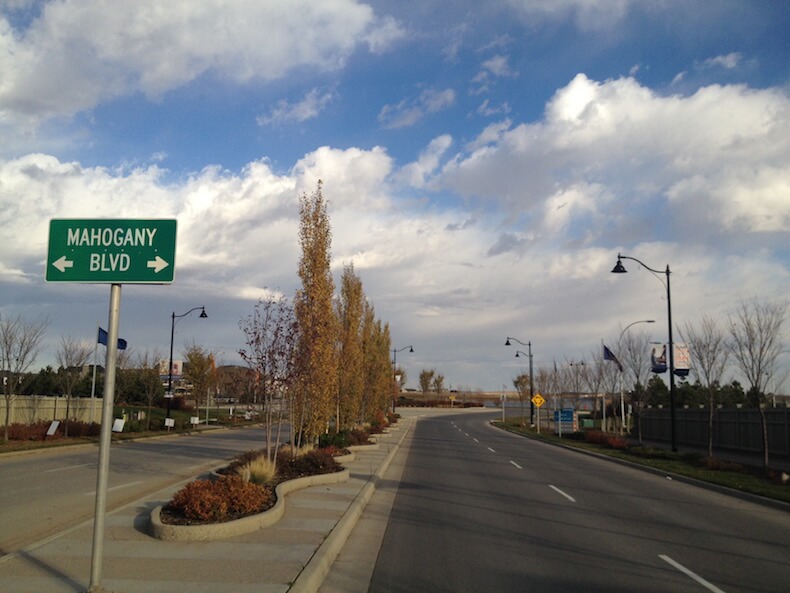 Search all Mahogany homes for sale below in Southeast Calgary. The Southeast Calgary community of Mahogany has been designed to be just as luxurious and elegant as one would expect from the name. With incredible estates that boast spacious layouts and modernly designed interiors, this lakeside community encompassing several ponds and preserved green space has set new standards for luxury living in Calgary.
View Mahogany real estate listings, or LEARN MORE... about the community.
---
Mahogany Real Estate Listings
September 28, 2023
Mahogany Real Estate Information
Although development only began in 2007, this neighbourhood has homes that are so stunning they've drawn in homeowners from other communities all over the city. This popularity will only grow in the future as Mahogany continues to expand with many different styles of homes.
With properties nestled around several large lakes and ponds, residents of Mahogany can enjoy morning and evening views of the sun sparkling off of the water. As they exit their front doors into the rest of the neighbourhood, they enjoy quiet streets lined with dainty trees, and stunning landscaping makes Mahogany a beautiful community for many home buyers to consider real estate in Mahogany. To accommodate those who want more privacy, many properties are designed with private beachfront, dock, and lake access for the homeowner.
---
Recreation in Mahogany
Anyone who loves the water will be taken aback by the waterfront beauty that Mahogany so proudly offers. Calgary's largest freshwater lake is within walking distance for residents and is home to a wide variety of water-based sports.
People living in Mahogany can swim, boat, fish, and take part in any other activities they enjoy. With over 21 acres of beachfront, it's also a great spot to lay out in the sun or build a sandcastle with the kids.
Visitors on the west side of the beach will find picnic areas, beach volleyball nets, basketball courts, a dock, washrooms, and playgrounds to use. Those who visit the central beach site will find even more than this, as it's home to Mahogany's Beach Club managed by the community's Homeowner's Association.
This facility offers educational and recreational programs in addition to a full-size gym, meeting rooms, showering facilities, and a skating room. There's even a splash park for kids, a fishing pier, and indoor/outdoor fitness equipment for adults to take advantage of!
For those looking for an escape from the water, there are trails intertwined throughout the community that gives residents the chance to hike, bike, and walk all throughout the surroundings.
There are also many beautiful playgrounds for children, parks with wide open spaces, and 74-acres of wetlands where it's easy to take in the beauty of nature. To enjoy the area outside of the community, Fish Creek Provincial Park is located just ten minutes away and offers a large space for exploring the outdoors.
---
Mahogany Neighbourhood Highlights
Upon entering the stunning grounds of Mahogany, it's easy to see that homeowners care about their properties. They take great care of their landscapes, put thought into their home designs, and tastefully decorated property exteriors.
Perfectly complemented by the sparkling lake that the homes surround, this master-planned neighbourhood has put thought into every last detail. Even the vibrant home colours help to create a refreshing feel that only enhances the incredible beauty of the Alberta landscape around it.
When it comes to location, Mahogany is ideally situated with 52nd Street SE to the West, Stoney Trail to the north, Seton boulevard's east extension to the south, and Marquis of Lorne Trail to the north.
This location offers incredible convenience for residents whether they're interested in visiting downtown Calgary or any of the nearby communities, such as Auburn Bay. Although these can be travelled to by a vehicle. Once completed in the distant future, the SE line of the C-Train (aka. Green Line) is going to offer easy transportation in the neighbourhood as well.
One of the most exciting amenities coming in late 2016 is the Mahogany Village Market. This will be located within the community and feature an extensive list of shops, restaurants, banks, and grocery stores.
A modern designed space, the Village Market will be situated in the neighbourhood's upcoming Urban Village. This will be a community hub where residents can find all the essentials they need without having to drive or travel far away from home.
Beyond the amenities of the community, there are five incredible golf courses just 15-minutes outside of the community. These are close to the Spruce Meadows Equestrian Centre as well as several movie theatres, big-box outlets, and popular chain retailers.
For those who are interested in exploring Calgary's surroundings in a unique manner, the Rotary/Mattamy Greenway Project is well worth taking advantage of. Although not yet completed, this will directly connect 55 different communities in Calgary, including Mahogany, through expertly designed pathways.
---
Mahogany Schools
Please review the information at the websites listed below to confirm the most up to date information regarding the designated schools for Mahogany:
Riverbend School
Sam Livingston (FR)
Christ The King Catholic School
St. Cecilia (Fr) Catholic School
Sherwood Junior High
Fairview (French Immersion)
Ecole St. Matthew (Fr)
Henry Wise Wood Senior High School
Dr. E. P. Scarlett (Fr)
Bishop Grandin Senior High School
---
Mahogany Real Estate Agents & REALTORS
®
Are you thinking about buying or selling a home in Mahogany? Allow us, Joe Samson & Associates to help you to find the perfect home for you. Our team of REALTORS® in Mahogany would be honoured become your representative. Let our real estate agents assist you with your search!